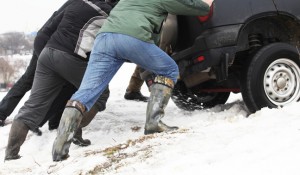 For many Canadians who venture onto our winter highways, "white-knuckle driving" is a common experience. Between freezing rain warnings and white-out blizzards, there are days that we'd rather not be on the roads. Living in Winnipeg,  the heartland of Canadian winters, I've come to discover a third driving hazard—the snow-packed, ice-slick ruts that so readily form on our streets when winter is at its peak.
For those who are uninitiated, winter snow ruts may resemble an inverted railroad track and road conditions find a way of steering the vehicle more than the driver. Recently, while trekking home, an adventurous drive from the College for Officer Training, the road conditions reminded me of an old sign made famous in the north, a stretch of road between the British Columbia and the panhandle of Alaska. It poignantly warned drivers: "Choose your rut carefully—you'll be in it for the next 200 miles."
Choose your ruts carefully. That is much more than sound driving advice. In many ways it is an understanding that our attitudes and choices produce habits within us, and habits left unchecked have a way of producing a lifelong character. As shared in a recent conversation with a man whose appearance was older than his years confessed, "When I was a teenager I really thought I could stop my negative habits whenever I wanted." Many years later, his path, like the ruts of a winter road, had only deepened.
In many ways, our confessing Christians have courted a myth that freedom can be found outside of living with Christ. That the real adventure, including our private actions and attitudes, are ours to manage. That the bruised nature of our hearts, including pride, resentment and bitterness, can somehow be nursed on its own. In so doing we miss the paradox that we do have the freedom to choose anything, yet because of weakness of our frame, descendants of Adam's race, we have an inability to stop choosing it.  Of those who understand the power of sin's "ruts" is the Apostle Paul, whom I paraphrase from Romans 7:19, "the good I want to do I do not, and the unwelcome, the unpleasant I so desperately want to avoid I find myself falling into."
The truth is, the only thing that can save us, that can free us from our tyranny of "image management" and potholes, is the pure gospel of Jesus Christ. He came to set us free (see Galatians 5:1). He alone levels the pavement like on a warm spring day. He alone knows the way that is best for us, offering us the greatest freedom of all and his promise is to offer "life and life most abundantly" (John 10:10
ESV
).
Major David Allen is the assistant director of academic studies at the College for Officer Training in Winnipeg.          
(Photo: © Ingimage.com)