Dale Bolton's retirement dream involved buying a sailboat and heading out to sea. He never imagined that he and his wife, Linda, would instead wind up creating a cross-Canada business from scratch and using the profits to help orphans in Africa.
But Dale, a pastor for more than 30 years, experienced a life-changing moment in 2004 when he learned that more than 40 million African children had been orphaned by HIV-AIDS or other diseases. (The UN now puts that number at 54 million.) After his first trip to Malawi, Dale knew he had to do something. But how could one person meet such great needs?
Intractable Problem
That same year, Linda's sister began taking a natural magnesium supplement that dramatically improved her longtime struggles with migraines, insomnia and bone-density issues. Linda became so enthused about the product, Natural Calm, that she became its sole distributor in Canada.
The business grew by leaps and bounds, and the couple soon had enough money to do more than simply wring their hands about the extreme poverty and disease in Africa. They decided to donate all their business profits, and began funding projects that helped homeless and orphaned African children.
"Natural Calm Canada was not founded to make money, but to give money," declare Dale and Linda, who live in Thornhill, Ont., north of Toronto, but spend five months a year in Africa now. When they're not in Africa, the couple attends The Salvation Army's Richmond Hill Community Church, where Majors David and Beth Pearo are co-pastors.
Early on, the couple assisted Hope for the Nations, based in Kelowna, B.C., which helps at-risk African children by drilling water wells.
Dale was puzzled to learn that much of Africa's food was imported despite its excellent soil and growing conditions. He discovered that African farmers didn't know how to raise crops without chemical fertilizers. When it became too costly to buy them, most small farmers quit trying.
"It made no sense to me at all," says Dale, who grew up on a farm in southwestern Ontario.
Organic Solution
Determined to find a better way, Dale attended an organic agricultural college in West Kenya and learned to make chemical-free fertilizers and pesticides from local sources. There, he met a teacher named Boaz Odour who also wanted to help children in need. Together, they launched Organics 4 Orphans (now called Thrive), which begins with a five-day workshop on organic gardening, taken by hundreds of African community leaders and individuals.
The Boltons added a five-day course in natural medicine after meeting officials of Anamed International, a Christian-owned, German-based company that identified indigenous African plants with the potential to boost people's immune systems.
Dale saw all this as another way to help Africans become healthier and stronger.
"Getting this information out to the people is important because lack of proper nutrition has left Africans with weakened immune systems and made them vulnerable to life-threatening diseases," Dale says. "Improved health can happen everywhere, regardless of where people live."
As an example, he tells of a non-profit Christian mission based in Haiti where staff members had been sick for much of the previous year. Dale grabbed a blender, whipped in the leaves of a nearby moringa tree, and made smoothies for the staff.
"Daily smoothies with moringa could have prevented or greatly reduced the sickness everyone was experiencing," Dale said. Ironically, an abundance of moringa trees grew right on the base station.
Practising what they call "green-leaf nutrition," Dale and Linda incorporate fresh organic vegetables, fruits and other immune-system-strengthening plants into their daily diets.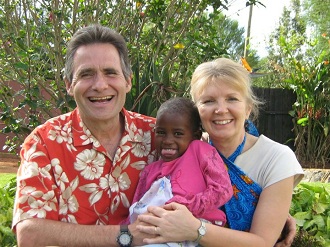 Mattresses and Missions
"I've just turned 60 but I feel like a kid," Dale proclaims, the energy in his voice a testament to what he says.
Dale's "gospel of green" starts with teaching farmers and home gardeners how to generate maximum crop yields with the least time, energy, resources and money. An organic garden that feeds an entire community can be started for less than $500, including tools, instruction and the services of a teacher who will make as many as 10 follow-up visits the first year. The Boltons fund many of these projects.
By the third year, gardeners usually have more crops than they need and can sell off the surplus. With many living on as little as a dollar a day, the extra cash is welcome.
On a recent trip to Africa, the Boltons met a woman in her 50s who used the methods she was taught to grow more than she needed for herself and five grandchildren. Selling excess crops allowed her to purchase the first mattress she'd ever owned in her life.
Such stories have sparked enthusiasm about Thrive within the Richmond Hill congregation, according to Major David. He reports that people in his congregation regularly pray for Africa, donate to the Boltons' work and have attended Dale's nutrition workshops. Dale and Linda often preach and teach at the church and hope to bring a church mission team to Africa in the near future.
Major David himself visited Africa in January 2013, and returned home with a firm belief that the Thrive methodology, if adopted, would revolutionize the way missions are done in the poorest parts of the world.
"What I appreciate most about Dale and Linda," Major David says, "is that, whether they are running their business in Richmond Hill or caring for widows and orphans in Africa, others can clearly see Jesus through their lives."
Volunteers interested in learning organic-gardening methods and teaching them to poverty-stricken people in Africa can visit the Thrive website at thriveforgood.org.

Note: Article updated in May 2019 to reflect the change of the organization's name from Organics 4 Orphans to Thrive.