You may be aware of the conflict situation that has flared up in South Sudan since December 2013 and has so far resulted in almost 5 Million people in need of humanitarian assistance.
According to UNHCR more than 100,000 South Sudanese refugees have now been registered in Uganda (and it is estimated that about the same number of people have arrived but are not registered). Even now there are a couple of hundred people arriving in Uganda on a daily basis. The majority of these are women, children and elderly. The people arrive in a reception centre from where they are transported to a transit camp. After spending a few weeks in a transit centre to complete the registration process the refugees are then transported to one of the more permanent settlements where they are allocated a plot of land.
The Salvation Army Uganda was made aware of the urgent need for assistance and, although having no presence in the North of Uganda, has so far responded with a small RR proposal providing hygiene articles and shelter assistance to the most vulnerable people in 2 of these settlements. They have coordinated their assistance with the Office of the Prime Minister (who is in charge of the Ugandan Government's assistance to refugees), UNHCR, the Ugandan Red Cross and others.
The need for humanitarian assistance is big. A number of UN offices and NGOs are operating there but there are still significant gaps in provision especially in the shelter sector.
The Salvation Army was complimented by the other stakeholders for their willingness to fill gaps, their coordination efforts and their support of the local economy (by purchasing items locally) and was asked to consider further involvement in the support of these South Sudanese refugees.
It is expected that this situation will grow as weeks and months go on.  Please stay tuned for further updates and ways to help.
Thank you very much for your ongoing support. We couldn't do this work without you.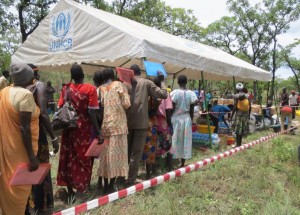 *Update provided by Salvation Army International Emergency Services