Tony Colbourne looked through the glass into the neonatal intensive-care unit where his newborn daughter, Maggie, lay. It should have been one of the happiest moments of his life, but the doctors' words echoed in his head: "Signs of brain damage ... life as a vegetable ... she may not make it."
"You can donate her organs," Tony told the doctor.
A doctor shook his head. "Maggie isn't to that point yet."
But without a miracle, they both knew it would come to that.
Condition Critical
Tony was born in La Scie, N.L., and he grew up attending the Salvation Army church there. "I enjoyed church and became a Christian at an early age," Tony says. "I was an official member of The Salvation Army and played in the brass band. I even met my wife, Dorenda, there."
But when Tony went to college, he drifted away from faith. "I really didn't think I needed God," he says. He partied, and lived for himself.
After college, he and Dorenda got married and in 1996, they moved to Manitoba. He found work as a miner and the couple purchased their first home.
"We waited a few years to start our family," Tony states, "because we wanted to be settled first. We planned for Maggie—but things didn't turn out the way we thought they would."
Desperate Promise
"The first time I saw Maggie, she was hooked up to all these tubes and wires," Tony says. "Her eyes were open, but she wasn't moving, and I knew she was in bad shape."
Throughout the pregnancy, Tony had often told his wife how anxious he was to hold their baby and sing to her. So as he held Maggie for the first time, he sang the one song that popped into his head:
Jesus Loves the Little Children
.
"I'd been away from my faith for years, but that was the song I had to sing to her," he says. "I found out later that the only reason I'd been allowed to hold her was that the doctors weren't expecting her to live."
As Tony held her, his heart ached. "Where do you turn when you think your baby is going to die? I turned to God, not for myself but for Maggie." Tony made God a promise right there in the hospital. He told Him that if He'd allow Maggie to live, Tony would take her to church and raise her to know Him.
Joyful Recovery
That's when Jesus, the Great Physician, stepped in.
"The doctors couldn't explain it, but Maggie's condition started to turn around," Tony says. "Her eyes started to track objects and she became alert. It was like watching her come alive."
Tony told Maggie's doctor that the change in his daughter was nothing short of a miracle from God.
"It's the only explanation for it," the doctor nodded.
The week before Christmas 1999, Tony and Dorenda were finally able to bring their daughter home from the hospital. It had been a harrowing three weeks since Maggie's birth, but she'd already overcome so much.
Promise Kept
Tony kept the promise he'd made to God and began taking Maggie to the Salvation Army church in Thompson, Man. But while he wanted her to know God, he was still resisting His call.
Salvation Army Captain Hannu Lindholm reached out to Tony. "Why are you holding back?" the pastor asked one day.
"It's my language, Captain," Tony said. "It's terrible, the words we use in the mines. I fight with myself and try not to talk that way, but it's no use."
Captain Lindholm shook his head. "Ask God to help you, Tony, and He will."
Tony followed that advice, as well as many other words of wisdom from Captain Lindholm. "He's made a big difference in my life," Tony admits. "And he was right that God will help us with anything, if we ask Him. I prayed that God would help me stop using foul language, and He did. Now when I hear my co-workers curse, I'm not tempted to do it, too. I actually think it sounds silly now."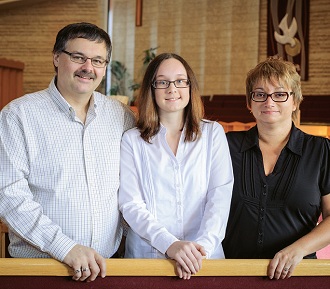 A Song Sung
When Tony returned to Newfoundland and Labrador for a visit, he attended church with his family.
"During the service, I knew in my heart I had to turn back to God, but something told me it wasn't the right time," Tony said. "I didn't want to walk up to the altar just because my family was there and they wanted me to. I had to do it for God. It was too important to do it for the wrong reasons."
Then one Sunday, Tony was in church and a woman was singing
What a Friend We Have in Jesus
. Again, he knew he had to turn his life back to God. "It might sound crazy, but I heard a voice say, 'Now is the time.' No one was around me, and I knew I would be making a true commitment, not just as a show for someone else."
With tears in his eyes, Tony walked to the altar and made a commitment to follow Jesus. "I wanted it to be real and lasting, and it meant so much to me," he says.
Tony is now serving God at the Salvation Army church in Thompson. "I play guitar and I even preach when the pastor is away," he smiles. "My life is so different now. I'll never go back to who I was. Having God in my life and a church family I can count on has been such a blessing."
And speaking of blessings, Maggie is now a vibrant 14-year-old who loves God and enjoys church. "People call her 'Miracle Maggie' because if you saw her today, you wouldn't even know she'd ever been so sick," Tony smiles. "She can't see out of one eye, but that doesn't stop her. I am still so thankful for God's intervention in her life.
"I've learned that if you give a problem to God, He will take care of it," Tony says. "I've seen it, and I've lived it."