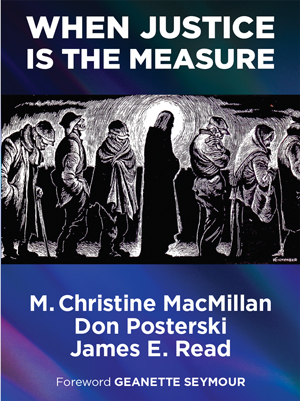 When Justice Is the Measure
is a book you'll want to savour. If you are hungry to know Jesus through his Word and understand the deep implications of his divine and human nature and what that has to do with justice, you'll want to read this book thoroughly. I'd suggest you also bring your notepad.
The book is a collaboration between Commissioner M. Christine MacMillan, founding director of the Army's International Social Justice Commission (ISJC); Don Posterski, currently on the leadership team of the ISJC; and Dr. James Read, executive director of the Army's Ethics Centre in Winnipeg.
When Justice Is the Measure
is a jam-packed resource that includes reflections, Bible readings, journal ideas, thought-provoking questions and awe-inspiring illustrations. This book is not exhaustive, nor is it lightweight. It's divided into five sections, the last of which is a personal reflection from Commissioner MacMillan. The other four sections each focus on a major principle of biblical social justice: including the excluded, challenging cultural practices, confronting the powerful and advocating for the oppressed. The book covers a variety of topics, from poverty to gender inequality and racism.
Reading this book, I found my hunger for justice renewed. If you are new to the justice journey, particularly as it relates to our faith and how it's personified in Jesus, you will not be lost. You will find yourself invited to discover the relentless and passionate love of God. The authors don't offer easy answers or soft punches; they grapple with global issues and injustices that leave us breathless and uneasy. They have the learned inner strength to leave some questions that cannot be answered on this side of heaven, and pass those questions on to readers.
I would recommend reading this book in a group; it makes a wonderful resource as we journey the path of justice together.
Major Danielle Strickland is the corps officer at Edmonton's Crossroads Community Church.
* * * *
When Justice Is the Measure
is available at
store.salvationarmy.ca
, by telephone at 416-422-6100, or by e-mail to orderdesk@can.salvationarmy.ca. For e-books, visit
amazon.ca
.
Territorial Congress 2014:
Authors Commissioner Christine MacMillan, Don Posterski and Dr. James Read will be at territorial congress on Friday, June 20, from 5:30-6:30 pm for an Author's Corner talk-back session and book signing.