In 2011, I travelled from Gander, N.L., to Abu Dhabi, the capital of the United Arab Emirates, to visit my daughter and her family.What an adventure!
I was quite nervous taking off from Gander but the Air Canada crew quickly put me at ease, and the first stopover in Halifax went without incident. The next stop was Heathrow Airport, outside of London, England. I had a four-hour layover ahead of me before I caught the Gulf Air flight to Abu Dhabi.
I whiled away the time by reading and watching the travellers go by, but about 3½ hours into my wait, I decided to check whether my flight was on time, confirm my departure gate and check my seating information. I reached into my purse to get my passport and tickets—and I came up empty. My passport had vanished!
Stranded
I started to panic. Not only did my wallet contain my passport and ID but my credit cards were in there as well.
I went to the Gulf Air counter and explained what happened to the check-in agents. They looked at me as if I had two heads. Without my passport, ID or tickets, there was no way I could continue on.
One of the agents offered to contact the captain of the flight to explain my predicament. She returned to say that there was nothing that could be done and that, furthermore, the flight was taking off in 30 minutes. I was stranded.
Hopeless Case
I stepped away from the counter in tears. I had no way of continuing my journey; I didn't even have the contact information for my daughter's new house in Abu Dhabi. And I wasn't exactly sure how I was going to get home if I could not go on.
I was totally alone in a crowd of rushing passengers and preoccupied staff.
Suddenly, two people appeared, seemingly out of thin air, dressed in blue Salvation Army uniforms. They introduced themselves as Majors Melvyn and Betty Ackroyd, and explained how they were involved in the Army's Heathrow Airport chaplaincy and had noticed my panicked state. To me, they seemed like two angels.
After hearing my predicament, they sprang into action. While Major Betty stayed and comforted me, her husband headed off to make some calls and alert Air Canada. I appreciated their kindness but I had my doubts. Looking for one lost wallet in the busiest airport in the world seemed like a hopeless assignment, especially as I had changed terminals twice since landing.
Major Melvyn was undeterred. "We're going to do everything in our power to get you to your family," he assured me.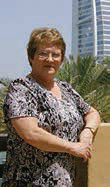 Giving Hope
Despite their best efforts and the telephone inquiries, my wallet had still not been located and my flight was minutes away from taking off—without me.
Even my two majors sensed that there might not be a happy ending to my calamity, because they pressed two £20 notes in my hand, in case I needed to spend the night at a hotel.
I couldn't believe their generosity.
"Why are you doing this?" I asked through my tears.
"This is what God put us here on earth for, to help others," replied a smiling Major Betty, as her husband headed off to make more frantic last-minute calls. Of course, that made me cry even more, though these were tears of gratitude.
Just when I thought that all hope was gone and I would miss my flight, Major Melvyn appeared, two uniformed Air Canada officials in tow. They had found my wallet. It seems it had fallen out of my purse and had been located on the seat of the plane I had been on.
As I gratefully headed to the jetway with my two blue-clad angels to resume my trip, I kept thanking them for all they had done.
"Don't you think any more about it. It's all in a day's work," they modestly assured me.
It wasn't, actually. It was more, far more. Being from Gander, I'd always been aware of The Salvation Army, especially the wondrous work they had performed for the airline passengers and crew stranded at the airport in the aftermath of the 9/11 hijackings. But seeing them selflessly care for my welfare gave me a new appreciation for their slogan "Giving Hope Today." They certainly gave hope to me that day.
Though the Ackroyds have since retired and I have not been in touch with them for a while, I will never forget them.