As a small town of just 800 people, Peterview, N.L., did not have much in the way of musical programming for children. Until they reached high school, most children would not have any opportunity to learn a brass instrument or play in a band.
Seeing a chance to fill a need and reach out to the community, Captain Duane Colbourne, corps officer, and band member Rodey Burt developed a plan and the Peterview Corps beginner's band was born.
First Things First
The beginner's band, which launched in October 2013, meets on Tuesday evenings and brings together about 15 children aged seven to 13. The band includes a mix of cornets, horns, baritones and tubas, as well as percussion, and they hope to add bells this year. The corps received start-up funds from the Territorial Mission Focus Fund, which enabled them to purchase instruments so that every child who wanted to participate in the program would be able to do so.
Captain Colbourne and Burt, who leads the band, hope to expand the band this year, building on previous successes with children in the community. When the corps held a rally day after Captain Colbourne and his wife, Captain Doreen Colbourne, were appointed to Peterview in 2011, 150 children came.
"We're still only scratching the surface of what's out there," Captain Duane Colbourne says. "We see a lot of children in the community who are unchurched, so there's a lot of potential."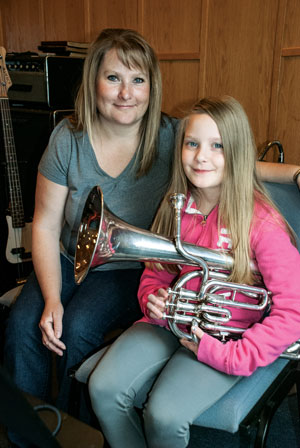 The corps also has a successful Pioneers program, which brings around 45 children to the corps on Monday evenings. It was through Pioneers and past experience with the church's Sunday school that Chloe Elliott joined the band.
"I like music and I really want to learn how to play different instruments," says nine-year-old Chloe, who plays cornet in the band. "I've learned a lot of different notes that I didn't know before."
The band is learning from the Army's
First Things First
book, which includes simple songs such as
The B.I.B.L.E.
and
Jesus Loves Me
. Burt brings significant experience to the band, having been bandmaster at Peterview Corps for 25 years. Clarence Vineham, the current bandmaster, also assists with the beginner's band.
"Rodey has the ear for it," says Bobbi Elliott, Chloe's mother. "He can tell if someone is struggling and he'll say, 'Don't worry if you're not getting it. Let's figure out what the problem is and go from there.' "
Also helping with the band are a group of five to seven volunteers who are members of the senior band or parents of the beginners. For Bobbi, who volunteered with the program last year, seeing the children improve is very rewarding.
"It's definitely an experience to see them with their instruments the first few times—not sure how to hold them, what to do with them—but they've come a long way," she smiles.
Family Ties
Getting parents involved is one of the program's goals.
"If a young person is involved in something at the corps, their mom and dad are going to come and see what's happening," says Burt.
"By bringing the younger ones in we're praying that parents will realize where they were at one time," adds Captain Colbourne. "A lot of them grew up in church—some of them even played in the band—but they don't come anymore.
"Ultimately, the purpose of the band is to reach out to the community and help them realize that this is more than just a building," he continues. "It's a place that they can come and worship and have a relationship with the Lord."
One way Captain Colbourne and Burt try to encourage the families to attend church is by having the beginner's band participate in the Sunday service. So far, the band has had one performance.
"Parents were talking about it afterward and they were asking when we were going to do it again," says Burt.
"It was really cool," says 10-year-old Kimberley Burt, who attends the corps with her grandfather. "Some of the other kids get to play in the church band all the time, so it made me want to come up on the stage and play, too."
As part of the beginner's band, Kimberley plays baritone, but she is also learning to play piano and accordion.
"I like being in the band because it helps me a lot in music," she says. "I really didn't understand music in school and it helps me understand notes and stuff."
As well as being part of the beginner's band, Kimberley volunteers in the nursery during the Sunday services. The corps, and the beginner's band in particular, has been an important community for Kimberley, who moved to Peterview from Grand Prairie, Alta., two years ago.
"We're really busy and she's by herself a lot of time, so she doesn't get to interact a whole lot with other kids," explains Cindi Burt, her mother. Since joining the band, Kimberley has made new friends and sometimes practises with other children from the band outside of their Tuesday night rehearsals.
"They were really loud, but it was good," Cindi smiles.
Kimberley has also felt welcomed in practical ways.
"When I came here on the first day of practices, they noticed that it's hard for me to play because my feet are way up high when I get on the big chairs," she explains, "and so they asked me if I wanted a smaller chair."
"Now they have the chair ready for her every time she comes," Cindi adds. "It's the little things that make a difference."
Keeping the Faith
Rodey Burt hopes that the beginner's band will eventually act as a feeder program to bring more youth into the senior band.
"You've got to have something for kids to be involved in, and if your band is going to keep rolling, you've got to have the younger ones," he says. "If we don't include the youth, they start dwindling very quickly."
"We know the beginner's band is having an impact on the children because of the enthusiasm that a lot of them have," says Captain Colbourne. "They're doing marvelous with the music and they're enjoying it.
"They're learning and having fun in the process," he concludes, "and we're pointing them to our Lord and Saviour, Jesus Christ."