Whether she's designing something as small as a pillow or as large as an entire home, Karoline Pritchett believes that "character is important, along with a commitment to ensure that a job is well done."
Pleasing God and her clients through her work are the major goals of this active mother of three, businesswoman and Salvation Army churchgoer who always finds Time For Design, the name of her company based in Oshawa, Ont.
"Choose Your Own Adventure"
Karoline takes a different approach to her work than some designers since she infuses it with values based on her Christian faith. She describes those values as "kindness, respect and understanding."
She cites a Bible verse, 1 John 4:16: "And so we know and rely on the love God has for us. God is love. Whoever lives in love lives in God, and God in them."
"I portray God's kindness in my work when I smile, when I extend a warm greeting, and when I display understanding and work on each job in a unique way, just as we are all designed uniquely by Him," she says.
When she first sits down with a client, Karoline tries to get the whole picture of what the person has in mind for the project, including use of existing space, the main function of the room, the adult or child who will use it, budget considerations, furniture, colour and window treatments. She loves to create inviting spaces and to use unique details to personalize a project so that it reflects the individual client's style.
"It becomes a kind of 'choose your own adventure' as I present different options to the client," she says.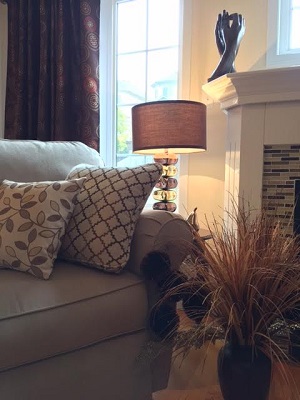 Oh, Goodness!
By far, the most unusual design job Karoline has ever had occurred early in her career, when a real-estate agent asked her to suggest improvements to a badly neglected house its owners hoped to sell.
Walking up the front steps, her first impression was the dire need for curb appeal. But when she walked inside, all she could think was,
Oh, goodness!
Exposed pipes ran ceiling to floor on one wall of the dimly lit living room, dirty plates lay strewn on the coffee table, and pet hair mingled with dust clung to every surface. The kitchen walls had been painted pumpkin orange, and its dark cabinets had broken drawers and missing knobs. The upstairs was no better. Some of the bedrooms were so cluttered, the owners had stacked furniture pieces on top of each other to fit it all in.
To Karoline, character means showing love and respect to the professionals she works with and the clients she serves. Shocked but unwilling to be judgmental, she knew that multiple repairs and deep cleaning would be required before her recommendations for colour and design ideas could even be implemented.
"It was an opportunity to put my faith into action, based on 1 Peter 3:8, which says, 'Finally, all of you, be like-minded, be sympathetic, love one another, be compassionate and humble.' "
So, undeterred, the young designer pulled out her detailed checklist and went through the house room by room. As she jotted down suggestions to improve the property, she kept her thoughts centred on being positive and encouraging.
The good news is that the owners agreed to the repairs and made changes to the house. Karoline was able to "stage" its most attractive features and the house sold.
Inseparable Values
Karoline's family attends The Salvation Army's Oshawa Temple where she co-ordinates a women's ministry called Inspiring Women and is also involved in children's ministries. Both she and her husband, Rod, have roots with The Salvation Army. Her husband's parents and many members of her family have been Army pastors.
Karoline has shared her talents through volunteer programs for Salvation Army events, including a Colour Trends workshop for a women's retreat and a Working With Small Spaces workshop for people downsizing to smaller quarters.
Her natural talent was enhanced and expanded during her studies at the Sheffield School of Interior Design in New York City, where she earned a professional design and decorating diploma. She has a colour consultant certification from QC Design in Maryland, where she also became an international staging professional.
Whatever project she's working on, Karoline brings her whole self into it. "I cannot easily separate my values from work," she says, "and I choose not to."
Samples of Karoline Pritchett's work can be seen in the portfolio section of her website: www.timefordesign.ca.