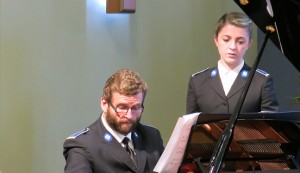 Etobicoke Temple aims high
Last year, Toronto's Etobicoke Temple raised more than $100,000 for Partners in Mission. "Our congregation is so diverse. We have people from Laos, India, Sri Lanka, Africa and the Carribean—people who know how blessed we are in Canada and how much need there is in other parts of the world," says Major Kathryn Trim, corps officer. "I think it helps us see beyond ourselves."
Major Trim and her husband, Major Kester Trim, served in Africa for seven-and-a-half years, where they saw the need first-hand, and the benefits of giving as well. "We were very aware that some of our programming was directly affected by overseas giving," she says. "If the giving went up, we had more for programs. If the giving went down, there was a direct impact on programs."
Much of the fundraising and awareness efforts at Etobicoke Temple are spearheaded by corps member Vangi Court. Each year, the corps focuses on a different project, such as water, education, agriculture and health care. People who have served overseas are invited to speak at various events and on Sunday mornings. Funds were raised through brass concerts, a piano recital, a Christmas tea and sale, and selling fair trade coffee. The campaign continues all year long. "It should just be part of our lives," Court says.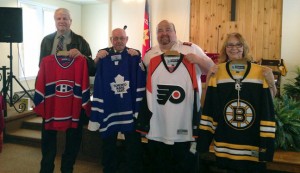 Woodstock Community Church shoots and scores
In 2014, Woodstock Community Church, N.B., more than doubled their Partners in Mission fundraising goal with a unique challenge. "We divided our congregation into four NHL hockey teams: the Montreal Canadiens, the Toronto Maple Leafs, the Boston Bruins and the Philadelphia Flyers, and hung each team's jersey on the wall in the sanctuary," says Major Laverne Fudge, corps officer. "For every $25 a team raised, we added a hockey puck to the wall as a way to keep score."
During the 13-week campaign, Major Fudge shared the information provided by the world missions department about the Army's work around the world and made it a focus for prayer. He encouraged the congregation to give above and beyond their normal tithe. "Many people are on fixed incomes, but they rose to the challenge," he says. Funds were collected through coin cans distributed at the beginning of the campaign, weekly giving, monthly coffee houses and a movie night. When the results were tallied at the end of the campaign, the Maple Leafs came out on top. "The only way they can win!" Major Fudge laughs.