They're the kids you've probably written off. Most are high-school dropouts. Some have had problems with drugs and alcohol. None are employed.
They are who come to mind when you hear the phrase "at-risk youth." But at Trade Start, none of those labels apply.
When I visited the program, which is operated by The Salvation Army in Wiarton, Ont., most of them had only been in the woodshop for a week, but they were naturals—measuring the wood with concentration and then cutting with precision, hammering the pieces together to build doghouses and garbage bins.
Trade Start provides a path forward for youth who are struggling to find the right one.
"I wake up in the mornings and say, 'Yeah, I get to go to work,' " says Kristian Stanish, 16, who is taking part in Trade Start. "I don't have to sit down in a classroom with a pen and paper, and have to write everything the teacher's saying. You get told what you have to do, what cuts you have to make, and then you do it. It's pretty cool."
Youth of Promise
Trade Start, a 20-week carpenter's assistant program, is in the middle of its first official run, after a successful eight-week pilot project ran from September to November 2014.
When I arrive at the corps, I'm greeted warmly by Captain Mary Millar, corps officer at Wiarton Community Church, who takes me on a tour of the corps as she explains the origins of the program.
"In those preliminary days, we thought this program probably wouldn't be accepted because … high-risk kids with power tools," she laughs, before taking a more serious tone.
"We started this pilot project, we chose eight kids and we thought it would be really great if two or three of them made it." She pauses. "All of them made it. But they didn't just make it—they had 95 percent attendance. It's surpassed our expectations."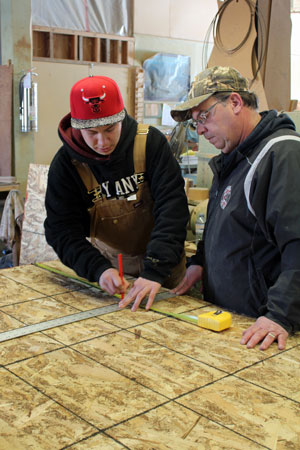 Located three-hours drive northwest of Toronto, Wiarton is a community of about 2,300 people, near the large Cape Croker First Nations reserve. The lakeside town is picturesque, but Captain Millar sees a different reality.
"Fifty-seven percent of the children in this area live in poverty—the Ontario average is 17 percent," she explains. "At The Salvation Army, every day we are seeing the circumstances of people who are stuck. And we can offer emergency assistance, but what they really need is a training program, a vehicle to lift them out of the place where they are at."
Trade Start can be that vehicle.
"The vice-principal of the local school recently said, 'We're not going to call them youth at risk anymore—they're youth of promise.' And I love that line," says Captain Millar. "But due to the situations that poverty often brings with it—the oppression, disappointment, negativity and darkness—it is not as easy for them to keep up. And so they need a different kind of support, which Trade Start offers."
"The goal of Trade Start is to take students who have fallen through the cracks in one way or another and teach them skills and make them employable," says Scott Concordia, program co-ordinator. "It's a kick-start in the right direction."
Hands-On Help
Captain Millar brings me into the lunch room where six young men are eating. The menu today is meatballs, mashed potatoes and veggies, prepared by the corps' hospitality training program. Both programs benefit from this synergy—one group gets much-needed experience with cooking and serving, while the other gets a nutritious meal.
"During the pilot project, we noticed that a lot of the students were coming with no food, or very little food," says Concordia. "As much as I tell them to pack a lunch every day, they can't if the food is not there for them at home. So this time around, we decided to take on a bit of the First Nations culture and sit together and feast at lunch time, all at one table."
The program runs from 9 a.m. to 4 p.m., Monday to Thursday, and most of that time is spent in the furniture workshop where they learn carpentry skills hands-on. But they have some in-class time as well, learning WHMIS (Workplace Hazardous Materials Information System) and occupational health and safety, as well as basic math and how to read drawings for measurements.
Going beyond simply training them for carpentry, Trade Start also includes a life skills component, teaching students basic budgeting and financial literacy. "We want them to be well-rounded, so when the opportunity comes, they succeed," explains Concordia.
The Guys
Of the group who participated in the pilot project, three have returned to Trade Start to further develop their skills. One of them is Jake Stott, 16, who stopped attending school about a year and a half ago.
"A truancy officer took me up to the school—they were talking about me going back to school, because I was going to get charged with truancy," he shares. "Scott called during a meeting, and asked if there were students at the school who'd be interested in the course. They asked me if I wanted to try that, and I said yeah."
Stott had a little experience in construction from doing some roofing with his uncle, so it was a good fit. "They said that I was natural at it," he smiles. "I was pretty much sitting at home, doing nothing, until I found this course."
After completing the eight-week program, Stott feels sure that carpentry is what he wants to do for a career.
"Scott said that, once we finish, they're going to find us work with contractors who are willing to take us on," he says. "So I'm the first one who's going to be getting a job."
"People are always pointing out how bad they are. We're on the other side, pointing out all the good things they do and what they have to offer"
Finding steady work is also the key motivating factor for Wolf Squires, 19. He was looking for a job when his cousin told him about the program.
"I met with Scott at Tim Hortons and he told me all about it," he says. "He seemed like a really easy-going guy. It seems like he's really in it to help people get what they need from the program."
"I come at them with complete honesty," says Concordia. "I meet them on their level and I share my passion with them, but I don't come at them like a typical schoolteacher. I come at them as a partner and a friend."
As with Stott, Squires did not complete high school. "It's kind of hard to go to school now because my girlfriend's pregnant and I have to help her out at the house," he explains.
On the day I meet with him, his girlfriend is 19 weeks along. He joined Trade Start with the hope that it would enable him to become a better provider. "I want to be able to help out a lot more," he says.
Squires tells me that getting out of the house and being productive at Trade Start has helped him feel better about himself.
"At the end of the day, you definitely feel a sense of accomplishment, because you look back at what you did today, seeing that you built doghouses and garbage bins," he says. "It feels pretty good."
When we go to the furniture workshop after lunch, the group is working on three doghouses, which are at various stages of completion. At Trade Start, building is a team effort—some of them hammer nails, while others cut wood, measure or add shingles.
The doghouses are preparation for the group's major project—to build 8' x 10' sheds. These sheds, along with everything else the group makes, will be sold in the community.
"After we sell the products, the money goes back to The Salvation Army, to help fund the program," explains Concordia. On the day I visit, Trade Start has already pre-sold six sheds, and they have a partnership with the local Home Hardware to help them sell even more.
It Takes a Village
Community partnerships are crucial to the success of Trade Start. The furniture shop where the students learn the trade belongs to John Foris, who volunteers with The Salvation Army. The wood the group uses to make doghouses and benches comes from local factories, who donate their skids. And the program receives support from the Cape Croker First Nations, who sponsor the cost of supplies—such as boots and tools—for First Nations students. In this group, six of the nine students are from Cape Croker.
"We have the whole community behind us—that's what's so amazing," says Captain Millar. "We couldn't do it without that."
Trade Start also operates in conjunction with the local school, which treats it as a co-op program. Four of the participants in this session will receive high school credit for completing Trade Start.
Stanish, who is currently in Grade 11, was encouraged to join Trade Start by his school guidance counsellor.
"She saw how well I was doing with woodworking class, and she knows how much I like to be more active, instead of sitting down," he says. "She told me Trade Start was all day, that you didn't get to sit down—all you did was work. And I thought that was great. There isn't even a chair to sit down on—you don't need to."
Though Stanish has had success with various shop classes, overall he's had difficulty with school. "It's trouble focusing, mainly," he says. "I have ADHD so it's hard for me to just sit there."
For Stanish, Trade Start gives him a chance to put his abilities—and his creativity—to work.
"When I go to Trade Start, it's like, I just built this doghouse in a day," he says. "If I was at home, there's no way I'd do that in my spare time. But then I look at it and think, I want to do this more often."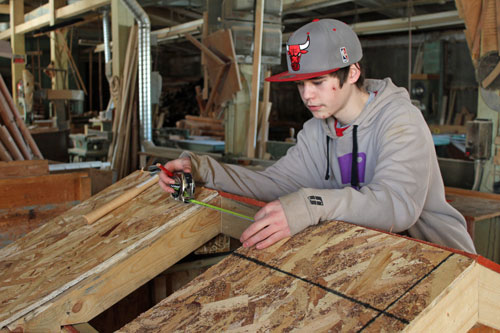 A New Hope
More than a skills-training program, Trade Start is about helping participants see themselves—and their potential—differently.
"They don't have anyone believing in them," says Concordia. "People are always pointing out how bad they are. We're on the other side, pointing out all the good things they do and what they have to offer."
Captain Millar tells me that one 17-year-old who participated in the pilot project was suicidal when he came to Trade Start. "He had been through so much—addictions, abandonment, you name it," she says. "He was the highest-risk boy, but he became the prize student." That student, she adds, is no longer suicidal and is interested in coming back to Trade Start to further develop his skills.
"These are young people who've lost their hope—and now they are filled with hope," Captain Millar notes. "We feel very confident that there are going to be great victories ahead."
With the exception of one participant from the pilot project, none of the Trade Start students have had any prior experience with The Salvation Army.
"It's such a privilege to speak into their lives," concludes Captain Millar. "After the pilot project, the school principal said to me, 'What happened with the kids in that program was magic.' But it's not magic—it's Jesus. He wants to help people to be fruitful, to be using their gifts and talents. These young people are creating things and it's healing them."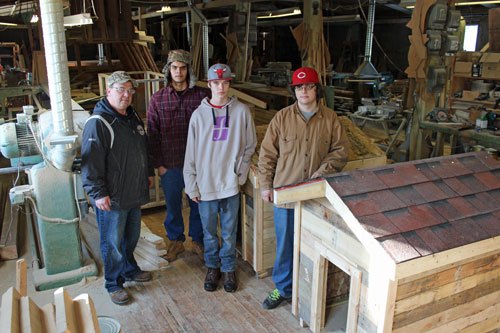 Trade Start Photos
See more photos of the program in our
Flickr album
.