Brighter Futures Children's Sponsorship provides practical assistance to vulnerable children in developing countries. Through sponsorship donations, The Salvation Army is able provide food, clothing, shelter, education, medical support and spiritual and loving care.
In Chile, The Salvation Army Canada and Bermuda Territory and its donors, support the Faro de Angeles Nursery and Day Care Centre. There are 75 children, between the ages of three months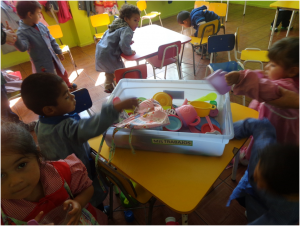 and four years, that attend the centre. The centre provides a safe place to learn, play and receive proper nutrition.
Recently, The Salvation Army World Missions department received a report from the South America West Territory where they shared a story of transformation.
Sam and Andrea (names changed) are brother and sister. Their parents separated shortly after they began attending the centre. The children were in the care of their father and grandfather, while their mother continued her high school studies in another city. Sam arrived at the Day Care centre when he was 10 months old and Andrea when she was two years. Andrea was non-verbal when she first arrived at the centre.
Andrea has made significant progress since being at the centre, including feeding herself. She has also begun to socialize with other children and now speaks in full sentences. This has had a positive impact in developing her personality.
Sam used to express himself through hitting and biting other children, but his behaviour has improved. Their father is committed to the education of his children and appreciates the daily work that The Salvation Army does at the day care centre.
The Brighter Futures Children's Sponsorship makes a difference in young lives that often change the outlook for the whole family!
To learn more information about Brighter Futures, or to be a sponsor, visit www.saworldmissions.ca and click on
Brighter Futures Children's Sponsorship
.