The Ontario Great Lakes Division held a leadership development weekend in London, Ont., from April 17-19, encouraging the nearly 250 participants to "live right, lead right." 
Joining Commissioner Susan McMillan, territorial commander, were keynote speaker Dr. Marjory Kerr, academic vice-president and dean of Booth University College, Carol MacKinnon, certified leadership coach, and a host of other workshop presenters.
"This is the first time we've had an event like this in many years," said Major Morris Vincent, divisional commander, Ontario Great Lakes Division. "Leadership development is one of the six pillars of our strategic plan, and we sensed the need for officers, lay leaders, employees and volunteers to feel equipped and supported by the division."
"It's an opportunity for people to identify any gaps in their leadership skills, edges that need to be sharpened, in order to raise the standard of excellence a little higher," added Major Wanda  Vincent, divisional director of women's ministries. "And also to focus on our spiritual health and well-being, to make sure we're leading from within. As Christians, our leadership has to be founded in the source, in God, and our relationship with God. It is out of who we are that we lead forward, lead well, lead right."
Models of Leadership
The conference began with a message from Dr. Kerr, who offered four examples of leadership from the Book of Esther, and what they might look like in our context. In Esther 4, Mordecai asks Esther, "… who knows but that you have come to royal position for such a time as this?" (Esther 4:14).
"Whatever has brought you here, it is for such a time as this," Dr. Kerr said.
The emphasis on the spiritual foundation for leadership was also reflected in the structure of Saturday's workshops, which began with sessions on cultivating spiritual growth before moving on to sessions on courage and capacity building.
Majors Brian and Lynn Armstrong, directors of pastoral services at territorial headquarters, led a workshop on the importance of soul care and self-care, providing resources on spiritual disciplines and ways to maintain a healthy life.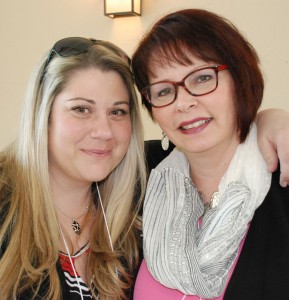 For Devon Howes-Jones and Nicole Theroux, who work with people with dementia at Mountberry Adult Day Services in Stoney Creek, Ont., the workshop was a chance to slow down and examine the connection between "doing" and "being."
"I need to take a good, close look at my life. I have a lot of empty circles,"said Theroux, referring to a handout that helped attendees reflect on their support systems.
"I love my position, but we're always taking care of others," said Howes-Jones. "It's important to take care of myself. I need to remember what replenishes me."
Dave McFadden, who attends Niagara Orchard Community Church, Ont., and was recently accepted to the College for Officer Training along with his wife, Renée, attended a workshop led by
Colonel Lindsay Rowe, corps officer at Oshawa Temple. "It's what's underneath that counts—your relationship with God," McFadden said. "If you don't develop that, then your life, your ministry, will fall apart sooner or later. Without passion, life is nothing. So often we see misplaced passion, when we were designed to be filled with God."
Afternoon sessions focused on courage and building capacity, with practical workshops on church revitalization, managing change, leading leaders, understanding today's culture and navigating
difficult situations and conversations, among others.
Before the conference, participants received a navigation guide with exercises designed to help them make the most of the weekend, beginning with identifying their learning objectives. On Saturday evening, Carol MacKinnon offered an optional coaching workshop to review these goals and help participants develop a plan to put their learning into practice.
Integrated Mission
After the evening meal on Saturday, Commissioner McMillan gave a presentation on integrated mission. "Integrated mission is not a program; it's a way of life. It's how we relate to our communities," she said.
Commissioner McMillan referred to the booklet
Mission in Community
 (available at
saministryresources.ca/integrated-mission
), which describes integrated mission as a comprehensive
understanding of salvation as physical, mental, social and spiritual health for every person, and the practice of accompaniment of individuals, families and communities.
The territorial commander outlined the theological roots, beliefs and behaviours of four key concepts—care, community, change and hope—and emphasized the importance of relationships. To reinforce how we should relate to our communities, she discussed past approaches to development work that have offered superficial or paternalistic solutions, and then talked about the tools
of faith-based facilitation.
"What does integrated mission—mission in community—mean in your context?" she challenged the conference participants.
Final Words
Sunday morning began with a time of worship, led by Stephanie Forystek, who attends Sauble Christian Fellowship in Sauble Beach, Ont. "We can't reveal Jesus if we don't have a relationship with Jesus," she reminded those assembled.
Dr. Kerr shared a final message from Philippians on the deep joy the love of Christ brings, joy that goes beyond our feelings and our circumstances. The conference concluded with worship as
people came to the mercy seat in prayer. "If we're going to be a transforming influence," Major Wanda Vincent said, "we need God."
---
Passion Renewed
For Dave and Renée McFadden, the decision to pursue leadership within The Salvation Army was a long journey. Renée shared their story on Sunday morning.
Early in our marriage, we had the best of intentions and were actively involved in the life of the corps. We continued to pursue leadership roles in children's ministry, community outreach and small groups as we built our lives and started our family.
But that gap between our leadership skills and the inner core of the leader developed—the neglect of deep spiritual reflection and intentional personal intimacy with God.
Challenges came and our souls were dry. We didn't have the courage to have the crucial conversations when they needed to happen; we avoided the issues and drained ourselves without replenishment.
And then one day, when humbled enough to pray and seek the answer to what was going wrong, the brokenness was brought to light. God stepped in. Thankfully, we knew just where to meet him, at the foot of the cross.
Although the consequences of our choices didn't disappear, we were covered by his grace. We know firsthand that he is the God of reconciliation, hope and second chances.
We are learning to cultivate our spiritual formation. It's a battle to start new habits. Don't underestimate the battle like we did.
Now that we have restored our relationships and are investing in our spiritual development, God has been calling us to officership. So we are leaving our jobs and packing our bags for training college this fall. It's a story of grace, forgiveness, love and reconciliation. It's the salvation story.