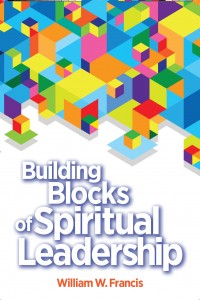 Commissioner William Francis' Building Blocks of Spiritual Leadership is an essential tool for aspiring and seasoned Christian leaders. Its concise writings on numerous aspects of leadership are inviting and invasive, practical and personal, and call for both action and reflection. The book is divided into several "to the point" segments covering a broad spectrum of topics, from self-disciplined leadership to visionary, from servant leadership to radical. There is also a section at the end that provides valuable advice from a leader who has test-driven the product.

Commissioner Francis has extracted the elements of this book from leadership principles that have been refined in his own ministry. Just as these principles have shaped his ministry practices, so he is hopeful of relaying the basics of spiritual leadership to the reader. Commissioner Francis has ensured that each principle rests on the solid foundation of the Bible, providing Scripture as a resource for defining and shaping Christian leadership. He also includes verses from hymns, which enhance the book with a devotional component, along with a splash of carefully chosen quotations from "spiritual giants" such as Henri Nouwen, J. Oswald Sanders, Samuel Logan Brengle, Dietrich Bonhoeffer and others.

The quality and content of Building Blocks of Spiritual Leadership make it a valuable tool for ministry teams, mission boards, officers, pastors and any who desire to hone their leadership skills and develop into excellent leaders. After serving as an officer for more than 25 years, I found this book to be thought-provoking, heart-warming and soul-stirring. Don't be fooled by the size of the book—it's a small book that carries a big punch. The condensed chapters will appeal to busy, on-the-go leaders.

Commissioner Francis has extended his leadership reach with the impact and influence of Building Blocks of Spiritual Leadership. Though there are numerous books on spiritual leadership, this new book can take its rightful place among the greats.

Major Glenys Pilgrim is director of personnel at the College for Officer Training in Winnipeg.

Building Blocks of Spiritual Leadership is available at store.salvationarmy.ca and amazon.ca.