Don't go home.
Those words were the beginning of a long journey for Paul, a professor and pastor in Bukavu, Democratic Republic of Congo. Although the civil war in his homeland—the deadliest conflict in African history—ended in 2003, the eastern part of the country is still unstable and plagued by violence. When trouble broke out in 2006, Paul became separated from his wife and children. With armed rebels everywhere, people dying in the streets and the warning not to go home ringing in his ears, he and his nieces, Dina and Cathy, and their children, ran for their lives.
After two days of walking, riding in a truck and then crossing a river on a raft, they made it to Zimbabwe. But life in a refugee camp wasn't much better. Food was scarce and they slept out in the open. There was no work. "We lived by the grace of the Lord," Paul says. He continued to be a pastor, preaching and praying for people.
Paul had no news of his family for five years.
Meanwhile, Paul's brother and sister-in-law, Dina and Cathy's parents, had sought refuge in Canada. They began attending Edmonton Temple and asked the corps for help to bring the rest of their family to safety. The leadership team agreed to sponsor them, signing an agreement to provide orientation, settlement assistance and financial support.
Major Donald Bladen became the corps officer at Edmonton Temple in 2007. It seemed as though the project had been forgotten, until he received a phone call out of the blue in November 2011 to say that a group of refugees—Paul, Dina and her three children—would be arriving in a few days.
"At first, knowing we were responsible for this family was overwhelming," Major Bladen says. "But the people of this corps have a tremendous capacity for compassion. They really stepped up, giving their money, resources, material possessions and time. I saw welcome in action."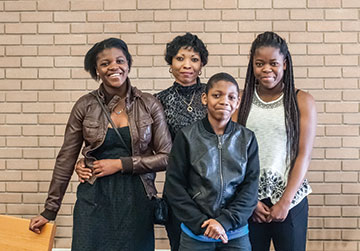 Countless details had to be arranged, starting with housing—a huge challenge on such short notice. Corps members donated food, clothing and furniture and even held a "shower" to help them furnish their new homes. They helped set up their phone and utilities, took them grocery shopping and showed them where to find ethnic stores, and explained the bus system. They helped them navigate the immigration process, took them to government appointments and helped get the kids registered in school. As time passed, they provided assistance with resumé writing and job applications.
"The Salvation Army helped us 100 percent," says Dina.
A year later, Dina's sister, Cathy, and her children reached Canada. Once again, the corps rallied around them.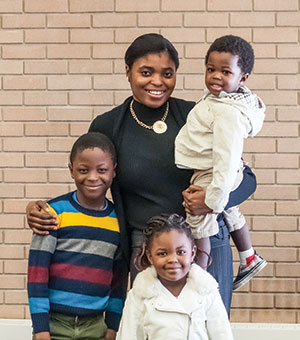 "There have been lots of challenges for them. Learning a new language—they speak mainly French—and trying to find employment, even though Paul had been a college professor," says David Diamond, who was the corps sergeant-major and chair of the mission board at Edmonton Temple at the time. "When I think about everything they've had to face—war, a refugee camp, being separated from family—they've done incredibly well.
"In one way, it's a tragic story. But it's also a story of courage and triumph, overcoming all of that to come to a new country and working extremely hard, so their children can have a different life."
The families attend worship services at Edmonton Temple and the children are involved in corps activities, participating in Sunday school, youth group and junior band. They have also taken part in divisional youth and gospel arts camps.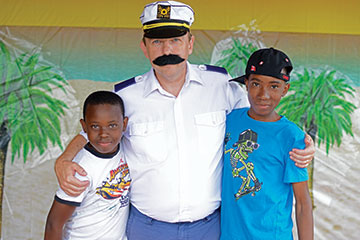 "The kids are in school and starting to catch up—their English is very good," says Diamond. "It's extremely rewarding to see the development and the joy on their faces when they get a new bike or guitar, and to see them participating in the corps with the other kids."
For corps considering sponsoring refugees, Major Bladen points out that it is a long-term commitment that requires significant time, energy and financial resources. "I would tell them to develop a comprehensive, detailed plan for all the practical elements—where are we going to house them, where are we going to secure funding, who are we going to appoint to help them integrate as it relates to government policies—before they arrive," he says. "I would suggest developing a small team of individuals who are assigned specific tasks, and then plan, plan and plan again."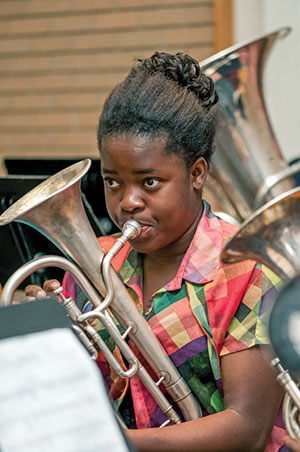 As well as the practical aspects, Edmonton Temple has offered friendship and support. Major Bladen prayed with Paul for his family. When he found out they were still alive, "I jumped and praised the Lord," Paul says. "In Africa, there is so much sickness and trouble, rebels. Every day, people die. God kept them alive—just the grace of the Lord. Only God could do this."
The corps added Paul's wife and six children to the sponsorship agreement, and Major Bladen continued to pray with Paul as he waited to be reunited. "He gave me faith that my wife and children would come."
Their faith has made a deep impact on Diamond. "Regardless of how difficult their circumstances have been, or how difficult it is at the moment, they bring tremendous faith that God is going to work things out in their lives. That has been inspiring to me," he says.
In April 2014, eight years after fleeing the Democratic Republic of Congo, Paul's wife and six children arrived in Canada. His youngest daughter had been two months old when he left. "It was a long, long time. I almost couldn't believe they were here," he says. "A big piece of my heart had been missing. It was a big day to see my wife and kids again. It was like Christmas."
---
How Churches Can Support Newcomers
Finding Our Way
, a new guide to action, is available for congregations interested in welcoming and supporting newcomers to Canada. The guide is the result of a two-year, national research project intended to equip church groups across Canada to help immigrants and refugees settle and integrate into Canadian society.
The project was facilitated by the Centre for Community Based Research, in collaboration with 10 different denominational partners, including The Salvation Army. James Watson, consultant for church planting and congregational revitalization in the corps ministries department, was the Army's project liaison and helped to carry out the research.
"Immigrants and refugees have definite social needs as they enter the country, and we are well positioned to serve them physically, socially and spiritually," he says. "Many of our ministry units are doing incredible work, but this has been an opportunity to learn from front-line workers from many different Christian traditions."
The research included a national survey of 38 denominations, interviews with denominational and interdenominational leaders, case studies and focus groups. The Salvation Army contributed to the survey and corps were represented in the focus groups.
The project provides a glimpse into how and why individuals and churches across Canada are working among immigrants and refugees. Three things stood out: their own experience of immigration, the emphasis on welcoming the stranger in Christian spirituality and the response to human need.
"Many of the ministries we heard about started off not with a grandiose plan and major funding, but in small responses to the needs of someone who was, or became, a friend," says Watson.
"Participants talked with obvious pleasure about developing long-term relationships, of eating together, and of getting to know one another in each other's homes. Friendships like this—not just programs—were mentioned as being key to how effective churches are in helping newcomers settle and integrate."
The guide to action offers creative ways to relate to immigrants and refugees based on the stories encountered through this research. The guide is available at 
saministryresources.ca/immigrants
. For the full reports, visit
communitybasedresearch.ca/Page/View/PDG
.