The Salvation Army's 150th anniversary international congress, Boundless—The Whole World Redeeming, is set to be a life-changing experience for those attending the event this July and participating online, but it is already helping transform lives through its partnership with Others in Pakistan and Bangladesh.
Others—Trade for Hope is a Salvation Army social enterprise that aims to use commercial trading activities to create employment opportunities for producers recruited through Salvation Army development projects, community work or corps. The international congress office based at International Headquarters in London, England, is currently one of Others' biggest customers. Others will supply lanyards and bags for fully registered delegates who have a ticket for all five days of the congress.
One Army
The congress office contacted Others early in the planning process. The result has been a partnership beneficial to both sides. For the producers who sell their products through Others, the congress order translated into months' worth of work and the pride that comes with having their products showcased at an international event of such historical significance. For the congress office, the order means they are assured of receiving high-quality, customized products that will help take the congress logo and the Salvation Army shield onto the streets of London and beyond. The partnership with Others embodies the goal of being "One Army," showing how a need in one part of the Army world can be met by a program in another.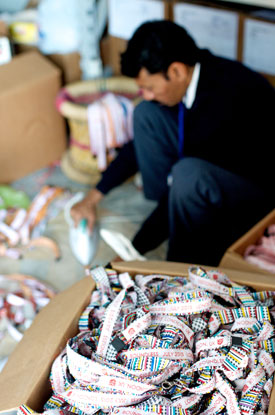 "Others isn't primarily about products, costs and colours. It's about people, people and people," says Jan Aasmann Størksen, general manager of Others Global. Production of the Boundless delegate bags provided seven months' work for producers linked with The Salvation Army's counselling and development centre in the Bangladeshi capital, Dhaka. The centre works with commercial sex workers, victims of human trafficking and other vulnerable women in the Old Dhaka neighbourhood. For many of the women, working with and making products for Others is a crucial step to reintegration into society.
Production of the Boundless lanyards secured two months' income for approximately 50 producers in production groups in Lahore, Pakistan. Producers come from various vulnerable backgrounds and are graduates from The Salvation Army's Sustainable Livelihood Development Program. The lanyard order gave them an opportunity to implement the skills they have gained and earn extra income for their families.
In both areas, the Boundless order is a great contribution toward the goals of Others: supporting hope, dignity and independence for producers who might otherwise struggle to get a job or make ends meet.
Opportunities to Support
The idea of using the Army's purchasing power to create employment can be traced back to The Salvation Army's founder, William Booth. With the global presence of today's Salvation Army, the opportunities are far greater than they have ever been. If you are planning to attend Boundless 2015, look for the Others stand at the congress.
In July, knowing that a story of hope lies behind every product, congress delegates can wear their lanyards and carry their bags with pride. Others products will also be available for sale at the congress, so the message for delegates is simple: leave a bit of extra space in your suitcase!
To learn more or to discuss partnership ideas with Others Global, visit tradeforhope.com.