By any measure, Shawn Michaels was on the top of the world. A World Wrestling Entertainment (WWE) superstar, he was nicknamed Mr. Wrestlemania for his jaw-dropping performances. But this had come at a price. He had sacrificed his body for the business, and the wear and tear on his back meant he'd become addicted to painkillers. Meanwhile, his arrogance and temper had made him few friends inside the locker room. And while tens of thousands of fans screamed his name night after night, he wondered if there was something more, something he could not find inside the ring. Wracked with pain, Shawn retired in 1998, but the demons in him continued to gnaw away.In this excerpt from
Wrestling for My Life
, Shawn recounts how he became a Christian after falling as low as he could.
"Daddy's Tired"
The rock-bottom moment in my life began on the living room couch.
My son, Cameron, was barely two, and it was our weekly pizza-and-cookies night. Every Friday, we would pig out. Cameron loved our Friday nights. I did, too.
But on this Friday night, I was in another one of my pill-induced fogs, stretched out on the couch, only half aware of what was going on around me. In the middle of eating chocolate-chip cookies, Cameron crawled up on me and said, "Daddy's tired."
I hear his words today more crisply than I did that night, because that was the moment I can look back to and realize that, unbeknownst to me, Cameron had figured out who I was.
It was close to Cameron's bedtime, and I followed him off to his bedroom and read to him. There's no chance of my remembering the name of the book because, in the state I was in, it was all I could do to slur my way through the story. Afterward, I went back to the couch and fell asleep.
During the night I woke my wife, Rebecca.
"Who ate the cookies?" I asked, unable to recall what had happened.
"You did," she answered.
I couldn't remember. Angry at myself, I stormed into the bathroom.
"I ate them?" I asked Rebecca again.
"Yes, you ate them," she repeated.
Disgusted with myself, I stared at the man in the mirror and told him that he was a piece of trash.
For the first time, reality had set in: My son had begun to notice who I truly was. I was in the process of ruining not only my life, but also my son's.
"Lord," I said. "Please change me."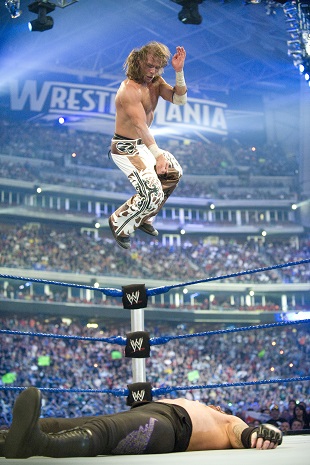 The Riot Act
The next day, fellow wrestler Kevin Nash called me. We had been close friends since 1993.
We had talked the night before, and he called me again because he was concerned about how I had sounded. He asked if I was still doing pills. "Every once in a while," I answered.
At one point, I had been popping 30 to 35 pills a day, mostly muscle relaxers, to help deal with the pain from more than 15 years of wrestling. I had cut back to the weekends, and I'd convinced myself that not taking pills every day was a major accomplishment.
But Kevin read me the riot act. To him, even every once in a while was way too often if it happened in front of my family.
"Dude, you have a wife and a son. You can't be doing this anymore."
The conversation with Kevin replayed in my mind throughout the day. Next morning, I told Rebecca that I was done with drugs for good.
"That's great," she replied, sounding unconvinced. She'd heard me say that before. The first time I'd sworn off drugs and alcohol was when we had learned that Rebecca was pregnant with Cameron.
But I was still doing them, and I realized that for almost three years, I had kept fooling myself to the point that my son had become old enough to know there were times when Daddy would be "tired."
Meanwhile, Rebecca had decided to get more serious about her Christianity and had started taking Bible study courses. The couple had even looked for a church to attend, though Shawn had not been impressed by those he had visited.
Journey's End
One day in April 2002, I was driving around with Cameron in his car seat and, without realizing where I was, pulled to a stop in the parking lot of a church.
"What are we doing, Daddy?" he asked.
"I don't know, son."
After finishing our errands and returning home, I told Rebecca about stopping in the church parking lot for no apparent reason. Based on what I'd noticed take place in her life, I needed to find a Bible study, too.
The next day I returned to the church, walked into the office and told the lady at the front desk, "I'm looking for a Bible study."
I later learned that one of the pastors had recognized me and was suspicious that I had come into the church as some kind of wrestling story for television. But another pastor did come out of his office and introduced himself.
"You can come to my Bible study," Keith Parker offered in a thick, Southern drawl, gave me his address and told me to be there at 7:30 the next night.
When I arrived at his home a little before the start of the Bible study, his wife, Priscilla, and a couple of other people were there. Keith asked if I was a Christian.
"No," I said. "I was raised Catholic, though."
"Have you ever been born again?" he asked.
"No, I was born just the one time that I know of," I answered.
"Would you like to accept Jesus Christ as your Lord and personal Saviour?"
"Yes, I would."
"Have you ever said the Sinner's Prayer?"
I spun through my mental Rolodex of prayers and replied that I hadn't come across that one. Keith then led me in the prayer, and I wept like a baby.
I could feel what I've heard others describe about the moment they accepted their salvation: It was like burdens were falling off of me and chains were being loosened. Up to that point, I had been sensing numerous changes taking place within me. But still I had felt like there was one thing more I needed, even though I couldn't identify what it was. After saying that prayer, I knew that salvation was what had been missing.
Shawn became a Christian in 2002 and rejoined the WWE later that year. While his in-ring work continued to be unequaled, he surprised former colleagues with a humility and grace that he had never shown before."The Shawn Michaels you see today is a stand-up guy," writes fellow wrestler 'Stone Cold' Steve Austin. "He has left all of his insecurities and arrogance behind. Confidence, peace and a self-deprecating sense of humour are what I now see."They say the Lord works in mysterious ways," he continues, "and I guess they are right. Because He surely worked a miracle with a man I am now proud to call my friend."
(Reprinted from
Wrestling for My Life
by Shawn Michaels with David Thomas. Copyright © 2015 by Zondervan)
---
Wrestling for My Life: The Legend, the Reality, and the Faith of a WWE Superstar
by Shawn Michaels is an intimate look at the challenges of being a Christian in an unusual world that straddles the line between fantasy and reality. Shawn retired from professional wrestling in 2010 and was inducted into the WWE Hall of Fame in 2011.