Coffee with friends, a monthly breakfast and exercise classes are just a few examples of how The Salvation Army is working to make its Sydney, N.S., location a community gathering point.
"We are supposed to be a community church and we are all about community," says Major Dena Hepditch, pastor and community ministries officer in Sydney.
Each Friday, that means the community café becomes a gathering point, while walk-aerobics classes bring people together three times per week for exercise and conversation. There's also a host of other monthly activities for young and old with the same objective.
Hot Meals, Hot Tickets
Friday's community café is a prime example of a weekly event that gathers the members of the congregation and the community together.
Those who attend the aerobics classes are among the many who stop in to enjoy a hot cup of coffee or tea, with homemade tea biscuits and other baked treats.
The café is led by Don MacLeod. He's not a member of the congregation, just someone who wanted to give his time to a worthy cause.
"Don came to a volunteer appreciation for The Salvation Army's Christmas kettle campaign and saw what we do here," Major Dena says. "We were wondering what we could use the space for. We'd been taking about doing a café, and it was a good fit."
As a result, Don has been the café's host for more than two years.
"I saw the kitchen and asked if it was being used," says Don, a retired school-bus driver. "I told them I like cooking. A month after, I got a call. I was hired."
The café has become a popular gathering spot each week, as has the monthly breakfast on the first Tuesday of each month.
"Our intent is to foster a sense of community," says Major Dena. "What we offer is not just for the poor. A lot of people can afford to go to a restaurant, but who wants to eat alone?"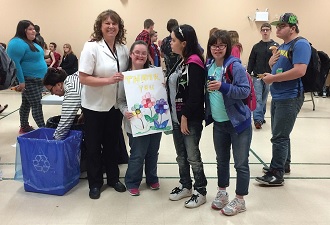 The meal is so good, it's attracted a group of swimmers who have chosen the breakfast over others in the community. Like the café, it's free but people often make a donation of some kind. The swimmers usually give soap and toothpaste, which are distributed with food donations at the Salvation Army food bank.
Another popular monthly event is the Young At Heart 50 Plus, which includes a hot meal and a new theme every month. Tickets often sell out within minutes.
Other Salvation Army activities include a movie night and services at hospitals, retirement homes and other institutions around Cape Breton Island.
"The community supports us with whatever we do so we want to help them wherever we can," says Major Dena.
(Reprinted from
Cape Breton Post
, May 23, 2015)