From the 10th floor of World Trade Center 7, Nick Zigomanis is still amazed at what he sees when he looks out his window. For the past decade, he has watched the World Trade Center site transform from a 23-metre-deep pit, scarred by the tragic events of 9/11, to a beacon of hope and new life as the World Trade Center (WTC) is rebuilt.
"Two towers are now completed and gleaming in the sunlight, while another is in full-on construction mode," he says. "It's the same view I've had every day for years, but it's hard to believe that all of this, what I'm now seeing, is actually real."
Problem-Solver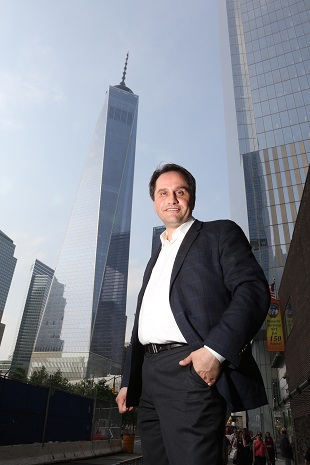 Nick is the principal architect at the New York City office of Adamson Associates, the architect of record for Towers 2, 3 and 4 of the new WTC, as well as the 9/11 Memorial Museum pavilion. He and his firm have been working on the WTC project since 2005.
"We initially received a call to provide design support to Studio Daniel Libeskind, whose competition-winning master plan for the new WTC was being challenged by the developer, Silverstein Properties, and their technical team," he says. "It was an intimidating group to stand up against, but we were successful in proving the technical feasibility of the master plan." With the help of Nick and his team, the key elements of the master plan were approved.
Nick is a problem-solver. His job is to analyze properties and establish a set of design guidelines that will determine how each building will be built. In this supportive role, he's with worked with a star list of architects such as Frank Gehry and Norman Foster.
Moving Forward
But the new WTC is unlike any other project he has worked on. "I don't believe there's any site more complicated than this one," Nick says. "First and foremost, it's built on sacred land. In light of the terrible tragedy that took place there, there was a lot of discussion from the very beginning—what was this site supposed to be?"
Though Nick is from Toronto, he has felt an incredible weight of responsibility throughout his work on the project.
"I wasn't a New Yorker. I came to this project from afar, finding myself surrounded by people who were so affected in ways beyond my imagining," he says. "You don't see people getting passionate about buildings and architecture. This was well beyond what I had ever experienced, what these towers, what this site meant to New Yorkers, to a nation, to the world."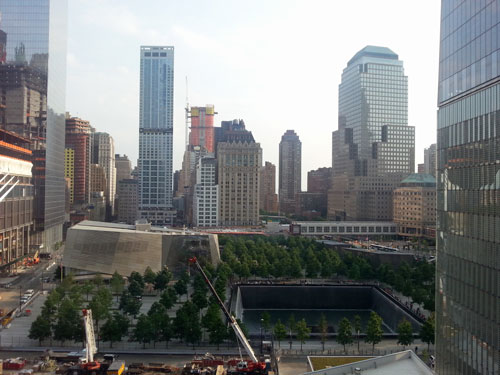 Even before the rebuilt site opened last year, Ground Zero drew crowds of people, who would peer through gaps in the high fence surrounding the site, eager to see what the new WTC would be.
"We were walking around the site one day, and this woman noticed me with a roll of drawings under my arm, and knew that we were part of the crew," Nick recalls. "There was a gripping moment when she practically grabbed us and said, 'Whatever you do, don't make this a graveyard.'
"It really clarified for me what we were doing," he continues. "There was this sense that we need to live again. It was OK to focus on moving forward, to build something that was a celebration of life."
Descent Into Memory
Nick describes the WTC site as a 16-acre "bathtub" that needed slow, extensive excavation and reconstruction before any new structures could be built. Even one year after 9/11, construction workers were still unearthing the remains of those killed in the attacks.
But today, at 1,776 feet, Tower 1 dominates the skyline, though the centrepiece of the site are the two memorial pools, which are set within the footprints of the original Twin Towers. The Memorial Museum, housing hundreds of artifacts and photos, sits between the pools and takes visitors deep underground to the foundation of the original site. Above ground, the area is alive with people who want to pay their respects and admire the new buildings.
"There's a sense of descending into memory when you enter the museum, where the past is on display," Nick explains. "What rises above the site is about looking forward. Amazing things are taking shape."
Building Community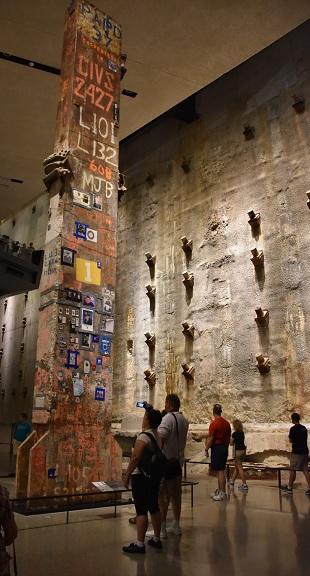 Despite the demands of his job, Nick returns to Toronto on a regular basis to be with his family and attend church on Sundays.
"The people of my church are like family," he says.
Though Nick has been a Christian throughout his life, he experienced a turning point in his faith after his son, Luka, was born in 2002.
"I realized that a lot of what I thought was so important, wasn't really," he recalls. "In the delivery room, I made a promise to Luka. Though God only knew what the future held, I determined to seek the truth in life, wherever it led, and be brutally honest with myself about my own failures. I couldn't promise to be a perfect Dad, but we would get as close as possible to working it out together."
For Nick, being a Christian is much like constructing a building.
"When the Bible is your building code, you can build so many incredible, amazing things," he says. "In that relationship with God, you can build a life of beauty and love."
While the new WTC is one of the most meaningful projects he has worked on, Nick says it's not the most important thing he's built.
"I'm so proud to be a part of this project, but when all is said and done, what really matters is the people you've touched. It's the lives you've affected," he says. "In the end, it's the relationships I've built with my team that I really cherish."
---
The Salvation Army at Ground Zero
The Salvation Army was the first relief agency to arrive at Ground Zero, 45 minutes after the first plane struck the World Trade Center on September 11, 2001, and stayed there until June 23, 2002. The Army provided food, hydration, supplies, grief counselling, financial assistance, referrals and more to hundreds of thousands of emergency workers, families of victims and others impacted by the terrorist attacks.
By the time recovery efforts ended nine months later, the Army had served more than three million meals at Ground Zero and other relief sites, utilizing the efforts of more than 7,000 Salvation Army pastors and staff, and more than 32,000 volunteers, representing a total of almost a million volunteer hours. The Salvation Army in Nova Scotia, and Newfoundland and Labrador also played an important role following the attacks, providing food and shelter for thousands of passengers who were stranded when their planes were grounded.