Workers from Sobeys in Sussex, N.B., donned their green-and-black aprons as they loaded canned corn, potatoes and other vegetables into shopping carts, just outside of the store. Meanwhile, volunteers loaded up a truck with stacks of cardboard boxes containing 200 turkeys.
This wasn't a run-of-the-mill daily pick-up or drop-off for the store. Sobeys, 590 CJCW Radio and The Salvation Army's Sussex Community Church joined forces to provide a Thanksgiving meal to 200 families in the area last year.
Small-Town Kindness
On the count of three, all the volunteers took hold of their carts and pushed them from the grocery store to the Salvation Army building just down the street.
"They needed a lot of people to push all the food because we had so much to give," said Sobeys employee Betty Lou Smith. "And pushing carts is something we all do here anyway. It's great! You get out of the store and get some exercise on a beautiful day."
Over the previous weeks, people could head into Sobeys to donate vegetables, turkeys or cash to help feed the families of Sussex who rely on local food banks during the holidays and throughout the year.
When the volunteers of the "great supper push" arrived at the doors of The Salvation Army, there was a group of people from the community cheering them on, celebrating the plentiful donations.
"I think it's fantastic," said Donna Russell. "This is Sussex and it's just something we do. I don't think you'd get this in a bigger city. We help anyone who needs it."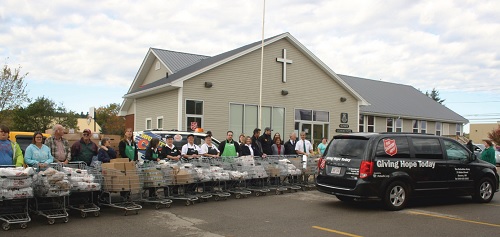 Everyday Reward
While 200 dinners were harvested, Melissa Mowbray of The Salvation Army said each Thanksgiving basket was made to feed about four people—giving upward of 800 people a meal for the weekend.
"This was our third year doing this, and it was amazing to see people come out in droves to help us," Melissa said.
Even while people were still digesting their Thanksgiving feasts, the Army was already getting ready for the Christmas season, collecting donations and toys for local families in need of a helping hand.
"It's rewarding to know that you're helping your neighbours who really need it—there's nothing that can beat that feeling," Melissa said. "I love that I get to do this every day."
(Reprinted from
Kings County Record
, October 14, 2014)