In 2012, my granddaughter and her history class visited some of the Canadian battlefields and cemeteries in Europe. They went to Vimy Ridge, and she had her picture taken at the base of the Canadian war memorial there. I know my father, George Douglas Bell, was smiling down on her, happy to see his great-granddaughter there. It gave me an opportunity to tell her about her great-grandfather.
Never Forget
When war broke out in 1914, my father rode his bicycle 25 kilometres from his home in East Angus, Que., to the recruiting office in Sherbrooke, Que., to join the Canadian Army. He tried twice but the authorities rejected him for service as he was not yet 18. His father ended up telling the recruiting office that they may as well take him as he would only keep trying until he got in.
He joined the 117th Battalion and was later in the 5th Mounted Rifles. He trained at Valcartier and was then sent overseas, where he fought at Vimy Ridge, Ypres and Passchendaele. He was gassed, wounded twice and hospitalized, but he was one of the fortunate ones who got to come home.
Our father was a peaceful, gentle person and a wonderful husband and father to his six children. But there wasn't a single night during our father's lifetime after the war that he did not have nightmares. My mother used to wake him from these, but we could only imagine what he was reliving.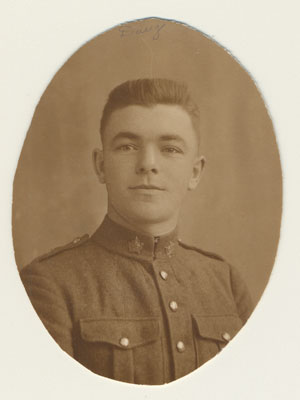 Dad talked little about the war. He did tell us about the trenches that they had to dig themselves, that sometimes they would fill with water, and that some of the wounded and sick men drowned before they could be evacuated.
And he told us about the time the soldiers had just come off the battlefield with the soles worn out of their boots. Only one organization was giving away boots and not selling them to the soldiers: The Salvation Army.
After coming home at the end of the war, my father always gave to The Salvation Army at Christmastime, and he encouraged me and my brothers to donate as well. He died in 1974 but he always told us, "Don't ever forget The Salvation Army because of what they did for me and my buddies."
And we have continued to do so in his honour—for him and for the thousands of soldiers, sailors and airmen who have been helped by The Salvation Army for more than a century.
(Reprinted from the Sherbrooke
Record
, November 11, 2014)