How do you explain the ways of the world to the Creator of the world? How do you teach the Teacher? How do you help the Saviour who came to save you and all humankind?
That was the premise of Anne Rice's 2005 novel,
Christ the Lord: Out of Egypt
. In it, the author of
Interview With a Vampire
boldly tackled a subject not often examined: Jesus' childhood.
Now Rice's novel—an imagining of what the childhood of Jesus might have been like—has been brought to the big screen in
The Young Messiah
, which opens in theatres this month.
Journey Home
In
The Young Messiah
, seven-year-old Jesus (Adam Greaves-Neal) is living happily in the Egyptian city of Alexandria with his mother, Mary (Sara Lazzaro), father, Joseph (Vincent Walsh), and the rest of His family, unaware of the dark secret surrounding His birth.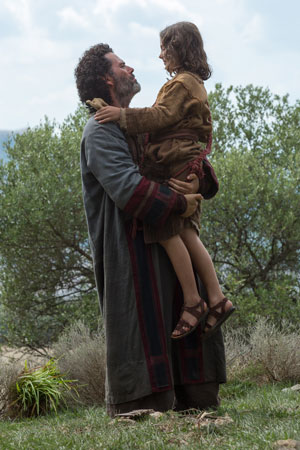 As stated in the Bible, the coming of a new king of Israel had been foretold to King Herod by the Wise Men from the East. Fearful for his throne, Herod dispatched troops to Bethlehem to massacre all the babies born there during that time. However, Joseph had been warned of the impending massacre in a dream sent by God, and that was why the family had fled their homeland for the security of Egypt.
In Rice's novel, when Jesus tries to unlock the mysteries of His birth, His parents shy away from revealing all they know.
Joseph learns through another dream sent by God that King Herod has died, so the family returns to their homeland. For Jesus, however, more questions are raised than answered, heightened by the dangerous return journey to a land embroiled in war and rebellion. Will Jesus find the answers He seeks in their new home of Nazareth?
"The Talk"
Jesus becomes more insistent on finding out what happened at His birth.
"What do we tell our little boy?" Mary asks her husband.
"How do we explain God to His own Son?" Joseph asks.
Jesus' parents realize that they cannot put off the inevitable moment of truth, and Mary brings Jesus to a spot away from curious ears.
"Listen well, because I'm only going to tell the story once," Mary tells her child. "One morning, my room filled with light, and it spoke to me. It said from my womb would come a Son. You."
Though this helps bring some peace to Jesus' heart, He is not the only one trying to get to the heart of the mystery. Herod's namesake son is, like his father, determined to see the boy Jesus dead, and assigns Severus (Sean Bean,
The Lord of the Rings
,
Game of Thrones
) and his soldiers to hunt Him down. Jesus and His family are all in mortal danger.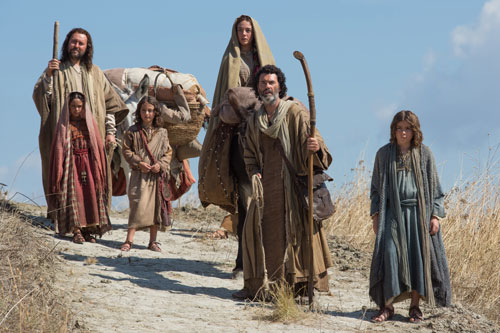 A Family Affair
"My involvement in
The Young Messiah
grew out of a review of my 2009 film
The Stoning of Soraya M.
by bestselling author Anne Rice," explains director Cyrus Nowrasteh. Encouraged by his agent, he read
Out of Egypt
.
"I fell in love with it," he says. "It spoke to me." Much like Jesus, the director had been on a journey of his own, ever since he had married his wife, Betsy Giffen Nowrasteh, the co-screenwriter of the movie. "Embracing this project was the culmination of my own faith walk," Cyrus says. "Making this movie deepened my faith in ways I'd never thought possible."
While the movie is a faithful adaptation of Rice's novel, which in itself is a work of fiction, the movie's makers wanted a theological foundation for the choices the writer had made, and so biblical theologians and scholars were consulted. "We wanted to approach this so that nothing in this movie would be contrary to Jesus as depicted in the Bible," Cyrus explains. "How would Jesus react to a certain situation in His childhood? What does the Bible tell us about how He reacted in similar situations as an adult? We wanted to make sure that there was a consistency. Our consultants read the different drafts of the script and we made changes based on their recommendations."
While Cyrus is aware that people of faith will flock to see The Young Messiah, he feels that this is more than just a Jesus movie.
"At its heart, this is a story about family and relationships," he says. "What kind of child was Jesus? What would His family life have been like? What kind of parents were Joseph and Mary? How did that compare to the way that we parent? How did the struggles that Joseph and Mary faced compare to the struggles that parents face today, raising children in our crazy world? This is a movie that the entire family can enjoy."
(Photos: Courtesy of Entertainment One)