When
Faith & Friends
profiled opera director Joel Ivany in February 2011, he was just starting to make waves in the opera scene. Five years later, with many awards and accolades to his credit, the
Toronto Star
has named Joel one of
five Torontonians to watch in 2016
.
This month, Joel is directing
Carmen
with the Canadian Opera Company (COC), and will produce
A Little Too Cozy
, a modern take on Mozart's
Cosi Fan Tutti
, later this year with Against the Grain Theatre (ATG), the company he co-founded.
Faith & Friends
staff writer Kristin Ostensen caught up with Joel at his home in Toronto.
You started ATG shortly after we profiled you. What is your vision for the opera company?
I hope it can be a company that is in touch with its community. Toronto is very diverse, so it's always a challenge, how best to incorporate the community into the work we do and not necessarily keep doing opera the way it's been done in the past. That's what makes us unique—the way we balance the old with the new.
What kind of projects has ATG done?
One big project was taking three famous Mozart operas and giving them a brand-new English libretto—English lyrics—to create an immediate connection with the audience and update the story to the present day. We also set each of the stories in the venue the opera describes, rather than a theatre. So our
Figaro's Wedding
(based on
The Marriage of Figaro
) was staged at a wedding venue. People in the audience dressed up. We gave out little fake wedding presents as people came in, for them to add to the gift table, and the opera program was designed like a typical wedding program. Our style is immersive—the audience is part of the story, not just observing.
What makes your work with ATG meaningful for you?
I love working with people, so to be able to work on new projects and create rewarding experiences, even before people come see the shows, is a wonderful thing. And then to share that experience with the audience—the circle just gets bigger. It's a kind of family.
With your wife, Miriam, a co-founder of ATG and an accomplished soprano in her own right, it really is a family experience.
Yes! Our work is our life and our life is our work. We try to find the balance between them but, really, it's all the same.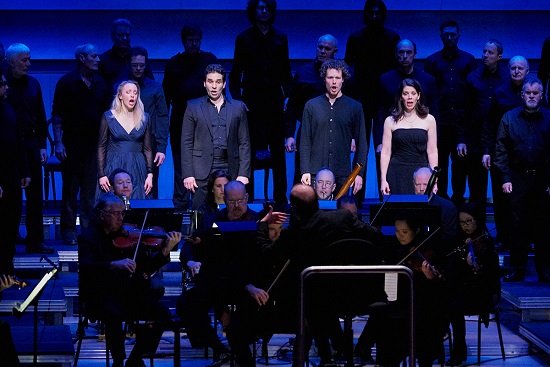 Your first big project this year, with the Toronto Symphony Orchestra, was staging Mozart's Requiem, which is a funeral service. How did you approach this project, given your Christian faith?
My grandmother, a Salvation Army pastor named Lt-Colonel Dorothy Burrows, passed away about a year ago. There was the celebration of life, but also the loss and mourning—themes that are very much present in
Requiem
. So I asked myself, How do you remember and celebrate what has happened in the past, while also remembering and celebrating what you have currently? As stage director, I spoke to the orchestra about remembering both my grandmother and my two-year-old son—it's a ceremony for both of them.
Speaking of which, congratulations on having a son!
Thank you! His name is Sammy, after Miriam's father. It sounds so cliché, but I can't imagine what life was like before him. Having a child changes your goals, your motivations, your love—it's bigger because of him. We feel a great responsibility for his development—where and how he's going to grow. So when we decided where we would go to church, we wanted him to have a connection to his cousins, and that's what led us to the Army's North Toronto Community Church. I went there during my teens, so I have a lot of great memories associated with North Toronto and the people there.
How do you live your faith in your work?
As the song goes, I let my light shine. I try to let that be a guiding force for me, to keep the light, to keep God there, even when I don't feel it at times. I think that's what Jesus taught.
As your stage gets bigger, there can be more pressure. How do you handle that?
I think the most important thing is to stay true to who you are. I try not to let things get to my head, but maintain who I am and who my family is. Family plays a big part in keeping me focused, humble and on the right course.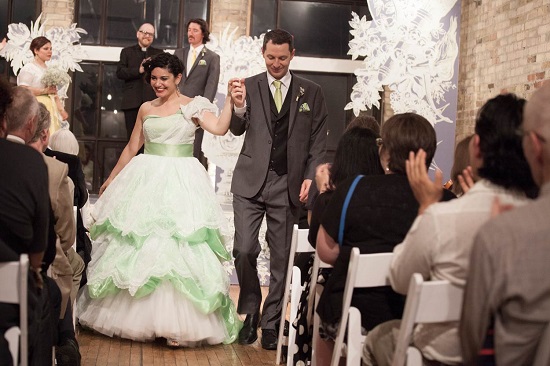 What are you looking forward to most this year?
Carmen
with the COC and
A Little Too Cozy
with ATG are the big highlights. I'm also returning to the Banff Centre for my third summer as program director for opera. It's one of the world's most beautiful places, so to go back there is a blessing. I feel so thankful for all these opportunities, and I don't take them for granted, but you can never tell what life is going to throw your way.
Overall, I'm looking forward to working with more people and creating an energy and excitement around music and the creative potential of people. I think the world needs more of that.
(Photos: Courtesy of Joel Ivany)