It was Good Friday in 2008 and Ontario-based artist Timothy Schmalz was in his studio in Mexico, starting a new sculpture. Every Easter, Timothy sculpted a new representation of Jesus, and as he stared at the large mound of clay in front of him, waiting for inspiration, he thought of the old women he had seen at the local cathedral. With outstretched hands, these shrouded women beckoned passersby, asking for help.
Timothy had an epiphany.
This year,
he thought,
I'm going to sculpt the most humble form of Jesus possible.
Three days later, he emerged from his studio with the now-famous
Whatsoever You Do
statue, which depicts Jesus as a homeless person. The title is a reference to Matthew 25:40, in which Jesus says, "Whatever you did for one of the least of these brothers and sisters of mine, you did for me."
"At the end of sculpting the statue, I compared it to that text in the Bible because that's the measure," says Timothy. "If I can hold my sculpture up to the gospel and I can see the text clearer, then I know I have a great sculpture. That's what I see with
Whatsoever You Do
—it shimmers."
Clay Prayers
From his 25 years as a sculptor, Timothy has many creations to his name, including the National Mining Memorial in Sudbury, Ont., and the Canadian Veterans' Memorial in Waterloo, Ont. But his passion lies in creating art that expresses his faith. "Christian artwork is something that sustains me. It's a conversation that never ends."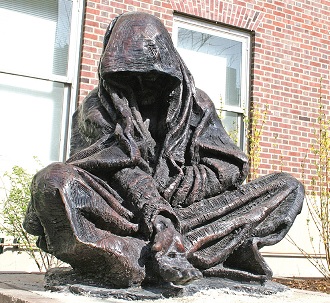 Timothy was raised in a nominally Christian home, but found his own faith during a difficult time in his teens. "I hit bottom at 18 and nothing got me out of it until I started to pray and I came to know Jesus," he says.
As he matured as an artist, Timothy felt compelled to create Scripture-based art, to find new and better ways to share his faith with the world.
"It's not enough to say I'm an artist," he says. "I'm a speaker as well, and I had to have something important to talk about, in order to feel I had worth in what I did."
Studying the best classical artists—Michaelangelo, Da Vinci, Donatello—Timothy was inspired by the Christian themes in their artwork. "The more I wanted to create a great piece of artwork, the more I found myself reading theology," he says.
At 20, Timothy started creating sculptures "obsessively," as he puts it. The process of manoeuvring and carving the clay is a tedious undertaking that requires patience and attention to detail. But he finds joy in the many hours spent working in the studio.
For Timothy, the time spent adding and removing clay from a sculpture provides ample opportunity for prayer. "I roll clay into beads and apply them to the sculpture for hours," he says. "I think of these clay pieces as prayer beads because it's a highly repetitious practice. I'll pick one subject matter and then I'll be adding clay and praying on that subject.
"I like that my sculptures are an accumulation of prayers," he continues. "My chapel is my studio."
Visual Gospels
From a distance, the
Whatsoever You
Do
statue can easily be mistaken for a cross-legged person wrapped in cloth. However, upon closer examination, viewers will notice the figure's nail-pierced hand—reflecting the wounds Jesus suffered on the cross—and the statue's true nature becomes clear.
Timothy wants his sculptures to reference current social issues, and he adapts his work to the needs of the world. "Presenting Jesus in a way that people can connect with today is part of the reason I'm creating these gospel sculptures," he says.
"It's hard to understand the pain and suffering of a crucifixion today," Timothy continues, "but it's easy to understand the suffering of one of the least of our brothers being homeless."
Following the creation of the
Whatsoever You Do
statue, Timothy repurposed the theme of homelessness in a sculpture of Jesus lying on a bench, which he titled
Jesus the Homeless
.
In November 2013, Timothy travelled to Rome for the installation of
Jesus the Homeless
in Vatican City. Timothy stood in amazement as Pope Francis blessed his statue and said it was "an excellent and beautiful representation of Jesus."
"In Rome, you have more representations of Jesus in mosaic, ivory and paintings than any other place in the world," says Timothy. "But I think Jesus would sit down beside
Jesus the
Homeless
because that's how He represented Himself in His words."
Invisible Compassion
Following the Pope's blessing, Timothy went for a walk and came to the Central Spirito hospital—a home to nuns who, historically, helped abandoned children and homeless people—where there is a copy of his
Whatsoever You Do
statue outside.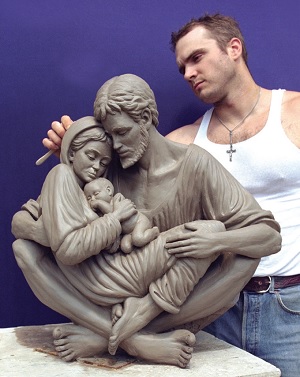 "An old Italian woman placed a bouquet of roses at the hand of Jesus," says Timothy. "People leave money in His hand and the money collected at the end of the day is given to the poor."
In May 2015, Timothy donated 52 life-sized bronze copies of
Whatsoever You Do
to The Salvation Army, which were placed in Salvation Army churches, camps and other places of ministry across Canada. Timothy hopes that this "army of gospel messages" will be visible in areas of high traffic for both religious and non-religious viewers.
"The engineers of compassion are the people who work at The Salvation Army; however, their work is often invisible," says Timothy. "This sculpture is intended to make visible what is often unseen with The Salvation Army."