The Salvation Army's community response vehicles are serving 2,000 meals a day to first responders battling wildfires in Fort McMurray, Alta. In addition to distributing food, water and hygiene kits, we are also providing emotional and spiritual care—a listening ear—to those tasked with combating the fire and ensuring public safety.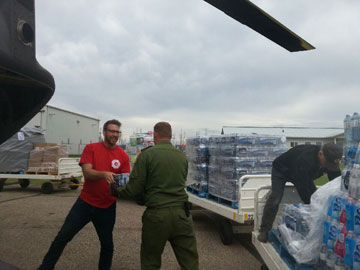 The Salvation Army is also supporting evacuees who have relocated to other areas of the province. Our community and social service programs are distributing food, clothing and other items to help people with immediate and pressing needs. The Salvation Army is available to help based on people's needs and our capacity to serve.
Our thrift stores in Alberta are giving out five sets of clothing to people from Fort McMurray. If people from Fort McMurray are in need of clothing, they can turn to The Salvation Army for help and need only provide their Red Cross registration number. We are also providing practical assistance such as food and hygiene kits.
We are currently requesting donations of clothing at our thrift stores in Edmonton, Red Deer and Calgary only. This is to replenish supplies given to Fort McMurray evacuees.
The public can also help with relief efforts through monetary donations. Donations can be made at
SalvationArmy.ca/albertafires
or by calling 1-800-SAL-ARMY. A $10 donation can be made by texting FORTMAC to 45678.
The Salvation Army is committed to supporting the evacuees as best we can. Salvation Army personnel are available to provide practical assistance, such as food and clothing, or emotional and spiritual care.
The Salvation Army has operated community and social programs in Fort McMurray since 1979 and will continue to be an active presence in this city.