Last Christmas, Lindsey Matthews and her six-year-old daughter, Penelope, were looking to give back and had settled on serving dinner on December 24 at the Salvation Army homeless shelter in Maple Ridge, B.C.
It's a quieter place since the city opened a temporary shelter, but those staying at The Salvation Army Ridge Meadows Ministries still have needs.
Upon their first visit to the Sally Ann, Lindsey and Penelope saw a need for them to help beyond just that one night. They started volunteering in the kitchen every Sunday in December, from 10 a.m. to 6:30 p.m., and have helped out more than 200 hours since.
Giving Back
"Everyone in our office raves about Penelope for her work ethic, commitment and downright moxie in our kitchen," says Amelia Norrie of the Army's Ridge Meadows Ministries.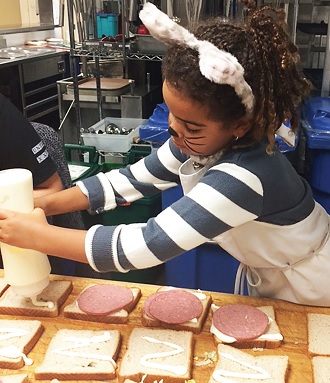 She notes that Penelope, who's in Grade 1, commands the kitchen when she's there, with assistance from her proud mother.
"It's well known that when Penelope is in the kitchen, she'll chop vegetables and pack lunches faster and more accurately than most of the adults, and she's also been known to crack the whip on our food-services team members, too."
Penelope helps with packing lunches for The Salvation Army's school lunch-bag program in partnership with Maple Ridge-Pitt Meadows Community Services, which provides bagged lunches to more than 175 local school children.
Penelope also serves meals to clients, organizes books in the dining hall and plays with other children who come to use The Salvation Army's services. She helps clean tables and the kitchen and practises her spelling by writing out dinner menus on the whiteboard.
Lindsey, a single mother who moved back to Maple Ridge five years ago after a decade in England, states that volunteering at The Salvation Army is a break from a regular weekend day, when she and Penelope usually run errands for the week ahead. And it's also a good way to learn life skills.
"Initially, it was a way to do something with Penelope," Lindsey says. "But it was also a way to teach her about giving back to those in need."
Making an Effort
Upon their first visit, Lindsey sensed such gratitude among clients that she immediately knew that she and Penelope would return regularly.
She says Penelope doesn't mind the long hours.
"She doesn't want to leave."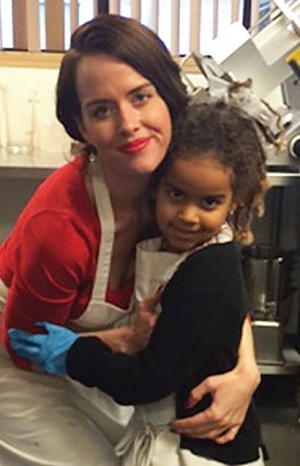 When Penelope is at home, she thinks of ways to give to those at the shelter, whether it be clothes or toys she no longer needs or wants, or bringing milk and eggs for them.
"I think it's creating a lot of community service ethic in her," Lindsey says of her daughter.
Penelope's learned about helping other people and about always being nice to those at the shelter because some of them are having a bad day or they might be cold, and she can help make them smile and give them food when they are hungry.
Sometimes she just gives them a hug.
One time, she brought shoes to someone who had none and whose feet were wet.
She most enjoys serving meals, packing school lunches, and baking cookies and muffins in the kitchen.
Lindsey says that Penelope no longer wastes any of her school lunches, knowing now that she is fortunate to have what she does. She hopes that her daughter's efforts will inspire others to get involved, whether once a week or once in a while.
Their efforts haven't gone unnoticed.
"We could not be more thrilled," Amelia says.
Reprinted from
Maple Ridge News
, March 29, 2016. Photos: Michael Hall/
Maple Ridge News
.