Salvation Army Major Alf Richardson was having lunch with his staff in Gander, N.L., when their attention was drawn to the television screen on the restaurant wall.
"I wish they'd fix that movie because the scene keeps repeating," Major Alf remarked idly. But his reaction soon turned to disbelief, and then to horror.
It was September 11, 2001. What he thought was some action movie was the real-life terror of two hijacked jetliners crashing into New York City's World Trade Center.
Ready to Serve
While the group was taking this all in, Major Ron Stuckless arrived with the news that the first of what eventually amounted to 38 jetliners—and their 6,500 passengers—were being diverted to their small town.
In the wake of this unexpected influx, the mayor of Gander held an emergency meeting at City Hall.
"The Salvation Army was not a part of the town's disaster measures at that time," explains now Lt-Colonel Alf, "but our reputation as an organization preceded us. It didn't hurt that the mayor was a Salvation Army member, either."
The Army was immediately put to work. The Red Cross needed to register the passengers and they were having difficulty getting volunteers for the task.
"Calls were placed, and in less than an hour, we had 35 uniformed Salvation Army pastors hard at work taking down names—each one with a little Red Cross flag in front of them," recalls Lt-Colonel Alf.
Refrigerator Care
The next afternoon, a call came in from City Hall: "We need 3,000 meals by six o'clock. Can you help?"
"What do you do in a town that has a population of 8,000, and no major cafeterias or places to eat?" asks Lt-Colonel Alf. "I bought five cellphones and gave them to my volunteers. I then asked for time on a local TV station and explained the situation, that we urgently needed food and if anyone could contribute a pot of stew or a casserole to dial one of the five numbers listed.
"By 5:30 that same afternoon, when I went back on the air, all I needed were 300 meals, which were quickly provided. There were great sights, such as a pick-up truck arriving all the way from Twillingate, N.L., with a complete roast beef dinner for 40."
As the massive quantities of food had to be stored someplace cold, Lt-Colonel Alf requested that the community hockey rink be requisitioned for the task.
Maclean's
called it "the world's largest refrigerator."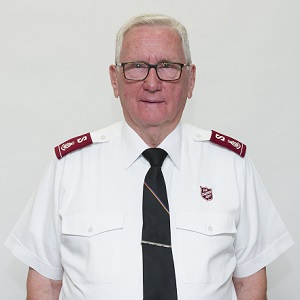 Grateful Call
As with the rest of Gander, the Army opened its doors, and stranded passengers slept on church pews, cots and floors. Pastors fanned out across the area to procure clothes as passengers were not allowed to leave the planes with their belongings.
"For a solid week, we did nothing but look after people."
Besides food, clothing and shelter, Salvation Army pastors provided pastoral care. In their distinctive uniforms, they shared calming words of prayer and spiritual counsel.
Eventually, the passengers and planes were allowed to depart, but friendships were forged that continue to this day.
"Every September 11," says Major Stephen Hibbs, who worked with Lt-Colonel Alf during the emergency, "I receive a call at noon from England from one of the people I helped. He's never forgotten what we did for him and his fellow travellers."
"We had no elaborate plan in place on what to do—we ran with common sense," concludes Lt-Colonel Alf. "We did what needed to be done."