I've always been a dreamer. I dreamed of being a missionary, and God opened the door for me to serve in Brazil, Mozambique and South Africa. I dreamed of getting married and having a family, and then I met a young man through church. It seemed like all my dreams were coming true.
But over the next five-and-a-half years, my dream turned into a nightmare. We had what I thought was unexplained infertility. I came to realize that perhaps I would never be a mother to my own biological children. I tried to accept it with grace, wondering if it was God's plan for me to become a foster mother and adopt children.
As the problems in my marriage grew, I realized not having children might be for the best. I was unhappy with who I was and what my marriage had become. I couldn't eat or sleep. I couldn't sit still, staying busy so that I didn't have time to think. I couldn't hear God's voice. I knew that he loved me, but I struggled to see how he was answering my prayers. Things were so bad that I almost listened to the voice that said, "Just give up. It's not worth living anymore."
In November 2011, I made one of the most difficult decisions of my life—to leave my marriage. I ended up in the hospital. I couldn't work. I was humiliated, terrified of what my family and friends would think.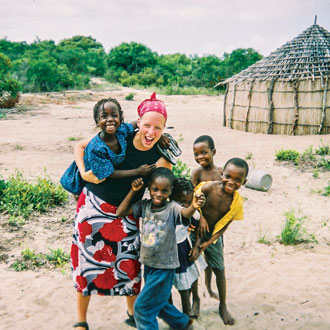 Then I came to the altar at Kingston Citadel, Ont., and knelt in brokenness to pray. Majors David and April McNeilly, the corps officers, accepted me as I was. It didn't matter to them what sin I carried or that I had left my husband. All that mattered was that I was a child of God who was forgiven and deeply loved.
The Salvation Army offered me community. It helped me rebuke the lie that said my life wasn't worth living. It helped me reclaim my God-given potential. It helped restore my faith.
On July 6, 2013, I walked down the aisle to say my vows to the most caring, loving and gentle man I have ever met. Later that year, we were able to work side-by-side in Tanzania with people experiencing mental health issues. We now have two beautiful children, a boy and a girl.
When I think back to what I went through—the fear, pain, hurt and rejection; applying for bankruptcy, almost losing my home—it all seems like a horrible nightmare. Sometimes I forget that it was even my life. But those tough times taught me great lessons and have shaped and formed who I am today.
I share my story as a praise offering to God. I thank him every day for the life he has given me. I wake up in a home where I feel safe, loved, cared for and protected. When I look at my children, I am reminded of God's provision and faithfulness. We have a mighty God—we must never give up hope that he answers prayer in ways far greater than we can ever imagine.
I had given up on the dreams God placed in my heart as a little girl, but he restored my dreams and my life. I continue to be a dreamer—and I pray that God will shape and mould my dreams to honour him.