When I visited Boundless Vancouver, a Salvation Army church plant that meets on the east side of the city, the first thing I noticed was the logo—a "B" and "V" forming a blue heart, an addition to The Salvation Army's traditional Red Shield. It's a signal that, while rooted in the past, something new is emerging in this corps.
"We chose the name Boundless to celebrate our heritage. We are all about what the Army was raised up to be," says Jonathan Evans, who leads the corps with his wife, Carla. "But God is a creative God. He delights in experimentation, especially when it's for his glory and purposes. And so we're trying a new thing under the banner of The Salvation Army."
The people that gather for worship—in a space that could double as an art gallery— aren't wearing uniforms, and the music is led with a guitar, not a brass band. Evans welcomes the small group with a reading from Revelation, reminding us that we are part of something much bigger as we join the worship in heaven.
"Our mission for Boundless is to make followers of Jesus, to share his love with Vancouver," says Evans. "We want to see the boundless kingdom spring up, creating healthy children, youth and families, especially through The Salvation Army's ministries."
But those ministries are only half of the equation. "Everyone knows the Salvation Army shield, our charity work," he says. "But it's not enough to provide a Christmas hamper, without establishing a relationship. What's the heart behind the shield? The heart is a community that loves God and loves others. It's Jesus' heart, broken for the lost. So we want to be part of integrating the social and spiritual ministries of the Army."
Integrated Mission
Jonathan and Carla moved to Vancouver in 2002, to join then Captains Stephen Court and Danielle Strickland in starting Vancouver 614, a corps in the Downtown Eastside. Jonathan was one of the first students at the War College, an urban discipleship program, and later took over the leadership. But they began to sense the need for a corps on the east side that was focused on families.
As they considered whether God was calling them to plant a new church, their friends at 614 were part of the discernment process. "We asked them to pray about it, and two couples affirmed it was something they were looking for as well," says Evans.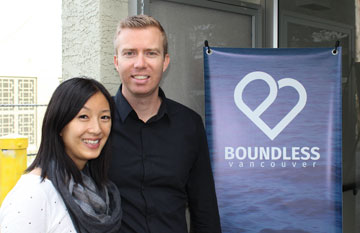 Boundless Vancouver began in the spring of 2014, in Jonathan and Carla's living room. They were joined by Brad and Chelsea Marsh, both Salvation Army employees, and Lachlan and Sharyn Turner, who moved to Vancouver after learning about the Downtown Eastside at a social justice conference in Australia.
"We didn't have the luxury of branching off from a large congregation, so we have an urgency to see people start following Jesus," Evans says. "And it begins with the people in our networks, and through prayer. We rely on what the Spirit is doing in our relationships."
One day, as Evans walked and prayed after dropping the kids off at school, he felt God say that someone was about to be saved—and then he bumped into their son's basketball coach. They talked for several hours, and he committed his life to Christ.
When the coach's living situation grew precarious, they found him—and two of his roommates, a mother and daughter— space at Belkin House, a Salvation Army shelter, until permanent housing was available. Jonathan and Carla helped the mom furnish her new home and register her daughter in school and an afterschool program at a community centre. All three started attending Boundless.
It's a great example of integrated mission—caring for the whole person, meeting physical and spiritual needs.
Discipleship
In 2005, Jonathan and Carla served as directors of community and family ministries at the Caring Place (now Ridge Meadows Ministries) in Maple Ridge, B.C. That's where he met Dave, who was struggling with addiction. He gave him a voucher for shoes and prayed with him, believing that God wanted to restore his life and his creativity.
Years later, they reconnected when Dave's new partner, Jenny, invited them over for a meal, and were encouraged to hear how his life had turned around. "We started meeting, and I shared what it meant to know Jesus, to surrender our lives to him," says Evans. "He made the decision to follow Christ, and it has affected his whole family—his children are coming to know Jesus, too."
Although both Dave and Jenny have been some of the most faithful and committed members at Boundless, Jenny is still seeking.
"In the 21st century—and especially in secular, progressive Vancouver—you can't assume understanding or acceptance of some of the basic ideas of Christianity, that there is one God, or what it means that Jesus died for our sins," Evans says. "We need to start the conversation much further back. So we encourage people to think about where they are on their spiritual journey, and what's the next step they can take."
Infinitum
One of the ways they encourage people to keep taking the next step on their discipleship journey is through
Infinitum
, a Salvation Army-produced resource launched at the Boundless international congress in 2015.
Infinitum
—the Latin word for boundless—is an invitation to follow Jesus, guided by two virtues, loving God and loving others, and grounded in three vows.
"
Infinitum
isn't another program—it's a covenanted way of life," Evans explains. "The first vow is to surrender your whole life to the lordship of Christ. The second is generosity. In a tight-fisted culture, we encourage people to live open-handedly with their time, relationships and money. And the third is mission—to lay down our lives for others."
The rhythm of
Infinitum
life includes reviewing the vows daily, meeting in a weekly hub group of two or more people for support and accountability, and a monthly web conference with other
Infinitum
communities around the world. Resources are available at
infinitumlife.com
and the web conferences are hosted by the U.S.A. Western Territory's savn.tv.
Although
Infinitum
requires commitment, it doesn't require membership in the Army. "We focus first on the heart of Salvationism underlying the Army's traditions," says Evans. "And then we call people to live out their covenants in this context. But as people follow Jesus, if he calls them to join us, then we have open arms." Brad, Chelsea, Lachlan and Sharyn are all soldiers, and Dave plans to take soldiership preparation classes soon.
"We're a community following Jesus together," Evans says. "And as we journey, we're all approaching the same place—the heart of the Father, and how deep his love is for us."
Boundless Vancouver may not look like a traditional Army corps, but they are interpreting the Army's traditions for today. "We don't all have to look like William Booth, but we are certainly inspired by him," Evans concludes. "And I think God likes us stepping out, taking risks and dreaming—just like Booth did in the 1860s."