In
The Shack
, in theatres this month, Sam Worthington (
Avatar
,
Hacksaw Ridge
) plays Mack Phillips, who has not only lost a daughter but also his faith in God.
During a family camping trip, his six-year-old daughter, Missy, is abducted. In an abandoned shack deep in the Oregon woods, police find evidence that she was murdered. It's every father's worst nightmare.
Four years later, Mack, now deeply shrouded in what he calls The Great Sadness, finds an unstamped letter in his mailbox. The letter invites him to spend the weekend at the shack, the site of his greatest pain. It's signed "Papa," which is what his wife, Nan (Rhada Mitchell), calls God.
While Mack thinks the letter is a cruel joke, he decides to go, not knowing what to expect. There, he finds a trio of strangers led by a woman who calls herself Papa (Octavia Spencer,
The Help
,
Hidden Figures
), a carpenter from the Middle East named Jesus (Aviv Alush) and Sarayu (Sumire Matsubara), a wisp of a woman who seems to appear out of nowhere. These three characters reveal themselves as the Trinity—God the Father, Son and Holy Spirit.
Mack stares at Papa and asks, "Do I know you?"
She smiles kindly and answers, "Not very well, but we'll work on that."
As the realization dawns on Mack as to exactly who his companions are, he must let go of the anger he feels for the loss of Missy. "Why did you let this happen?" Mack rages. "Why did you take Missy from me? You've never been around when I needed you. Some 'Papa' you are!"
But as Mack spends time with Papa and the others, he feels the great love they have for him, and he begins to view his tragedy through a different lens. Mack knows his life will never be the same.
Useful Input
The Sh
ack is based on the 2008 novel of the same name by William Paul Young, which has been published in 39 languages and has sold more than 18 million copies around the world.
When asked why it took so long for the book to be turned into a movie, the author replies in one word: timing.
"I think that timing is the sandbox of the Holy Spirit," Young explains, "and almost all the miracles in our lives are more about timing than any other factor. We are always able to see the hand of God as we look back and this was no different. The right director, producer, location, cast, it's all about timing—and way beyond my ability to control."
Young's participation was sought throughout the movie-making process, right through to vetting the script. "I also gave feedback during the editing stage. All of this was a wonderful and unexpected gift to me. For example, I was invited to the first day's shoot and to pray a blessing over the entire cast and crew, which I did.
"For me," Young continues, "it was fascinating to watch all the streams of activity merge into crafting a single piece of work, one that has each person's imprint. The result is a faithful adaptation, in which the story and impact have been preserved."
Challenging Orthodoxy
When
The Shack
appeared, the notion of a female God challenged the assumptions of many Christian readers.
"Some people felt the need to defend God," smiles Young. "I've been accused of making graven images and attacking the orthodox."
But as a self-described "missionary and preacher's kid" himself and having attended Bible school and seminary, Young knew he was on solid ground.
"All imagery is going to be inadequate, whether male or female, and this was one way of bridging our understanding of the character and nature of God, who is Father, Son and Holy Spirit," explains Young. "With the Trinity, my focus was on how they related to each other, which is the key to the centrality of who God is. Relationship is at its core. And all of a sudden, that made sense to people."
In the end, he says, "This is as good as I know how to paint the character of God. I know that I failed because He is better than I could ever write Him."
Opening Hearts
The Shack
attempts to answer some of the most difficult questions in all of Christianity: If God loves us so much, why does He allow bad things to happen to us? Where is God in our pain?
These are not easy questions, and all too often, they can make it impossible for people to trust God and believe that He loves them. Like Mack, our painful pasts can become a stumbling block to faith.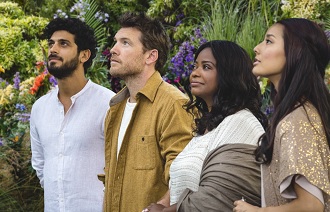 When people ask how we can believe in a God who allows such pain, it can be hard to know what to say. The best thing to do is point them to the truth that will set them
free. That truth has a name: Jesus. He bore tremendous pain on our behalf. Jesus is proof of God's love for us.
As Christians, we can take comfort in knowing that no matter what tragedies may befall us, our stories have a happy ending.
"I want the movie to open people's hearts in such a way that they sense the deep love of God, and that they are able to embrace some of their own great sadness in a way that will allow healing," says Young. "I think the movie, as did the book, will give people a language to enable them to have a significant conversation about God."
---
Playing God
As with the novel,
The Shack
preserved the casting of a woman, Octavia Spencer, as God.
The Alabama-born actress had already read the book before she signed on to the movie and is a person of faith. "I learned about God before I could read and write. It's what grounds me."
How does one prepare to play the role of God the Father?
"I tossed and turned when I realized I would be playing the Almighty," Spencer says. "As actors, we bring certain elements of ourselves into the roles we play. The idea of somehow understanding then executing the omniscience and omnipresence of God was daunting, so I had to come at it from another angle. I had to truly see myself as 'parent' and Mack as 'my child.' Then, every door was somehow open to me. I felt a deep and emotional bond to him."