Dennis Miner has a tattoo on his arm that includes the word "love." Even while trying to be a rebel teen, as he describes it, his kindness shone trough.
Decades have passed since Dennis' rebel days, but he's still full of love for others.
Needed Contact
For 43 years, Dennis has dedicated his time to The Salvation Army's Rainbow Country Church in Parry Sound, Ont., with 31 years of watching over the community's youth and disadvantaged through the church's street ministry.
While he has four children, 13 grandchildren and three great-grandchildren, the number of kids who call him "poppa" after years as a foster parent and volunteering isn't one he can tally.
Friday nights, you'll find him with The Salvation Army's street ministry team, giving aid in the form of food and company to those in need.
Parked at Market Square Park, the Salvationists hand out coffee, hot chocolate and snacks, along with a hot dish varying weekly from hotdogs to spaghetti and casseroles. The average night has 75 people stopping by, ranging in age from four to 94.
"What impresses me most is the kids," says Dennis. "A lot of them are hungry. But the first thing they want is a hug, then they might decide to get something to eat. They want that contact.
"I can remember a girl one night years ago. She came down there crying. When I asked what was the matter, she said, 'I had an argument with my parents. They don't love me but I know you guys do,' she said, 'so this is why I came down.' "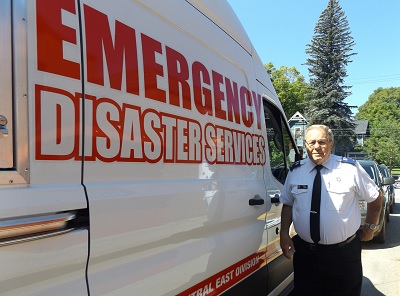 Gathering Point
It started with Dennis on the streets, talking to kids hanging about, and morphed into something more formal with the church van, later upgraded to a motorhome, as a gathering point.
"A police officer said we're as good as two squad cars; we see so many kids downtown and we can keep an eye on them better," says Dennis.
It may seem strange to those who haven't known him for long that Dennis hasn't always been a member of The Salvation Army. He came to it later in life when he visited Rainbow Country Church one Easter.
"I came here and, well, this is home," he says.
More Than a Cleaner
The son of Parry Sound Police Sergeant Stan Miner—who'd set up a boxing ring in 1949 to keep local boys occupied—Dennis graduated from Parry Sound High School before going on to work at the Georgian Bay Creamery and marrying his wife, Maureen, at 20. From there he moved on to a posting with the CN Railway farther north before returning and eventually taking a janitorial position at Whitestone and McDougall elementary schools.
But Dennis was much more than the school cleaner. He also tutored kids on computers and taught them carpentry.
"I hurried up and cleaned for seven hours and spent about four or five hours with the kids," he says, laughing at the memory.
Role Model
Along with the street ministry, Dennis also volunteers through The Salvation Army's emergency disaster services to provide food, spiritual care and immediate housing during dire circumstances, such as a major fire. He is also the corps sergeant-major at Rainbow Country Church, the first point of contact for church members after the pastors.
In 2017, he was awarded the Order of Parry Sound but he also values other items of positive feedback, including this piece of praise that a man posted recently on social media:
"You were a role model for the type of man I wanted to be," he said. "I will be eternally grateful."
Sarah Bissonette is a reporter with the Parry Sound
North Star
. Reprinted from
Gravenhurst Banner
, November 29, 2018.