Each year, The Salvation Army supports the Partners in Mission Self-Denial Campaign. Ministry units across Canada and Bermuda participate by holding fundraisers in their local communities to support The Salvation Army internationally.
In 2022, corps and social services in every division put their own unique spin on the annual fundraising campaign—some with plants and others with pies. Here are a few examples of their creativity and charity:
---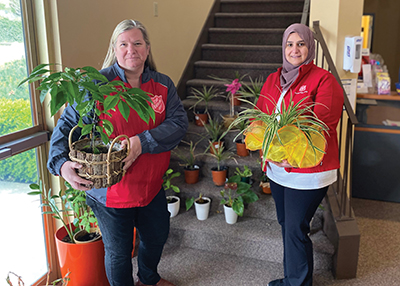 A Little Love and Care
With their corps focusing on creation care, Surrey Community Church, B.C., developed a fundraiser to match their commitment to God's earth.
Using withered and unsellable plants discarded by local grocery stores, Majors Diane and Glynden Cross, corps officers, transformed them into a fundraising initiative in support of Partners in Mission, raising more than $2,600.
"We have these beautiful glass doors and when we put the plants in front of them, they started to thrive again. I thought, What a great representation of how, with a little love and care, we can bring things back to life," says Major Diane.
Majors Cross and volunteer, Noor Alsamria, offered the plants to members of the congregation for a donation. Then, they opened up the fundraiser to the community in Surrey.
"Inside the church, people understand Partners in Mission, but when we moved it out into the community, the people were so giving. It became an educational tool to show where the money we raise goes," says Major Diane.
With a plant nursery now set up at the corps, Majors Cross plan to propagate and continue the fundraiser.
"Without this, the plants were destined for the landfill or the compost," says Major Glynden. "Like the biblical component of creation care, God wants us to nurture these plants, restore and transform them. Let's reuse them and bring some cheer to someone's life."
---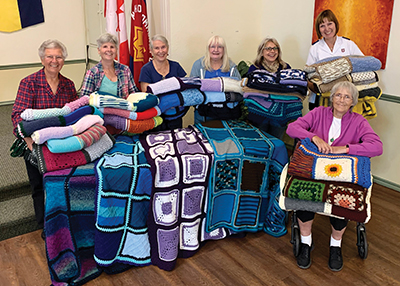 Commu-knit-y Campaign
One Sunday morning, Lieutenant Lynn Torrens, corps officer at New Hope Community Church in Salmon Arm, B.C., asked her congregation if they had any creative fundraising ideas for Partners in Mission. One church member, Allison Patrick, who runs a community knitting group called CommuKNITy Cares, presented the idea of a knit-a-thon.
From February to March, seven members of CommuKNITyCares, along with 18 other knitters from British Columbia and Alberta, were sponsored by peers to knit or crochet 20-centimetre squares. The money raised from these pledges went toward Partners in Mission, and at the end of the two months, the squares were knitted together to create blankets for the Safe Society Women's Shelter.
"It was an initiative that allowed us to bless the international work of the Army and minister to a local organization as well," says Lieutenant Torrens.
More than 100 people sponsored the knitters and by the end of the fundraiser, they had created 687 squares, enough for 28 blankets.
"At the end, we had a big event celebrating what was accomplished. We hung some of the squares from the ceiling," says Lieutenant Torrens. "God used this fundraiser and brought people in that were excited about supporting the international work of The Salvation Army through a skill set they already had."
The knit-a-thon raised more than $8,500, far exceeding the corps' initial goal of $4,000. "We're quite a small congregation, so it was really encouraging and awe-inspiring to see how God took our little offering and used it to do something far beyond what we could imagine," says Lieutenant Torrens.
"The knit-a-thon proved to be more than a fundraiser," explains Patrick. "It was about connecting community, educating others about the work The Salvation Army does, both locally and internationally, and introducing Christ to those that may not know him."
---
Pied for PIM
Last June, Majors Jamie and Shelly Rands, corps officers in Brandon, Man., set a fundraising goal of $2,400 for Partners in Mission. They reached this goal quickly through two church fundraisers but felt they could do more. Charlette Fontaine, program director, challenged the congregation to raise at least $500 more to surpass their goal by hosting a "pie in the face" draw. Names were drawn to select two people to pie the corps officers in the face.
"Boy, did they go for it," says Major Shelly, pictured above. "We all had a really good laugh, too. It was cold and sticky but a whole lot of fun. Would we do it again? Absolutely!"
Majors Rands and the congregation in Brandon raised more than $3,300, beating their initial goal by 41 percent.
---
Heart for Missions
With their Partners in Mission initiative, Sharon Dury and Janine Oblak, who attend Etobicoke Temple in Toronto, did more than just raise money for The Salvation Army's international work. They stayed outside overnight to experience how many people in other countries live on a nightly basis in the winter.
"By staying out in the cold with only a sleeping bag, cardboard and a bit of pocket money, I learned how many people around the world live their lives," says Dury. "It made me realize that we must give. By giving everything, we will help people all over the world have access to meals and places where they feel accepted."
Through this initiative, Dury and Oblak raised $3,600 for Partners in Mission.
"God taught me that I can live with less material items," Oblak says. "This experience was life-changing in the best way. I have a greater heart for international missions."—Kathy Nguyen, from Global Link, Fall 2022
This story is from: