On November 2, Netflix premiers a new miniseries, All the Light We Cannot See, based on the 2014 book by the same title. Written by Anthony Doerr, the novel took 10 years to write and won a Pulitzer Prize.
War From Two Sides
The historical action drama chronicles the lives of two young people during the Second World War, from 1940 to 1944. The first is Marie-Laure (Aria Mia Loberti), a blind girl whose father, Daniel (Mark Ruffalo), works at the Museum of Natural History in Paris as a locksmith.
When Marie-Laure is 12, the Nazis occupy Paris. She and Daniel escape to the seaside town of Saint-Malo to live with Daniel's eccentric uncle, Etienne (Hugh Laurie), whose hobby is radios. Etienne teaches Marie-Laure how to operate a hidden radio in the attic of his home. When both her father and uncle are arrested, Marie-Laure transmits messages to them over the radio, hoping they will somehow hear her.
Meanwhile, in Germany, a German orphan, Werner Pfennig (Louis Hofmann), delights the housemother of the orphan home with his astute questions and abilities. German officers soon learn of Werner's skill at repairing radios and place him in an elite Nazi training school. Although the military exercises prove brutal and Werner quickly becomes disillusioned with the Nazis, he perseveres for the sake of a free education.
Werner's Choice
Near the end of the war, the Nazis send Werner to France to confiscate illegal radios and kill the members of the French Resistance who use them. Marie-Laure has since joined the Resistance herself and transmits messages over an old radio of her uncle's.
Werner discovers the young blind girl and is mysteriously drawn to her. After hearing her story, Werner sees her no longer as the enemy, but as a brave young woman shining light into the darkness.
"People have always said that about me," she responds. "But I don't feel brave. I just live each day as it's given to me."
Werner sees how his life has been a lie, following a philosophy of racism and annihilation that he's grown to despise. When he realizes that Marie-Laure lives in more light than he does—even though she's blind—it opens the eyes of his heart.
But now Werner faces the most crucial choice of his life: order Marie-Laure's death or disobey his own orders to save her—and risk his life. Werner's decision will change them both forever.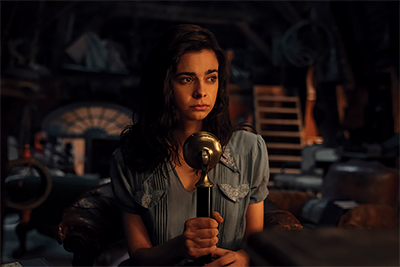 Coming to the Light
Sometimes it takes what our society calls a "disabled" person to help us see what we value most. Are we living with authenticity? Do we match our actions with our belief system, or simply do what's expected of us because it's most advantageous? Or easy.
Jesus tells us in Matthew 5:16, "Let your light shine before others, so that they may see your good works and give glory to your Father who is in heaven" (English Standard Version). The light in us who follow Jesus is God's Holy Spirit. His power at work in us enables us to open our hearts full of light to others. When they see that light shine through us, it shows them the way to Jesus.
Whether we feed a meal to a hungry person or transmit radio messages to save a nation, we are the light of Jesus that shines in a dark world. We can be the light for someone stumbling in darkness.
And once they come to that light—Jesus Himself—they will never be the same.
---
All the Light We Cannot See: Fast Facts
When director Shawn Levy (Stranger Things) read the script, he decided it would be perfect as a miniseries.
All the Light We Cannot See will introduce Aria Mia Loberti as Marie-Laure. Loberti is blind, and this is her first acting experience.
Since bombs demolished most of Saint-Malo near the end of the Second World War, many main scenes were filmed in Ville-franche-de-Rouergue, France, chosen for its resemblance to Saint-Malo before the war.
Author of five books and hundreds of published articles, Jeanette Levellie and her husband make their home in Paris, Illinois. Jeanette's hobbies include spoiling her three grandchildren, pampering her cats and inventing new ways to avoid housework. Find her splashes of hope and humour at jeanettelevellie.com.
Photos: Katalin Vermes/Netflix
This story is from: