One can't help but be impressed with John today. He is holding down a steady job and has a place to call his own in Vancouver. However, a year and a half ago when he re-entered Canada, all he had—literally—were the clothes on his back.
But The Salvation Army's Belkin House and a dedicated caseworker changed John's life.
"God has a master plan for each and every one of us when we least expect it, says Alvin Chong, director of community development at Belkin House. "And John is a great example of that."
A Roof Over His Head
In 2020, John was working as a dishwasher at a restaurant in Las Vegas. But when the global pandemic hit, the restaurant shut down, and John lost everything.
That fall, he slowly made his way from Las Vegas to Seattle. Eventually John made it to the U.S.-Canadian border, where—"with just enough documentation"—he made his way back into Canada, but with nowhere to go. That was when the border officials recommended The Salvation Army.
"I was homeless, so I reached out and contacted Belkin House," John says. "I was told that, normally, the waiting list was very long. However, as luck would have it, I got a bed right away."
"I didn't know if I would make it."
While he was at the shelter, John applied to the Army's Personal Development Plan (PDP) program. "And as luck would have it again, Belkin House took a chance on me and accepted me into the program," smiles John.
As a PDP resident, for the next 18 months, John would have a roof over his head, an assigned caseworker, and a program to help resettle back into Canada.
From Uncertainty to Stability
But now what?
John was assigned a PDP caseworker and chaplain, Andy Cuong Hy.
"My focus when he came into our program was for John to obtain employment, save money and find housing," Andy explains. "One month turned into two and I realized that he needed some handholding. But he was open to that and was appreciative that I was taking a proactive part in his homeless situation."
Andy helped John obtain a provincial ID, referral to medical assistance, enrolment in a life-skills and employment training program.
"Thanks to Andy's help, I was able to get some culinary arts and barista training, which prepared me and gave me valuable skills for a new career path," John says. "I even got a new pair of work shoes!"
Andy also assisted John in creating and posting a resumé (that had very little work experience) on some job-search websites. Very soon, John received a query from a local restaurant. Lacking interview experience, he again sought Andy's guidance.
"He told me to practise in front of a mirror, to be myself and be honest," John says. "I forgot about the practising in front of a mirror part but did the interview anyways. By some luck, the café hired me!"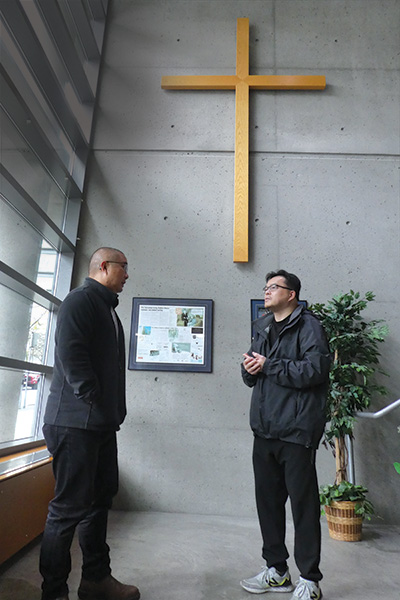 The University of British Columbia's job board posted an opportunity in the food services department. Soon after starting work at the café, John decided to apply for the position.
"I went through the application process and sent my resumé in," John says. "By some luck, they hired me."
For the first few months, John juggled two jobs to make ends meet, but soon a position opened up that offered full-time hours and better job security. This helped ease the difficult decision to leave his first gig.
In October 2021, just 12 months into his residency at Belkin House, John applied for a rental spot.
"I look back at all the great programs Belkin House offered and the financial literacy workshop that helped me get my finances in order," he says. "Luckily, I now had a stable job and financial statements to support my housing application. I moved in November 2021."
Giving Hope
"When the pandemic hit and I was stuck in the United States with just the clothes on my back, I was lost and I didn't know if I would make it," John confesses.
But he did, thanks to The Salvation Army and some caring individuals such as Andy and Alvin.
"John's a great story of someone who, if they get the right support, can really thrive in a beautiful way," says Andy.
John takes a long and reflective pause.
"I know I've used the word 'luck' a lot, but I truly believe 'Someone' was looking out for me. That 'Someone' led me safely through these past couple of years to end up at The Salvation Army, a faith-based organization, and to Belkin House, where my caseworker was a chaplain who genuinely cared.
"What I've been through over the past couple of years is not 'luck,' it's God's plan. It would be great if my story gives hope to others."
This story is from: