Every August, parents receive a list of back-to-school basics for the upcoming school year: backpacks, lunch bags, runners, paper, pencils, clothing and so on. My 13-year-old daughter has always loved school and September is an exciting time for her. With all of her back-to-school basics in hand, she heads off to school with a smile on her face and a skip in her step.
As we move into a new school year, I am sure we are all hoping that things will be more normal than they have been since the onset of the pandemic in March 2020. Students around the world were impacted as school doors suddenly closed. Instead of gathering with friends in class, children were sitting behind a screen at home. In the months that followed, there was a constant swing back and forth between in-person and online learning, depending on the current COVID-19 situation.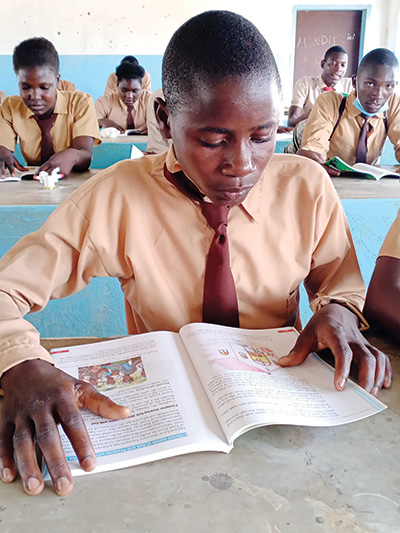 During one of those remote learning periods, I sat at my dining room table every day listening to a class of four and five-year-olds on the laptop beside me. One of my daughters had started kindergarten in the middle of the pandemic and was sitting in front of the screen, trying to navigate camera on, camera off, mute, unmute and so much more!
I was also working from home because our office had closed. Throughout that time, I was involved in many meetings with Salvation Army personnel from around the world discussing how COVID was impacting children. The story was the same for most places: schools were closed and children were learning online. But moving children online in Sri Lanka or Zambia was not the same as what many of us experienced here in Canada. In my home, we had laptops and tablets for each child to use; we had unlimited internet and a constant source of electricity. This was not the reality for so many other children. While children in urban areas had a greater chance of accessing online learning, children in rural areas were often left out.
But it wasn't just technology issues that were affecting children. Mental health became a main priority as children were secluded and unable to engage in social interactions due to shutdowns and closures. Nutrition was impacted as children lost access to feeding programs at school. And there were other increased risks associated with children not being in school: abuse, early marriage and school dropouts as children did not return after schools reopened.
Internationally, The Salvation Army has more than 2,600 educational facilities, ranging from preschools to colleges and universities, which are attended by 471,000 children and youth. When COVID-19 hit, closures among these facilities presented a massive challenge to everyone in the field of education, from students and parents to teachers and support staff. Every Salvation Army territory had to find new and innovative ways to not only enable continued learning but also provide students with emotional, mental and practical support.
In Sri Lanka, child development centres focused on play and recreational activities as they provided space for children to be active and socially engaged during community lockdowns. In India, food packages were delivered to the homes of children who were missing out on regular nutritional support from The Salvation Army. And in Congo, there were additional supports of school uniforms and kits provided for 200 children whose families were economically impacted by the pandemic.
Even before the pandemic began, The Salvation Army Brighter Futures Children's Sponsorship Program was actively involved in supporting children and youth across the world through schooling and education programs. This support has continued throughout the pandemic and will continue for years to come as we recognize the importance of good education and how this can set children on a course for a successful future.
So, as another school year begins, let's all work together to not only fulfill our back-to-school lists here at home, but also those belonging to some of the 3,300 students supported by Brighter Futures worldwide. The back-to-school basics that we help to provide include uniforms, backpacks and textbooks, as well as support to schools and teachers through learning materials, furniture and equipment, water and sanitation, and feeding programs. Together, we can help provide brighter futures for children and youth around the world as we equip, prepare and support them throughout their schooling years.
To become a sponsor or to learn more about the Brighter Futures Children's Sponsorship Program, visit salvationist.ca/brighterfutures.
Major Heather Matondo is the sponsorship co-ordinator in the international development department.
This story is from: