I was just two months old when I attended my first Salvation Army congress. I grew up in the church, and we were at the corps almost every day of the week. I participated in singing company, timbrels, band, junior soldiers and any other programming that was offered.
When I was a bit older, I remember arguing with my parents because I didn't want to go to the Sunday evening service. Unfortunately, that wasn't an option, but they did let me go without wearing my junior soldier uniform. I would sit with my grandparents, playing games while my brother fell asleep on my grandmother's lap.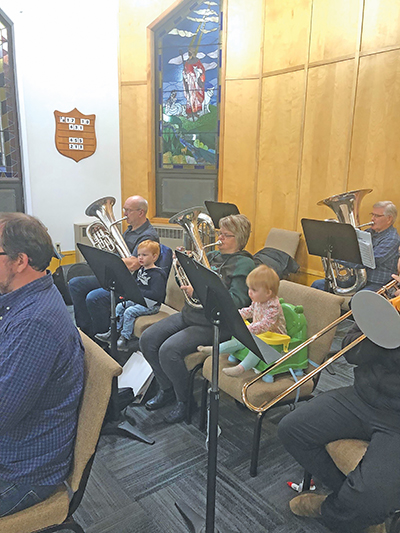 Commitment to church activities has always been an important family value. My son, Luke, attended his first band retreat at only two months old! Growing up, my parents played in the band and sang in the songsters and, because of this, I learned what it meant to be committed. When I started my own family, I knew I wanted it to be the same.
Presently, I am the bandmaster and choir leader at the corps in Gander, N.L. Luke is two years old and my daughter, Jessica, is one. Twice a week, we pack up two diaper bags with bottles, snacks, toys and extra clothes, and head to the church. We even bought a playpen to leave there so the kids can take naps if needed. I'm so thankful that my children will grow up being a part of our corps family with so many people who love them.
Of course, I wouldn't be able to do what I do without the support of the band members and the congregation. Rehearsals are not always as quiet as they used to be. My children sometimes have bad days or meltdowns, but my band members fully support me and have let me know that they're happy I haven't stepped back from my roles just because my kids are small. If one of my children starts screaming, whoever feels they are able will come along and look after them. For example, if we have three cornet players that night, one of them will tend to the kids.
My husband and my parents also play in the band, so sometimes they take care of my children during rehearsals. Luke loves going to church and is always itching to get out on the platform on Sunday mornings. He has his own baton (a pencil with no eraser) and leads the band with me. He also loves to sing along with the band, especially in rehearsals when we are playing a meditative or prayerful piece—although he doesn't know quite yet to cut off with the bandmaster. I'm just praying that he doesn't do that on a Sunday morning!
The band members love having my two kids there and are quick to reassure me that I don't have to feel bad if they act out. There are also many people in the congregation who support me by taking one of the kids out of the sanctuary if they are hungry or making too much noise. It takes a village, and along with my parents and church family, I have the best village imaginable.
Staying involved in ministry—let alone in leadership—while raising a family is a challenge. Parenting can take a toll on our priorities, which often means we need to step back or let go of commitments. So many of us have grown up in the church, being in the building all the time and surrounded by those who have influenced our lives and helped shape us into who we are today.
Yet, when we become parents, we decide it is best to remove ourselves and our children during this stage of life. I believe our children need to see us being involved in ministry within the church and in fellowship with other believers during their formative years. Through the help of this community of faith, we pray that our children will develop and carve out their own sense of faith and commitment as they grow.
Stephanie Holloway is the bandmaster and choir leader at Gander Corps, N.L.
Reprinted from MAGAzine.
This story is from: