(Above) Mjrs Tina and Christopher Rideout with new friends at the Malawi Territory's congress and commissioning events

In September, I had the privilege of attending the Malawi Territory's congress and commissioning events, led by General André Cox and Commissioner Silvia Cox, World President of Women's Ministries, with my husband, Major Christopher Rideout, and the musical group Venabrass. When we arrived in Malawi, known as "the warm heart of Africa," we soon discovered that our lives would be forever changed.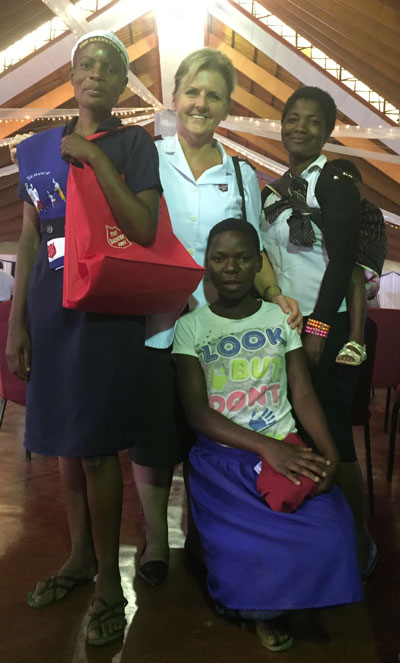 It was our first trip to Africa. Until that point in my life, I had never seen such poverty, and yet such joy; such despair, and yet such hope; such need, and yet such thankfulness. It was a bittersweet visit. Sweet because we met some strong, resilient and joyful children of God. Bitter because there was such great need for resources—resources we take for granted every day of our lives.
There was no social system to protect the poor. Three meals a day was not the norm. Houses were not always adequate. Education required school fees. Children were being trafficked. The list seemed to go on and on.
We encountered children walking the streets without shoes or proper clothing, seeking a meal. We met people trying to sell their hand-made merchandise for so little, so they could provide for their family. Time and time again we witnessed the limited systems in place to help.
Yet, prayer, praise and worship continually flowed from God's children in Malawi. We watched as people travelled up to 300-400 kilometres, riding in the backs of trucks with their meagre belongings, to come and be part of a community that wanted nothing more than to glorify God. Despite their daily hardships, they chose to sing and dance, living out Psalm 150. They knew their reason for existence was to praise and they did so with passion and exuberance. The congress worship services were filled with praise through singing and dancing. They used all they had to glorify God—tambourines, some brass instruments, drums with only strong twigs to sound out the beat.
Partners in Mission has taken on a whole new meaning for me. While it has always been a strong focus for our family "in season," now it lives and breathes and asks questions like, where can we save more so that we can give more?
While in Malawi, we were able to visit some of The Salvation Army's social programs. We met a group of young people rescued from the terror of human trafficking, who are being reunited with their families. We witnessed the feeding programs in place to help the underprivileged. We heard about different programs they are trying to fund so that others may have a better quality of life.
Let everything that has breath praise the Lord! As our voices united to sing praises to God with the Malawi people, our hearts were challenged to worship God through the sharing of our abundant resources with those who had so little and yet offered so much.
Major Tina Rideout is the divisional secretary for women's ministries, divisional adult ministries secretary and divisional retired officers' secretary in the Ontario Central-East Division.