In the weeks leading up to her first dance competition, Siphesihle "Sihle" van Dijk was nervous. She has cerebral palsy and wears braces on her legs. She worried what the judges would think.
"For her to get involved in most dance programs—I don't think they'd easily accommodate her," says Sihle's mother, Shoshanna van Dijk, who attends Prince George Community Church, B.C., with her four children. They all participate in a new ministry called S.O.UL. Dance, led by Captain Crystal Wilkinson, corps officer, her daughter, Kessa Wilkinson, and congregation member Robyn McMullen.
"The Salvation Army has been amazing. She feels like part of the group, she's accepted. And they find such beautiful ways of giving her choreography that really makes her shine, but at the same time, fits exactly what she's capable of doing."
After her solo, a lyrical number set to a song from
Esther
by VeggieTales, the judges called Sihle over. "One said her eyes radiated light—that she really connected with the audience. Another commended her beautiful arm movements and her passion," says van Dijk. "To have such positive feedback, so many people who were supporting her—it was huge for her self-esteem."
Spark of Hope
In 2012, Kessa was practising turns for a Royal Academy of Dance ballet exam when she slipped and fell, severely injuring her hip. Doctors told her she could no longer dance
en pointe
, ending her dream of being a dance teacher. She was devastated. "My whole world crumbled," she says. "That's what I thought God was calling me to do, what I'd been working toward for years. I was heartbroken."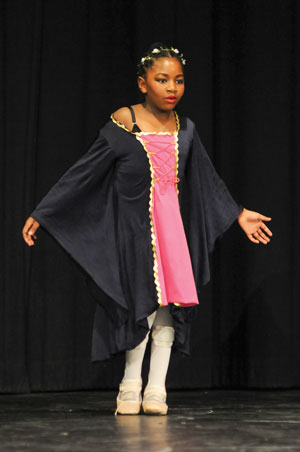 For about a year, Kessa retreated from her family and friends and struggled with her faith. But learning guitar and playing on the corps' worship team began to restore her trust in God. And the next summer, while working at the Army's Camp Mountainview in Houston, B.C., she was able to lead a dance elective. "It brought a spark back into my life, and gave me hope," she says.
When she came home from camp, her mother had an idea. "A few of the younger girls in the corps were interested in dancing, so she suggested I teach them, and for us to dance in the service, as an expression of worship," Kessa recalls.
They began by dancing at Christmas and Easter, then more often, and others started joining in—friends of the dancers and the grandchildren of corps members. Soon, they had eight dancers at two different levels. Kessa taught one group, and McMullen, who also has a background in dance, taught the other. After two years of practising, Kessa thought the older girls were ready to enter a routine in the 2016 Prince George Dance Festival, and they raised money to purchase costumes.
"What a unique opportunity to witness in the community," says Captain Wilkinson. "After the performance, word of mouth spread like wildfire. People began contacting the church to find out more about the 'no cost,' 'wholesome music/costumes' dance program. The owner of a dance studio in town, who we later discovered is a Christian, asked if she could refer low-income families to us."
Closer to God
In September 2016, they launched S.O.UL. Dance, offering a free recreational program and a low-cost competitive program. "S.O.UL. stands for Seeking Out U Lord. Our mandate is from Psalm 149:3, to praise the Lord with dancing," says Captain Wilkinson. "It's an opportunity for children who may not be able to afford the cost of dance at a dance school, an outreach to our community and a way of building relationships with the dancers and their families."
The response was overwhelming: 43 children—36 girls and seven boys—registered for the recreational classes, and 17 for the competitive program.
On Tuesday afternoons, volunteers lead five recreational classes: JAM (Jesus and Me) for young children; SHINE (Seeking Him IN Everything) for beginners; JIG (Jesus is Good) for boys who like hip hop; AIM (Angels in Motion) for those with intermediate skills; and BOLD (Being Our Lord's Dancers), with more advanced choreography.
Throughout the year, the groups share their dances during Sunday morning services. Victoria Law, one of the first dancers Kessa taught, is now in the BOLD class and training to be an instructor. She says dancing in worship has brought her closer to God.
"When I listen to the music, I connect with the words—especially the song
Blessed are the Merciful
, by Beautiful Eulogy," she says. "It talks about how God gives mercy to people who don't deserve it, because he loves them. It means God will never stop loving me, no matter what."
This message is also reaching the families of the dancers as they come to church to watch their children "perform." "We've seen families come to the Lord, dancers enrolled as junior soldiers and vibrant youth study groups as a result of this ministry," says Captain Wilkinson.
Testify
After participating in recreational classes for two years, students are invited to join the competitive program, paying only the cost of entry fees for local dance festivals. Weekly rehearsals begin with a technique class and a conditioning class to build up endurance. "But we don't want it to be just about dancing," says Kessa. "There's also a spiritual component." Competitive dancers are required to attend a Bible study or discipleship program such as Ready to Serve or corps cadets.
And while some dance schools draw from pop culture, using music and moves that can be explicit or inappropriate, S.O.UL. Dance is different.
"The beauty of this dance program is that every song they use has such powerful lyrics," says van Dijk. Some of the songs they've used include
All I Need Is You
, by Lecrae,
Dry Bones
, by Gungor, and
Gold
, by Britt Nicole. "The kids know them inside and out by the time they've learned their dances—I hear them singing around the house. This is truth they're going through their days with."
Last year, they entered a hip-hop number in the 14-and-under girls' category at the Prince George Dance Festival. "The girls they were competing against were dancing to Nicki Minaj, in a quite risqué way," recalls Kessa. "My girls got up there, and they did a traditional, B-Boy style routine to
Testify
, by The Much Luvv Fam, which talks about how to share your love for Christ. They got third place. It just shows that you don't need to be like that to be good."
Van Dijk agrees. "As a parent, sitting in the audience, you watch all these dance groups that are so secular, and then our groups come out with these amazing, life-giving lyrics, and the most beautiful choreography. It was like night and day. It was so God-inspired."
Positive Impact
Starting S.O.UL. Dance helped rebuild Kessa's confidence and her faith. And although she won't be part of the program this year—she moved to Kamloops, B.C., to study theatre at university this fall—she choreographed the 2018 festival season before leaving and plans to check in with the dancers via Skype.
It's a program that's making an impact on the church and the community. "We have seen growth in our young people physically, socially, emotionally, cognitively and, most importantly, spiritually," says Captain Wilkinson. "The dancers are excited to share their faith with others, and their self-value has blossomed immensely through the positive message of the music, the encouragement of their teachers, the fellowship of their teammates and lots of prayer."