In May 2021, my stepfather, Doug, called me. He'd been married to my mom for more than 20 years, and he was as excited as I'd ever heard him.
"Today I was eating lunch at my favourite restaurant when a man stopped to comment on my shirt," he said.
I smiled. "I bet you were wearing one of your bright-orange Tennessee Volunteers shirts, weren't you?" Doug was a huge fan of the University of Tennessee's football team.
"I sure was. The man stopped because he grew up in Tennessee. We talked about how much we love the mountains and how I wanted to move down there when I retire. We talked about our jobs, and he said that he's a pastor. He invited me to go to his church on Sunday, and I think I might."
"That's great," I said. Both he and my mom had attended church during their first marriages, but they hadn't gone regularly in years. It was something I'd been praying about for a long time. On Sunday afternoon, Doug texted me: "I loved the church service. I'm going back next week."
And he did. Countless times over the next six months, Doug texted or called to tell me about something he'd learned at church. He joined a Bible study, and he loved talking about what God was doing in his life. My mom wasn't interested in going with him, but we both prayed that she'd change her mind.
Doug and I had always been close—he was always more dad than stepdad—but his renewed faith brought us even closer. I realized once again what a blessing he was in my life.
Bittersweet Memories
But this past Christmas night, Doug passed away in his sleep. Doctors suspect he had a heart attack. He was only 64.
I was devastated. As we made the four-hour drive to be with my mom, I couldn't stop crying.
"He'll never get to retire in the mountains like he wanted to," I said. "It's so unfair."
My husband, Eric, squeezed my hand. "I'm so sorry, Honey. I know how much you loved him and how much this hurts you."
We spent a week with my mom, helping her to make the necessary phone calls and organize her financial matters. Eric and my brothers did most of it. I was too lost in my grief.
Our family is still grieving, but God is using the message from that football game to comfort us. DIANE STARK
When we got back home, I immediately headed to bed. It was the middle of the day, but I was exhausted. My 23-year-old son, Jordan, knocked on the door.
"I taped the Tennessee football game for you, Mom," he said. "A few days ago, they played in a bowl game against Purdue, and I thought we could watch it together."
It was so thoughtful of him. I'm a huge football fan. I'd attended Purdue University, and Doug, of course, had loved Tennessee. It would've been a great game to watch with him. I imagined the fun we would've had, each of us rooting for our own team, hoping to get the bragging rights that would accompany the victory.
I motioned for him to sit down beside me as I reached for the remote.
End Result
At the end of the first quarter, Tennessee was leading 21-7.
"It's not looking good for your Boilermakers, Mom," Jordan said.
I shrugged. "It's not over 'til it's over."
Purdue rallied in the second quarter and went into halftime up by two points. Jordan clapped and cheered, and I tried to act excited for his benefit. In the third quarter, each team scored a touchdown, but the Volunteers kicked a field goal as well, putting them in the lead by a point. It was 31-30.
"This is a real nail-biter," Jordan said.
I just nodded.
He looked at me closely. "I can't tell if you're too sad to get excited about the game or if you already know who wins, so the game is just less exciting."
"You caught me, Bud," I admitted. "I saw the highlights on the news the other day at Grandma's house."
"So who wins?"
"Purdue. In overtime."
Jordan smiled. "So that's why you weren't worried when Tennessee took the early lead."
"Yep. I knew from the beginning how it turned out, so there was no reason to worry. Even when it looked bad for Purdue, I knew the end result was good."
A Son's Reminder
"That reminds me of Grandpa," Jordan said softly.
"The game?"
Jordan shook his head. "No. What you said about not needing to worry even when things look bad. We're sad and we miss him, but things are still OK because we know Grandpa's end result is good."
I smiled through tears. "He's in heaven and we'll see him again someday." I reached for Jordan's hand. "Thank you for the reminder. I needed it."
Our family is still grieving, but God is using the message from that football game to comfort us. Things are still OK because we know His end result was the best one possible: spending eternity with God.
For Christians, everything is always OK. Because we know that no matter how bad things look, our end result was decided when we put our faith in Jesus. But the bragging rights are all His. We shouldn't feel pride. Only gratitude.
(left) Diane Stark is a wife, mother of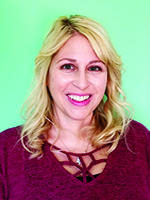 five and freelance writer from rural Indiana. She loves to write about the important things in life: her family and her faith.