"I'm so bored!" Three words parents dread hearing from their kids.
But for many families, it's not always easy to come up with new ideas or wholesome activities.
So, when Lieutenant April Ward, corps officer in Buchans, N.L., was looking for ways the Army could better serve the community, she had an idea.
"We have a small school—about 65, 70 students—and we noticed that a lot of folks sometimes lacked family time or didn't know what to do when they were together," she says. "So, I thought, What about a family night theme bag every month? This will gather families together, give them a space and time to be themselves, have some fun and get to know each other."
It was a simple idea—with a big impact.
Just the Beginning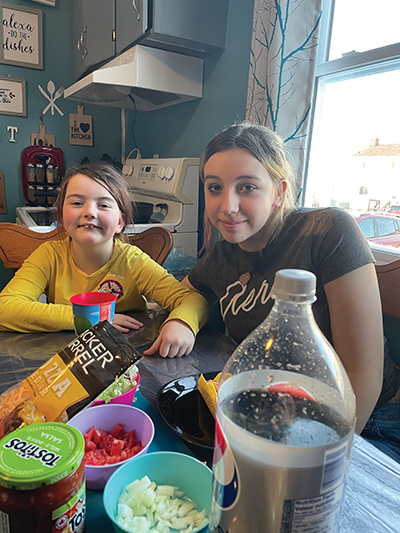 Supported by an innovation grant from territorial headquarters, Buchans Corps launched the theme bag program in September 2021. Every month since, Lieutenant Ward has loaded up her car and driven to the local school, where she drops off bags for families. So far, themes have included a pumpkin-carving kit; a smoothie night, complete with blender; a board game night; a Newfoundland "boil-up" winter picnic; and much more.
"The kids absolutely adore it," Lieutenant Ward notes. "It gives them something to look forward to—stuff some of them may have never done before. And the parents are amazed at what we're able to do and so thankful."
"It's such a great program as it allows families to spend time together without any financial burden," say Todd and Danielle Hayley, who participate in the program with their two daughters. "We enjoy the laughter and fun that it brings and being able to reconnect after a day at work and school. We look forward to getting the bags every month."
The theme bags, while still going strong, were just the beginning of new ministries at the corps. Having established relationships with the youth of the community, Buchans Corps has hosted a variety of youth and family-focused events, including an Easter egg hunt, corps-run volleyball nights at the school, a scavenger hunt, a backyard campfire at Lieutenant Ward's quarters, and more.
"The kids are responding—they're coming and feeling welcomed," says Lieutenant Ward. "And knowing that there's an interest in all of these things, it makes it easier to venture out in the community and try new things."
Building Relationships
One of those new ventures is a meal program for seniors, also supported by an innovation grant.
"There are a lot of seniors in our community who are lonely," Lieutenant Ward explains. "They don't get out much and associate with other seniors. So, we came up with the idea of holding bimonthly suppers for them, using the school building to host the meals."
Since the first supper, which brought in 40-50 seniors, the program has grown dramatically, now serving more than 100.
"People who came said, 'I can't believe you're doing this for us. We enjoy it so much,' " says Lieutenant Ward, noting that the program is only possible because of the relationships the corps has built with the youth.
"They help prep the day before, setting up tables," she says. "They do prep the day of, too, and they come and serve the seniors their suppers. So, they're talking with the seniors, getting to know each other, and there's a multi-generational connection that's being made there. It's bringing everyone together."
The Hayley family are now regular volunteers with the seniors' program, and their daughter, Jeaden, also helps out with the food bank and various programs at the church.
"People feel more welcome in our building," Lieutenant Ward notes. "They feel that they can talk to us and share what's on their mind, to say to us, 'Can you pray for me?'
"That's relationship building," she adds. "To let people know that we love you, Jesus loves you, and we're here for you. We want people to feel the love of Jesus through us and through our service."
Looking ahead, the corps plans to build on those relationships, with more ministry opportunities in the works. "We look forward to what God has in store," Lieutenant Ward concludes.
Listen to the full interview with Lieutenant April Ward on the Salvationist podcast.
This story is from: