With deep roots in the history of The Salvation Army, the Montreal Citadel Blast of Brass (BOB) band is a wide-ranging group of all ages with a purpose extending beyond bringing the joy of music to Salvationists and the community.
The bandmaster is Salvationist Gary Purcell, who has dedicated his life to both teaching music and serving in The Salvation Army. Before becoming the band's leader 12 years ago, he was a Sunday school teacher and the corps caretaker at Montreal Citadel.
The band's self-proclaimed "eclectic" group consists of 18 members, ranging from high school students to retirees. It serves to bridge the gap between the junior and senior bands, giving members more time to cultivate their musical talent. It's also a place where people can come to play an instrument if they're experiencing loneliness, which particularly affects seniors.
The band is not just exclusive to Salvationists, but it is open for members of the community to join as well. "It's a door of opportunity for our corps," says Purcell. "A number of participants have become part of the corps."
Although practice is temporarily on hiatus due to the COVID-19 pandemic, BOB typically plays a number during Montreal Citadel's Sunday worship service and does special performances in the community throughout the year. While the majority of those take place at retirement homes, the band has ventured inside the walls of a prison to play to inmates back when the citadel had a correctional and justice services program. "It was a wonderful opportunity to talk to the inmates and see how they were doing," says Purcell. "Many of them were grateful for the band's performance."
At the retirement homes BOB visited before the pandemic, the response was overwhelmingly positive. The residents enjoyed the music, including those with conditions such as Alzheimer's disease. "They say music is the last thing to go, so seeing them respond to it was gratifying," says Purcell.
The Right Notes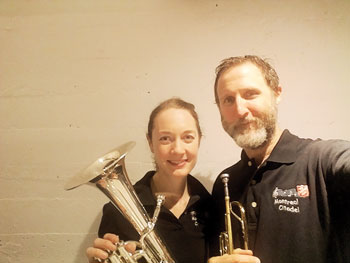 Edward Herba, an engineer in the aircraft industry, began playing the trumpet when he was 11. When he got busy with schoolwork and didn't realize the value of practising, he gave it up. It was a decision he came to regret. Years later, however, he sought out private lessons and after about a year playing solo, he felt the urge to join a group. His only hesitation was that he didn't feel prepared enough. "It's hard to join a band until you're quite good," Herba says. That's when his music teacher suggested he contact The Salvation Army. He did just that, and soon thereafter joined BOB.
Having never played in a band before, Herba had to overcome some challenges at first. He had to follow the movements of the conductor, work to fit in with everyone else's playing, and figure out how to read music, which proved to be the most
trying of all. "At the beginning it was a little frustrating, but Gary has so much patience—he's really the best man for the job," he says. Herba's wife, Dara Murphy, saw how much fun BOB was having and was invited to join, despite playing the clarinet, which isn't a brass instrument. "Gary was accepting of it," Herba recalls.

Herba and his wife have played in the band together ever since. "When we started, everyone was patient and we enjoyed it," he reminisces. After getting enough experience in the BOB, the two have garnered the skills to join the senior band as well.

BOB might be comprised of a wide-ranging group of people, but they share one common goal. And according to Herba, that's to do their best for God. Even if the band didn't hit all the right notes while performing, the essence of the music was not lost for the residents at The Salvation Army's Montclair Residence, where the band performed pre-COVID-19.

"It's quite touching to see that even though we made mistakes and we didn't sound like a professional band, they appreciated and were touched by the music," he says. For some residents, it was a trip down memory lane since they grew up with Salvation Army songs in their youth. "I sense that we're providing some happiness and nice memories for them," says Herba.

While practice is suspended, Herba continues to refine his skills on his own in anticipation of returning. "I still practise every day, using the songs from the Blast of Brass books," he says. "I keep going because I know we'll get together eventually again."

Everyone Is Welcome
Louise Fernandez is the immigrant and refugee services program co-ordinator for The Salvation Army in Montreal. Having fled the Yugoslav Wars to Canada, she is compassionate toward the newcomers she works with and shares in their burdens. "When I say to my clients, 'I know how you feel,' I really know, with a capital K," she says. Going to BOB practice has been a creative outlet to help her decompress.

Fernandez was introduced to the band through her son, Andre, who was asked by the bandmaster to join BOB when they first started attending Montreal Citadel. Andre was shy and only spoke French, so he was apprehensive to join the practice, which is run in English. Purcell suggested the whole family sit with him during practice for moral support, and to interpret.

Very quickly, they discovered Andre's natural musical talent, as he picked up the cornet within just a few weeks of joining the band. Inspired by her son's success, Fernandez told Purcell that she had always dreamed of learning to play and read music but thought it might be too late to pick up an instrument. Purcell thought otherwise. He immediately gave Fernandez a baritone to play. A year and a half later, after she learned to play from scratch, the band had enough members to have its first performance. Fernandez will never forget the riveting first time they played at Easter. "There were screams of joy in the sanctuary because it had been years since there was a new group of beginners," she remembers.

Fernandez began to pay her success forward by inviting other budding musicians to observe the Tuesday evening practice. "What I enjoyed so much was the fact that Gary used the Blast of Brass to welcome whosoever," Fernandez says. If you have a desire to play and the will to try, you're welcome to join—regardless of your age, language or religious affiliation, she notes.

Andre eventually traded his cornet for a guitar and left BOB, but his passion for music has remained. "He still remembers Montreal Citadel and enjoys listening to brass band music," says Fernandez.

Despite her son's departure, Fernandez stayed with BOB and was eventually invited to join the senior band. "It was a dream come true," she says. "I thought I would only achieve that when I retired."

Beyond having a chance to grow musically, Fernandez says the real enjoyment comes from the meaning behind the playing. "More than just playing music, it's worshipping God with the little talent that he gave me," she says. As for the bandmaster who encouraged her to join despite her reservations, Fernandez holds him in high regard. "Gary is an extraordinary leader and a pillar of Montreal Citadel," she says.
---

The First Brass Band

The first Salvation Army brass band goes back to well over a century ago when a Methodist preacher named Charles Fry, along with his three sons, played brass instruments to support the Army's open-air meetings in Salisbury, England, in 1878. They soon began to travel with William and Catherine Booth as they toured England, leading to the brass band becoming a distinct feature of The Salvation Army's ministry style.

Today, brass bands such as BOB are still an important way of attracting people from the community to share the good news of Jesus.