A few years ago, commuters in Washington, D.C., were treated to world-class talent as renowned violinist Joshua Bell, disguised as a busker in blue jeans and a baseball cap, played his Stradivarius at a subway station during peak rush hour. After nearly an hour, only seven of the thousands of passersby had stopped to listen for more than a minute. Bell's open violin case contained a mere $32.17.
I am no Bell, but I do enjoy playing my 1930s-vintage German-made violin. I am especially fond of playing carols at Salvation Army Christmas kettles. In fact, it just doesn't feel like the holiday season until I've played
O Come All Ye Faithful
in a Walmart. The acoustics in a grocery store are surprisingly pleasant, and there's something exhilarating about performing publicly for a full two hours.
Pulitzer Prize-winning journalist Gene Weingarten was the brain behind the Joshua Bell experiment, and he published a poignant article about it in
The Washington Post
. Before deconstructing the motives behind the decisions of passersby to respond or not, he notes that each person has a quick choice to make. Do they stop and listen or do they hurry by? Do they toss him a coin to be polite or do they feel guilt or irritation over another demand on their time and money?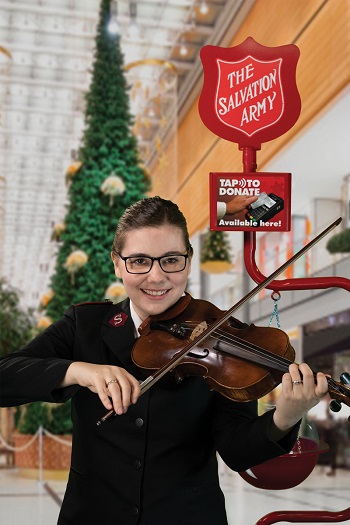 I assume this conflict would only be magnified in the busyness of the holiday season, when I find myself standing beside a red kettle playing
Jingle Bells
with as much virtuoso as I can muster. And yet, while most chose to walk past Joshua Bell that early January morning in Washington, I find that most people choose to listen to my carols and place some money in the kettle. Why is that?
Context is everything. Subway commuters expected to encounter an amateur entertainer doing their best to scrape together a few dollars, not a famous classical musician, and so they failed to see (or hear) the beauty before them. Conversely, the proud heritage of The Salvation Army's Christmas kettles helps to shape the response of shoppers who come across my humble performances. The iconic Red Shield and familiarity of the festive melodies help to break through the incessant busyness of our culture to draw people in, and the results are extraordinary. Not only are monetary donations made, but community is formed. Passersby not only stop to listen, but often begin to participate, singing along or even dancing right in the foyer of the grocery store.
Of course, there are still those who become immediately interested in their shoes, doing their best to avoid eye contact, but there are even more who offer up a friendly smile, share a Christmas greeting, dig into their wallets, or wait until the conclusion of a song to share words of appreciation for the music or the ways that The Salvation Army has helped to give them hope. This response transcends gender, ethnicity or age. Such is the gift of music ministry at Christmas. And it is a gift that we should not take for granted.
The Salvation Army's Christmastime presence in shopping malls, nursing homes or hockey games is a privileged one, and the addition of music can break down barriers and pave the way for meaningful interaction and conversations of hope. It can open the door not only for a donation, but an opportunity to share about our mission and our love of Jesus, the reason for the season.
I was once asked by a child what I was doing, standing there in the grocery store with my fiddle. My response was that I was busking for Jesus. And honestly, we can all busk for Jesus.
Even if you don't play a musical instrument or can't carry a tune, everyone can ring those bells, place a smile on their face and wish people a "Merry Christmas." In this way, we can all build community and give hope, one kettle shift at a time.
Captain Laura Van Schaick is the women's ministries program and resource officer.