On June 22, the Canada and Bermuda Territory will commission 13 new lieutenants in the Messengers of Compassion Session during the British Columbia divisional congress in Vancouver (visit
CommissioningWeekend.ca
for information about events and services). As they prepare to become officers, these Salvationists reflect on their calling, their sessional name and the future of The Salvation Army. (Photos: Carson Samson)
---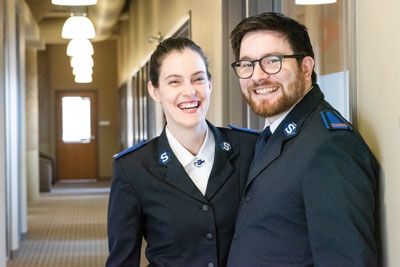 Joel Torrens
In Matthew 14, there is this beautiful image of Peter asking Jesus to call him out of the boat to walk on the water with him. As I was sitting in a park in downtown Vancouver one day, praying about the future, I felt like Peter making that request. I heard God say, "Come," and that was how he called me to officership. During our time at training college, our placements took us to Chatham-Kent and Orillia, Ont., Regina, the Maritime Division and Lewisporte, N.L. While in Winnipeg, we were blessed to worship and serve at the Weston and Southlands corps. In each and every one of these places, I was poured into by the officers, who invested in me and my growth, and I was loved and embraced by the people. At CFOT, I have grown in ways that I could not have imagined before arriving. It all comes down to this: more of God and less of me.
Lynn Torrens
The literal meaning of the word "compassion" is to suffer or bear with, so it is incredibly profound when we read in Scripture that God is gracious and compassionate. God shows us compassion—he enters into our suffering and brings the hope we need in our circumstances—and he calls us to do likewise. Being a Messenger of Compassion means demonstrating God's presence and compassion to others through authentic conversation, empathy and support, and in journeying together in hope to see his kingdom expand on earth. My vision for The Salvation Army is to see people wholly transformed by the grace of God—healthy spiritually, mentally, physically and socially. May we grow in holiness and be engaged in mission, sharing Jesus' love and being a part of God's transformation of our communities as we meet the needs of those around us.
Appointed corps officers, New Hope Community Church, Salmon Arm, B.C.
---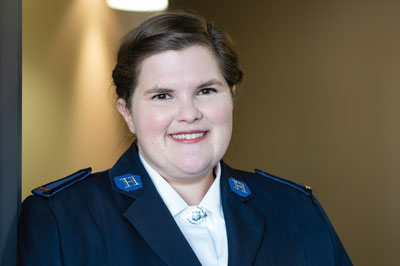 Anne Beinker
During my discipleship year with The Salvation Army in Hamburg, Germany, I felt God calling me to officership. Even though I was initially uncertain, God was patient. When I was struggling with doubt, two people in different settings asked me the exact same question: "Why don't you become a Salvation Army officer?" So I made a deal with Jesus and said, "Give me a third person with the same question. Then I will go." After many months and variations on that question, I felt Jesus ask me, "Anne, why not?" And all I could say was: "I'm afraid!" But I knew that fear was not a good excuse with Jesus. So I decided to follow him and accept the challenge. Jesus opened my eyes, showing me that he wants me to live life to the fullest and make my life meaningful in him.
Returning to Germany, Lithuania and Poland Territory
---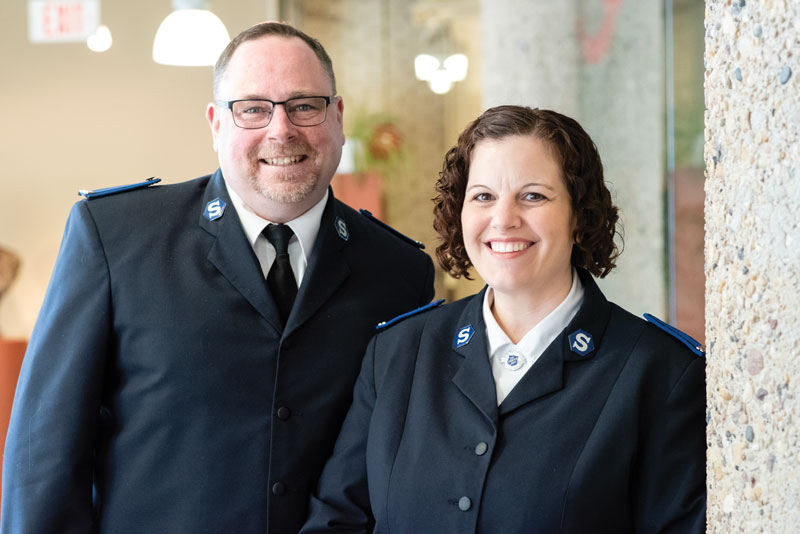 Angela Kerr
When I heard that we would be the "Messengers of Compassion," it was, in itself, an affirmation of my calling to officership. I have felt a deep sense of compassion for the socially marginalized since I was a young child and now recognize how God has been at work in my life, walking me through circumstances that would deepen that compassion over time. As an officer in The Salvation Army, I envision our ministry units without walls or boundaries as we reach out to our communities in new and dynamic ways in order to connect with people of all demographics. I dream of a time when there is no "us and them," a time when everyone feels welcomed, respected and comfortable; that they belong to a community that loves and embraces them, regardless of social differences, and without judgment or discrimination.
Derek Kerr
My calling to officership began with my area commander at that time, Major June Newbury. My wife and I had come to the Army as clients of community and family services in Dundas, Ont. Once we began to get back on our feet financially, we also started asking God to direct us to a new church. We wanted to put a bigger emphasis on helping the poor and The Salvation Army was a natural fit. After joining Meadowlands Corps in Hamilton, Ont., we began volunteering whenever and however we could. Major June asked me if I had ever considered officership and said, "Derek, sometimes God uses people such as you to validate the work of the Army." My dream for The Salvation Army is that we would dare to live and speak more boldly for Jesus Christ in an increasingly secular world.
Appointed corps officers, Suncoast Citadel, Goderich, Ont.
---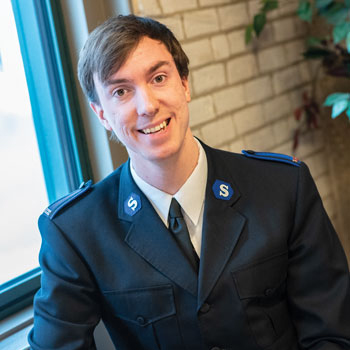 Joshua Cain
I was first introduced to The Salvation Army as a food bank volunteer in 2012, and it was through the witness and commitment of those around me that I became sold out for the mission in my local corps. During my placements, my most memorable experience was distributing Sunshine Bags in the prisons in Prince Albert, Sask. This simple act gave so much joy in a place that desperately needed it. Being a Messenger of Compassion means continually reaching out to a hurting world. Even if it bites you, even if you lose fingers in the process, always reach out in grace.
Appointed corps officer, High Point Community Church, Victoria (following marriage to Kassie Van Every)
---
Kassie Van Every
I have been blessed to meet many incredible people around the territory throughout my two years of training, and I have been impacted by each of them. While I am thankful for everyone I encountered, I was particularly blessed by the FUSE weekend I spent at Camp Mountainview in British Columbia in the fall of my first year. I loved hearing stories from the youth and was so encouraged by their honesty and vulnerability as they allowed me to journey with them, even for a few short days. CFOT has been an amazing experience—one that I will always cherish. I have learned the importance of walking with community, through both the joys and the challenges. I have also learned to find my voice and let God use me in ways that scare me.
Appointed corps officer, High Point Community Church, Victoria (following marriage to Joshua Cain)
---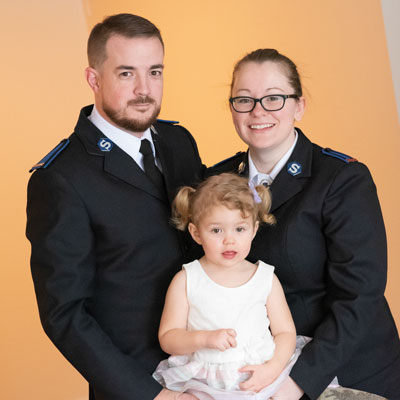 Matthew Reid
Growing up in the Army and being involved in the many programs offered at my local corps, I experienced the positive influence of my corps officers. I felt God calling me to be an officer at a young age. Throughout my teenage years, I attended congresses and would ask God to confirm his calling on my life, and he did every time. At CFOT, I learned that God shows up in the interruptions of life; he reveals himself in ways we could never expect and his mercies are new every day. As The Salvation Army, we must never lose our dedication and faithfulness to God's calling to be a holiness movement. Our dedication to holiness will keep us engaged in fulfilling our mission, spreading the gospel to the whole world and serving God's people in times of need.
Whitney Reid
Shortly after becoming a Christian, I began to hear God calling me to officership. It became a topic of daily conversation between Matt and me, but it was while attending the Territorial Youth Institute (TYI) at Jackson's Point Camp, Ont., in 2011 that the call became clearer. While at TYI, we went on a tour of the Gateway shelter in downtown Toronto, and it was there that God confirmed my calling to minister to others. For me, being a Messenger of Compassion is a calling to be a person whom others can come to for hope, grace and kindness in their times of need.
Appointed corps officers, The Salvation Army, A Community Church, Prince Albert, Sask.
---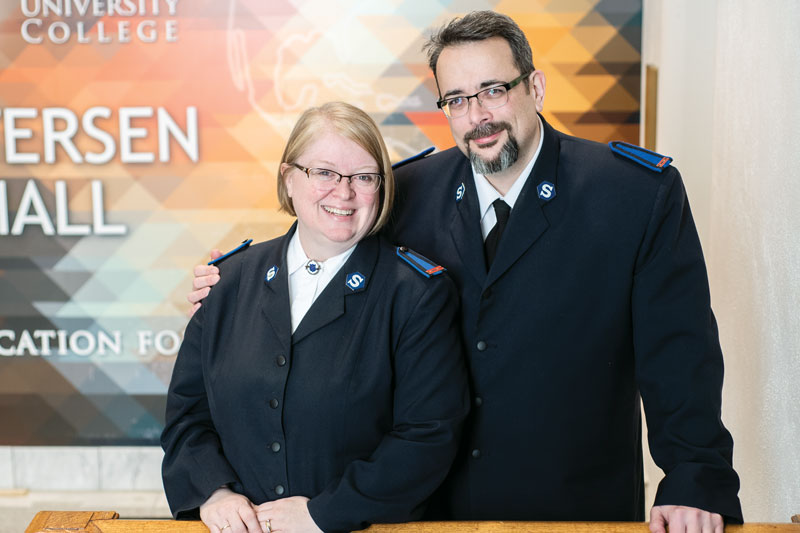 Lynnette Trottier
My husband, Matt, and I had the chance to go to Bermuda for our first winter assignment and take part in a worship service at one of the prisons on the island. It was very meaningful for me because it taught me that, regardless of anyone's past, there is forgiveness at the cross; healing and restoration can happen when we surrender ourselves to God. In my time at CFOT, I have learned that I need to trust God completely. We have three teenagers and bringing them to training college was not easy, but God has done amazing things in our lives. If I had chosen to do things on my own, I would not have seen God bring peace where there was chaos, or seen my family draw strength from trusting that God has everything under control, regardless of where we find ourselves.
Appointed community ministries officer and corps officer, Orillia Corps, Ont.
Matthew Trottier
After working in youth ministry for 20 years, both full time and part time, my wife and I were looking for opportunities to be in full-time vocational ministry. I was talking to my corps officer about the possibility of going into missionary work and he mentioned officership. It all just made sense. We attended an Officership Information Weekend and God made it powerfully clear to us that he was calling us to be officers. The most meaningful experiences for me over the past two years at training college have always been with people, and most often with people at the Winnipeg Booth Centre. The Salvation Army has the unique opportunity to help people at deep times of need and walk alongside them. Being light in that kind of darkness draws us closer to God in a powerful way.
Appointed corps officer, Orillia Corps, Ont.
---
Nancy Studiman
Having been raised in The Salvation Army, I felt God's call to officership in my late teens. I put his plans on hold and worked in childcare for 27 years, but God is persistent! Through various experiences, opportunities and prayers from family and friends, I reconsidered God's calling on my life and I'm excited to see what the future holds. My prayer for The Salvation Army is that we would strive to be a missional church, reaching out in our communities, sharing God's love and seeing his transforming work in others. Most importantly, I pray that discipleship will become a priority in our corps, that we will raise up individuals who are attentive to God's voice and obedient in following his plans for their lives.
Appointed corps officer, New World Island West (Summerford), N.L.
---
Drew Young
During my summer placement in Cranbrook, B.C., I had the opportunity to come alongside an Indigenous couple who attended the corps. Through my interactions with this couple, we began to explore how the Army could journey forward in reconciliation with Indigenous peoples. One day they asked me to come into the sanctuary where they proceeded to perform a naming ceremony. I was incredibly honoured to be a part of this and to be welcomed into the community in this way. Lorna and Mato honoured me with the name Little Big Hawk, which means "humble strong defender." My hope for The Salvation Army in Canada and Bermuda is that we will be an advocate and partner in community with Indigenous peoples, healing past hurts, learning from one another and embracing the same relationship we all have with the Creator.
Appointed corps officer, Midland Community Church, Ont.
---
Principal's Commendation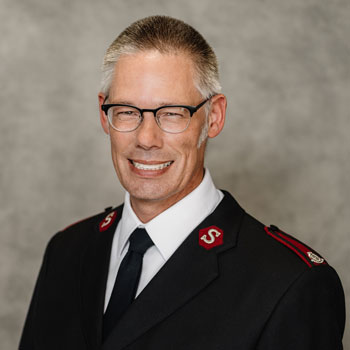 On behalf of the staff of the College for Officer Training (CFOT) in Winnipeg, it is my pleasure to present the newest session of officers. This month, these Messengers of Compassion will be ordained, commissioned and sent out to their first appointments. Following the example of Jesus, who saw harassed and helpless people and had compassion on them (see Matthew 9:36), the Messengers of Compassion desire to see the world through the eyes of Christ and to extend compassion in all its dimensions.
During 22 months of training, our territory's newest lieutenants have developed in character and competency through spiritual formation, academic studies and practical field training. They are equipped to engage in the communities to which they are appointed; they are keen to meet human needs and offer hope and a message of salvation through Jesus Christ.
I commend the Messengers of Compassion to you. These Salvationists seek to live out their calling as Salvation Army officers, convinced by God that they should spend their days in faithful service and compassionate care for those they will encounter. As they continue to learn, gain experience and grow into the fullness of their calling, they will become people of influence through the power of the Holy Spirit working within them.
It has been a joy to journey with these cadets during their time of training. The CFOT staff now release them to live out God's message of compassion for the world.
Major Andrew Morgan
Training Principal, CFOT