(Above) Mjr Donna Barthau uses a fun game to teach math skills at a children's home in Bapatla, India Central Tty (Photo: Mjr Bill Barthau)
In January, as we drove to our accommodation after arriving in Mumbai, a densely populated city on India's west coast, we saw thousands of people sleeping outside, on narrow streets lined with makeshift shacks. This was my fifth trip to India, but the first with my wife, Major Donna Barthau, sponsorship co-ordinator for the world missions department. We were here to see the work of The Salvation Army, including a number of children's homes supported by the Brighter Futures children's sponsorship program, and explore new ministry opportunities.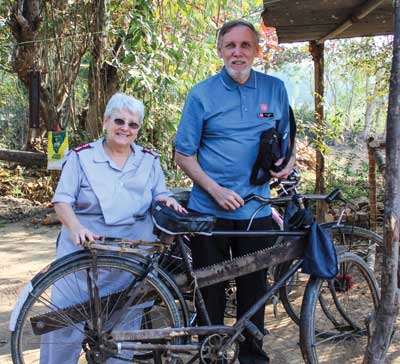 Our first visit was to the Aruna Girls' Home, steps away from the India West Territory's headquarters. The shelter works in partnership with an outreach program in the city's red-light district. Sex-trade workers often have few options to care for their children, and the home provides safety and security for 27 girls who are at risk of being forced into prostitution. They are enrolled in school, where they have food and friends, but more than that, they receive love and support. They are happy and grateful.
Our next visit was to the Sion Children's Home, where two officers are caring for 73 girls from vulnerable and impoverished families. They receive support from the community—during our time there, people dropped off donations of food, and a doctor provides medical care—and some overseas assistance, but the site has been in use since 1925. One building is in need of significant repair.
The girls attend a local school and a nearby college offers homework help and coaching for those studying for the Grade 10 government exams. This strengthens their skills and confidence, along with developing positive social skills.
As we watched, some of the girls left for school, neat and well dressed, while others had just returned and lined up for the noon meal. An older girl helped the cook serve. As they sat down, we heard no complaints, just the normal chatter of young people.
They were thrilled to show us where they sleep and how clean and organized they keep the bedroom area. They shared a number of traditional songs, and quickly learned a fun action song in English. When given the opportunity, they were curious and asked many questions. It was interesting to see the breadth of their understanding and insight, along with the desire to explore new areas of thought.
We also visited children's homes in Bapatla, a town in the India Central Territory, where the Army has a large presence. Many children and youth from rural communities have had the benefit of education because of the homes that The Salvation Army operates. Many of the teachers were once such students, and work faithfully to help the next generation succeed, giving them the skills they need to find employment.
Our time in India gave us greater insight into how critical children's homes are to The Salvation Army's ministry in India. When I compare them to my own culture and country, many are underfunded and understaffed. At the same time, I am challenged by the dedication and commitment of the officers and the next generation of officers, employees, teachers and friends as they serve vulnerable children, caring for their bodies and souls. It is truly integrated mission.
We will continue to explore how the Canada and Bermuda Territory, through the Brighter Futures children's sponsorship program, can partner with this significant social outreach ministry and provide hope for the future.
Major Bill Barthau is the assistant executive director and manager of operations at The Salvation Army's Jackson's Point Conference Centre in Ontario. For more information about Brighter Futures or to become a sponsor, visit salvationist.ca/world-missions/brighter-futures.