In September 2016, Canadian Salvationists April Barthau and Marco Herrera Lopizic embarked on a two-year mission in Papua New Guinea. A nurse and a doctor, they will be running The Salvation Army's medical clinic in Port Moresby. In this quarterly blog for Salvationist.ca, they share their experiences.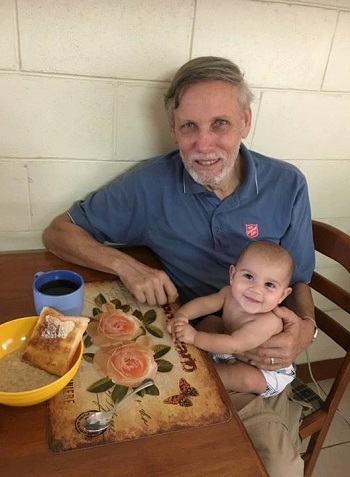 As we continue our ministry in Papua New Guinea, we are now not just two, but three. Marco and I were blessed to go home to Canada last September for our annual furlough. We had a great time attending friends' weddings, spending time with family and participating in worship at North York Temple Corps in Toronto. But the best part was the birth of our daughter, Hadassah Grace Lopizic-Barthau, on October 14 at 7:01 a.m. Marco's family were able to come from Chile and the United States to meet her and participate in her dedication. We are blessed to have such a treasure in our lives and were humbled to give her back to God. Our hope is that she will live up to her name by serving God's people, just as Queen Esther (whose Hebrew name is Hadassah) courageously stood up for the Israelites.
Since returning to Papua New Guinea, we have jumped right back into ministry. We are striving toward ensuring the sustainability of the Koki Urban Health Center (KUHC), as the project with USAID (United States Agency for International Development) comes to an end in September 2018. KUHC is a registered clinic with the provincial health government, which provides funding that will ensure the sustainability of the clinic over the long run. However, there are also many challenges that we are working through.
At KUHC, our focus is on ensuring that patients are able to access services that are needed in the community and that our clinicians are able to provide them with high-quality care. We have come a long way in making sure that we provide multiple programs, from preventative activities (such as antenatal care and immunization) to chronic disease management. Our key focuses for the year, which align with the National Health Indicators, are on maternal-child health and HIV/AIDS. We are improving our HIV services by working with the World Health Organization (WHO) and the Center for Disease Control (CDC) on HIV Quality Indicators, particularly for tuberculosis prevention and through viral load blood work, which help determine the effectiveness of HIV treatment for patients.
At church, we have new corps officers who are full of energy and doing a great job of filling the church building with people. This year's focus is on the youth. This includes the mentorship of two young adults who, for their first time, will be responsible for the youth programs. Marco and I were asked to assist both with mentorship and the youth Bible study once a month. The first Bible study was a blessing as there were more than 50 eager youth who came out to hear a message from 1 John. We will be studying John's writings over the course of the year in relation to how we can be more like Christ as the theme is "Christ's DNA."
In March, we were blessed to have Major Bill Barthau come to visit his granddaughter and come see our ministry in Papua New Guinea. He assisted with some renovations at the clinic and baby-proofed our house. We had a wonderful time showing him life in the village and at rural aid posts. We even took a boat up the river to see some of The Salvation Army's fellowships and literacy work.
Marco and I are happy to announce that we will be staying in Papua New Guinea for another two-year term, which will take us until September 2020. We ask that you continue praying for our ministry in Papua New Guinea.
Prayer Requests
For wisdom in balancing work and family life as we adjust to being new parents to Hadassah
That the church youth will grow to become mature Christians, that they will live their lives completely for Christ and be built up to be future leaders in the church
For the sustainability of the Koki clinic
For Marco's family as they work through the loss of Grandma Lopizic
Read past entries in April and Marco's missionary blog: