NEW AND NOTABLE
Shelter Theology: The Religious Lives of People Without Homes
BY SUSAN J. DUNLAP
Susan J. Dunlap is a Presbyterian minister and a chaplain at Urban Ministries in Durham, North Carolina. Her new book, Shelter Theology, is based on her experiences as a chaplain and interviews with people experiencing homelessness. She recounts their life stories and describes the prayer service she leads, where clients offer words of faith and encouragement in the form of prayer, sayings, testimonies, songs and short sermons. Dunlap suggests that these beliefs are a means of survival and resistance in a hostile world. More than just a descriptive account, Shelter Theology is a practical guide for spiritual caregivers and a "plea for proximity," as Dunlop tells Religion News Service: "I want to help people understand we have to dwell on the margins—not as rescuers or fixers or helpers, but as equals before God who come together to pray."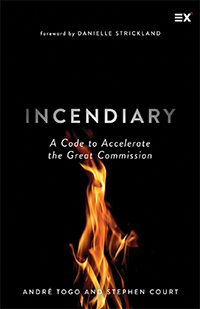 Incendiary: A Code to Accelerate the Great Commission
BY ANDRÉ TOGO AND STEPHEN COURT
From Captain André Togo, regional secretary in the Mali Region, and Major Stephen Court, evangelism consultant in the Canada and Bermuda Territory, comes a new practical guide to sharing the gospel. The authors form a unique partnership, spanning continents and cultures, and with Incendiary, they synthesize Scripture, their own experiences and lessons from inspiring Salvationists, distilling it all into 13 "incendiary" principles that can help readers accelerate the advance of the Great Commission in the 21st century.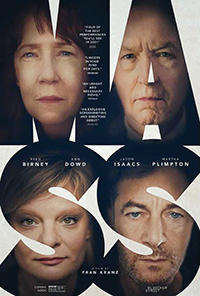 Mass
Six years after an unspeakable tragedy, two couples meet in a church basement. Gail and Jay (Martha Plimpton and Jason Isaacs) are the parents of a boy who was killed in a school shooting. Richard and Linda (Reed Birney and Anna Dowd) are the parents of the boy who did the shooting, before taking his own life. Mass may not be an "easy" film to watch—the conversation between the couples is, understandably, uncomfortable. But it raises profound questions: Are parents to blame in such situations? Can both families move forward? Is forgiveness possible? While not a Christian film, Mass is a powerful reflection on grief, forgiveness and empathy that resonates broadly with the human experience.
---
IN REVIEW
The Rise and Fall of Mars Hill
REVIEW BY JESSICA MORRIS
In the early 2000s, Seattle's Mars Hill Church was an influential megachurch under the leadership of Mark Driscoll, also a bestselling author. But that changed in 2014, after the church board found Driscoll "guilty of arrogance, responding to conflict with a quick temper and harsh speech, and leading the staff and elders in a domineering manner." Driscoll resigned and the church imploded, leaving thousands of people traumatized and spiritually broken.
In the time since, many stories about Mars Hill Church and Driscoll have been told—horrific stories about bullying, spiritual manipulation, questionable monetary practices, exorcism and more. Mars Hill Church is a very public example of Christianity abused, used and commodified—one we've all witnessed in different forms due to being involved in church ministry on a global scale.
The Rise and Fall of Mars Hill, a new podcast from Christianity Today, offers an in-depth journalistic look at what happened. Over more than 10 episodes, host Mike Cosper dives into the rise and fall of a megachurch, a mega-pastor and the evangelical church as a whole. Ultimately, he asks us to consider how we contribute to a culture that let a man and a system destroy lives under the name of God.
Cosper spent a year researching and preparing for the release of The Rise and Fall of Mars Hill and it shows. The podcast features many interviews with people who were involved, impacted or who were peers of Driscoll. This means we are given a wealth of information and perspectives, allowing us to come to our own conclusions.
It also means that, while important, this podcast can be challenging and triggering to listen to. People who have experienced abuse may identify with people in this story, and the first-hand accounts from survivors are heartbreaking and speak of immense courage. That said, if you can listen to this podcast, please do. If you are in any form of leadership, this is vital listening to keep you and your team accountable. For me, as a member of the media, this drove home my need for public and personal accountability and showed how easy it is for the church (myself included) to condone behaviours due to privilege, manipulation, wealth, fear and power.
The Rise and Fall of Mars Hill is a pivotal resource for the church if we seek to become more Christlike and less ego-driven. Whether you are serving, have left the church or have even left the faith altogether, you will resonate with people in this story. Any church could rise and fall like Mars Hill, and any Christian influencer could become the next Driscoll. So, what are we willing to do about it?
Reprinted from Others, others.org.au.
This article is from: