NEW & NOTABLE
Hope: Stories of Survival
HOPE: Stories of Survival is the first full-length film produced by The Salvation Army U.S.A. Eastern Territory and winner of a New York Emmy Award for best documentary (cultural). Released in September 2022, HOPE: Stories of Survival is an anti-human trafficking documentary featuring the stories of three American survivors of human trafficking, who were sold from as young as eight years old. It explores their day-to-day experiences after trauma recovery and their journeys of courage, empowerment, trust and hope.
"Human trafficking is a pervasive injustice that impacts millions of people worldwide," says Arielle Curry, the territorial anti-trafficking co-ordinator for the U.S.A. Eastern Territory. "This unique and powerful documentary sheds light on the strength and resiliency found inside survivors of human trafficking rather than solely focusing on the trauma. Rachel, Tammy and T offer hope to all viewers through their vulnerable and brave look inside their journeys."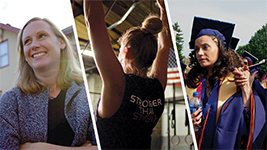 Directed by Joseph Pritchard, director of internal communications for the U.S.A. Eastern Territory, HOPE: Storiesof Survival raises awareness of the pervasiveness of the human labour industry, of which sex trafficking accounts for 81 percent. The film also spreads awareness of The Salvation Army's anti-human trafficking programs.
"In Rachel, Tammy and T, we found three courageous, generous and inspiring women willing to share their stories and show us how they took back control of their lives," says Pritchard. "I want people who see this film to join The Salvation Army in raising awareness about the horrific realities of human trafficking and lend support to its victims. But, most of all, I want to share the message of hope that these women discovered during their recovery process and let victims and survivors know that they are not alone."
HOPE: Stories of Survival is available for purchase on Amazon as a DVD or digital download.
The Dog Who Wanted to Play by Major Fred Ash
The Dog Who Wanted to Play is an award-winning children's book by Salvationist author and retired officer Major Fred Ash. It is a parable inspired by the poem The Hound of Heaven, written in 1890 by English poet Francis Thompson, in which Thompson pictures God as a great hound pursuing him relentlessly. Major Ash thought, What if God were a playful puppy chasing after a child whom he wanted to save?
While The Dog Who Wanted to Play can be read as an ordinary story about a boy and a dog, it can also be read as a parable about people who run away from God. Tommy, the main character, runs away from Dog because he is afraid of Dog. Many people run from God for the same reason. But Dog still follows Tommy everywhere. When Tommy is at the lowest point in the story, alone and lost in the darkness, Dog shows up. It is then that Tommy learns to trust Dog, and they become friends. It is often at the lowest point in our lives that we learn to truly trust God.
The Dog Who Wanted to Play won best children's fiction book of 2022 from the Word Awards for Canadian Christian writers.
Major Ash has a long association with The Salvation Army's editorial department, including being appointed editor of youth publications for Canada and Bermuda in 1978, editing for The War Cry, and becoming the first editor of Faith & Friends. Over the years he has written hundreds of articles for Army publications.
The Dog Who Wanted to Play is available to purchase from Amazon and Chapters Indigo.
Whosoever by Rend Collective
Rend Collective's newest studio album, Whosoever, uses modern worship to remind their audience that the gospel is for everyone. According to the band, Whosoever is based on the claim made in John 3:16, "God so loved the world," which says that God's love is all-encompassing.
"This album is about the wide, generous embrace of God that is offered to us with no asterisks or fine print," says Rend Collective on their Instagram. "It's been an amazing experience to hear how these songs have had a deep impact on people. We've been hearing a lot about how the song Hallelujah Anyway has been helping to lift a song in praise even in the darkest times."
With similar hooks and stirring rhythms as popular tracks My Lighthouse and Counting Every Blessing, the new 10-track album features comforting lyrics rooted in Scripture that invite every person to encounter God in their own way.