In preparation for the 2011 CrossFit Games, Rich Froning Jr. scribbled lines on his shoes from the New Testament's Book of Matthew referencing the Crucifixion of Jesus. He told an interviewer that whenever he felt like quitting, he simply looked down and was reminded that no matter how hard things got, he would never know the suffering Jesus endured.
"You learn a lot about yourself when you're physically beat down, digging deep inside," he says. "When I'm exhausted, I look at my feet and think what I go through is nothing compared to what Jesus did for me, mentally and physically, so I give a little bit more."
Champion of Faith
That was Rich's second appearance at the CrossFit Games. Having worked his way through college as a firefighter, Rich was in top shape when he competed for the first time in 2010. He had a significant lead going into the final event, but in the end lost to the winner by just three points, finishing second.
Rich felt like a failure. He fell into depression and considered giving up competing for good. Instead, he re-examined the faith that his mother had instilled in him at a young age and realized his priorities had to change. Rather than thinking,
What can God do for me?
he began to think,
What can I do for Him? and How can I lead people to Him?
Rich returned to compete in the games every year from 2011 through to 2014, walking away each time a champion of the CrossFit Games and a champion of the faith.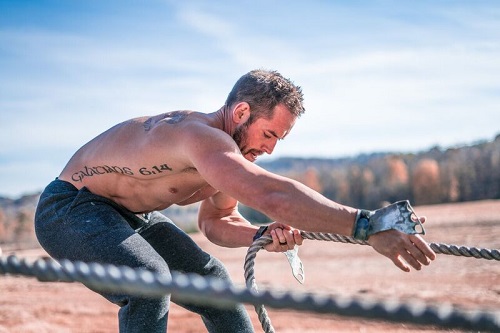 Adding Up
In sync with his desire to lead people to God, Rich has "Galatians 6:14" tattooed on his torso, which anyone watching him in any competition can see. The verse says: "May I never boast except in the cross of our Lord Jesus Christ."
"My faith is now a huge part of who I am and why I compete," Rich says. "The talents I've been given are a way to give back."
Rich learned how to dig deep long before CrossFit Games came into existence, in a much more unforgiving venue: home.
"I am one of 32 cousins, a group where there was a lot of ongoing competition," he recalls. "Also, both my parents were always the hardest workers in the room no matter where we went. They expected me to follow their example, and if I was sitting around the house, they would always find me something to do. There isn't just one thing, but a lot of things together that add up to my stick-to-it-iveness."
Adopted Love
Rich and his wife, Hillary, also had to dig deep spiritually while riding the tragic and emotional roller-coaster of infertility. He and his wife battled through the hardship of miscarriages that can sometimes make couples want to give up. They shared their struggles on Rich's CrossFit Mayhem YouTube channel.
"The hardest part was being told by every doctor, 'This is it! This is going to work for you,' " Hillary says, tearing up at the memories. "But then nothing … ever … worked."
"To watch Hillary have that hope and then see the rug pulled out from under her, that was the hard part," Rich adds.
Rich comments that infertility actually affected their marriage in a positive way, drawing them even loser together.
"I think Hillary felt like she was failing me," he said. "I told her 'You're not failing me! We're both perfectly healthy. There's no reason why it shouldn't work; it's just not working. It is what it is.' "
After much prayer and discussion, the Fronings went the adoption route.
"When my wife and I first talked about having a family, we planned to have three biological children and adopt one," Rich says. "Then when she didn't get pregnant, Hillary wanted to go ahead with adoption but I was still thinking my first child had to be physically mine. She prayed over it and prayed over me, too. God changed my mind and I haven't once doubted that decision."
Time to Commit
Having held the title "The Fittest Man on Earth" for four years straight, Rich says the best title in the world is "Dad."
"We now have three adopted children five years old and under," he says. "It's a handful. I am open to a fourth, but we are good for now! All of our kids are our kids. You look at their mannerisms and there's no question they take after my wife and me."
This past April, Rich held his sixth annual CrossFit Competition fundraiser, Mayhem for Mustard Seed Ranch, to help kids who aren't as fortunate as his own. This event has raised hundreds of thousands of dollars for a ranch housing program that provides equine therapy for children suffering from abuse and neglect.
"We did this even before we had kids of our own," Rich comments. "Jesus said to take care of children and widows, and that's why we partnered with this charity. So many of the kids have similar stories, like their parents got in trouble or just couldn't take proper care of them, then maybe the grandparents try but they can't, so the kids end up at Mustard Seed Ranch. The house parents there that step in for them are incredible, and the kids get a chance to grow up normal."
Rich now owns and operates the CrossFit Mayhem gym in Cookeville, Tennessee, where he encourages others to dig deep on a regular basis. He shares the following advice: "Fitness of any kind requires getting into a rhythm daily, and making time to commit to the work."