Recording artist, worship leader and
The Voice
alumnus Anthony Evans had just finished performing in New York City when one of his fans approached him during the post-show meet-and-greet. The man extended his forearm to reveal a tattoo that read, "Could It Be?" Anthony's eyebrows raised, shocked to see the title of one of his songs permanently inked on someone.
"There's a story behind this," the man said, his voice catching with emotion. "A few years ago, I was determined to take my life. I was standing by the Hudson River, about to jump in, when suddenly your song came on my iPod shuffle."
Recorded in 2009, the lyrics speak to how we search for things that culture says we need, when really all we're missing is a relationship with God. The man told Anthony that when he heard the song, he abandoned his suicidal plan and instead chose to pursue Christ.
Each time his pen hits the paper, Anthony hopes his messages will resonate with his listeners. That's why he writes about pain, fear, depression, anxiety and addiction.
"I don't write songs to be clever or to rhyme lines," says Anthony. "I want listeners to internalize the lyrics."
That's what this man at the Hudson River did, and in doing so, he not only received hope but eternal salvation.
Starting Out
Anthony didn't always envision a singing career. In fact, in his youth he wanted to become a large-animal veterinarian; singing only took over at the age of 17.
"I wasn't initially big into it," says Anthony, who grew up with his three siblings in Dallas, where his father, Dr. Tony Evans, is senior pastor at the 6,000-member Oak Cliff Bible Fellowship Church.
"Unbeknownst to us, we grew up in a master class for ministry," says Anthony, who joined the church choir as a teenager. His gift was soon recognized, celebrated and utilized when the chancellor of Liberty University invited Anthony to sing in the school's public-relations group.
Struggling With Self-Worth
Despite his sweet face, smooth voice and successful career, Anthony grappled with grace, acceptance and self-worth for nearly a decade.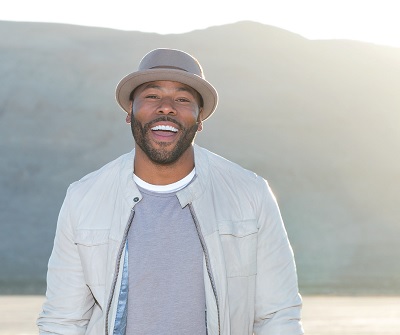 "I didn't feel like I was enough," he says. "I felt like I had to be a certain kind of person because of my last name. And I thought that if God really knew me, He wouldn't accept me." He woke up every morning with a weight pressing down on his chest due to the unrealistic standard he set for himself. While he continued to perform, his faith felt flat.
"I'd be standing on stage, believing at my core the truth of what I was singing, but I didn't
feel
it," he explains. "That distance on stage created a rift internally."
To get to the other side of his tormented emotion, he forced himself to slow down on the road, talk openly with his family about his spend quality time with God.
"Honesty, vulnerability and transparency freed me from the heaviness, made me whole and brought me back to life," says Anthony. The experience provided inspiration for his new album, appropriately titled
Back to Life
.
Anthony now takes what he's learned about emotional health and well-being and pours it into his music.
"If I wanted to do surface-level stuff, I'd write pop tunes," says Anthony, who penned seven of the 11 songs on this, his eighth album. "I do 'life music' that's meant to reach listeners on a gut level."
Connecting With the Disconnected
C
hoosing courage over comfort is not always easy. In 2012, Anthony worked up the nerve to step outside of his comfort zone when he became a contestant on the second season of
The Voice
, the reality television singing competition.
"It's an odd feeling to look into a camera, knowing that on the other side of that lens are 17 million people casting judgment," he says. "Plus, to be sitting in a room with four monster celebrities whose job it is to tell you what they like and don't like about you—that's tense." The experience, however, helped him reshape his career and alter his life goals.
During his time in Los Angeles, Anthony realized that a great deal of the population do not know the ins and outs of Christian culture. While on
The Voice
, his coach, Christina Aguilera, asked him to define "worship leading," and he struggled to explain the term without using "churchy" words. Then his advisor, Jewel, said, "I get that you're a Christian preacher kid guy, but for anyone who doesn't know church, they're going to need to know the depths of you."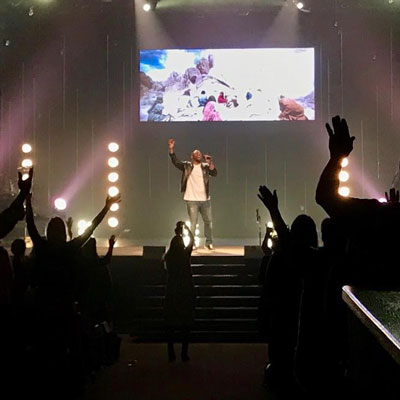 Anthony longed to reach the disconnected and unchurched, and he knew that music can lead to tears, trust and transformation. Aguilera encouraged him to blaze his own trail, believing that no matter where he went, fans would follow.
"My goal from that day forward was to never compromise my message, but to push it to a point where I could communicate with people outside of the Christian circle."
Giving Back
Committed to giving back, a concept that his dad instilled early on, Anthony partners with several charitable organizations, including Generosity Water (generosity.org) and Food for the Hungry (fh.org). Earlier this year he travelled to Lima, Peru, to meet one of the children he is sponsoring.

"Meeting this boy face to face was an amazing heart-wrenching day because I got to see what my dollars were doing in this child's life," says Anthony, who, through his 2017 FerVent tour, secured sponsorship for 630 children from that same Peruvian village.
"I love that the concerts are about more than the music," says Anthony. The 16-city FerVent tour, which kicked off in early February and ran through the end of this month, is a family affair as he shares the stage with his sister, Priscilla Shirer, best-selling author, speaker and actress. On tour, Priscilla communicates keys to experiencing God's power in personal and practical ways; Anthony provides the soul-stirring musical worship.
"When God is not on the sidelines, but rather is downtown, making legislation in the city hall of your heart, change happens," says Anthony. "I want folks, including myself, to put Christ back in the centre of their lives."