(Above) David Nku helps lead worship during the Territorial Music School final festival at Guelph Citadel, Ont., last summer (Photo: Marcus Venables)
I was born in the Democratic Republic of Congo and grew up in the capital, Kinshasa. I'm the fifth in a family of six children. We had two main weekly activities: school and church. In Congo, Christianity plays a big part in everyone's life. It was normal for my parents to send me to church for every possible activity—Sunday school, children's chorus, camp. My dad worked for The Salvation Army, so I've been part of the Army since I was born. When you're young you go to church because your parents want you to. I believed in God, I believed in Jesus, but I didn't really know him that well.
A New Song
After finishing high school, I decided to go to Canada for my university studies. A year before I left, I started singing on the worship team with one of my older sisters and discovered that I enjoy the artistic side of Christian music.
On my first Sunday at Ottawa Citadel, I asked if I could join a music group. Being in the songsters was difficult. Back home, we don't use sheet music; the leader sings each of the individual parts and the songsters memorize the song's rhythm. So, when I was handed my first piece of sheet music, I was completely lost. I remember not believing that people were sight reading the music—I thought they had already memorized the songs and were just reading the words. One time, we had to sing a brand-new song, and I realized that it was possible to sing a song without knowing it beforehand. Singing with the songsters was even harder because all the songs were in English, and I didn't speak the language. But everyone was so patient with me, especially my neighbour in the tenor section who could see me struggling and was always there to answer my questions.
Being part of the songsters helped motivate me to go to church on a regular basis, especially at the beginning, when I couldn't understand the sermon, or anything spoken. One other element that I appreciated from people at church was the rides home they gave me. It wasn't just one—I had a ride home every Tuesday after rehearsal and every Sunday after church. This might seem like a small thing, but for me, as an international student who didn't like the winter and had a lot of school assignments, it made a huge impact on my early life in Canada.
Learning to Lead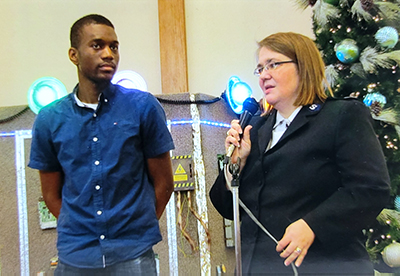 A year after joining Ottawa Citadel, I was approached by one of the youth leaders to help with the Christmas pageant. I had no idea why they wanted me to help, especially because I couldn't speak English well, but I agreed and helped with the choreography. That was my first introduction to children and youth work. After that, I went on to lead other activities, such as bucket drumming, singing company and helping with the youth retreat.
Becoming a youth leader helped me realize that I wanted to learn more about God, not only for me, but to be a better leader for the young people. From there, I started to go deeper in my personal relationship with God—reading my Bible more frequently, doing research, asking questions.
I also started to help others in "small" (what is small for me can be big for others) ways, with the goal of helping them get closer to God—things like helping them find rides to events or asking about their interests to connect them with already existing programs they might enjoy. In 2018, I was asked to be part of the corps council as the children and youth representative. My goal was to organize all youth programs and make sure they ran properly. I did that for four years before becoming the committee representative for all programs.
I am involved at the corps in all youth activities (Sunday school, pageant, singing company, teen events, youth retreat), songsters, worship team, band and sometimes I help with audio-visual ministry.
Knowledge is Power
I've always been thankful for what I've had. Despite coming from a country with difficult life conditions, I've always had everything I needed to have a decent life. I had food on my table; I went to a good school; I could freely play with my friends. I know that not everyone has the same fortune (or, should I say, grace) as me. But it is impossible not to see the suffering of the people around you, even when you are not going through the same situations.
Since I was young, I could see people around me who didn't have the basic necessities of life—food, water, medicine. But when you're young, even if you can see it, you don't really pay attention to other people; you are just happy for what you have.
One thing that was challenging for everyone in Congo was access to electricity. I don't think we ever went a full month with power in our house. There was something called delestage, which means load shedding—a temporary interruption to the delivery of electricity to maintain the integrity of the electric grid. Fixing that issue was what drove me to study electrical engineering. I wanted to know why we couldn't have constant access to power as in other countries.
Now, after completing bachelor's and master's degrees in electrical engineering from the University of Ottawa, I understand why. My goal is to try and help solve that issue in any way that I can.
Racism and Moving Forward
I came to Canada without a pre-determined view of how people would treat me. In my time here, I have come across "not so likeable" people, but I have also come across amazing human beings. I don't think racism impacts my daily life. It's true that there can be isolated racist acts, but I always try to focus on the positive and I don't let these isolated incidents affect me or the course of my life. Maybe I'm just lucky to be part of a church that welcomes everyone. This has helped me focus on the positive aspects of people.
One of my highest hopes is that we will focus on what makes us go forward. I know that it's difficult for everyone to get along, but it is not impossible. And we can achieve that by listening to each other, being open-minded and by agreeing to get educated and learn from each other.
I dream about a society in which there is no social exclusion based on racial bias, and where there is no discrimination or violence against people from certain social groups. A society in which skills and character are valued more than racial or ethnic differences. I believe that some countries are working hard to make this a reality, but there is still a long way to go before we have a perfect society in which everyone respects everyone regardless of race.
Let's put the past behind us. We must learn from our mistakes to build a better future. True, there have been difficult events involving racial differences throughout history. But we should use our knowledge and experience to avoid repeating the same mistakes. Let us all be on the same team and work together to move our society forward.