I have three children ranging in ages from six to 14. Each week, my house is full of activity, from packing school lunches in the morning to school pickups in the afternoon and homework in the evening. Add in all the other things that need to be done— grocery shopping, laundry, doctor's appointments—and the list goes on.
But what would my life look like if I did not have a home where I could prepare and co-ordinate everything that needs to be done for my family?
With support from the Brighter Futures Children's Sponsorship Program, The Salvation Army in Kenya is supporting families and their children who have no place to call home through a community outreach program. Regular activities are carried out in the areas of Kakamega, Kitale and Eldoret with the aim to reduce the number of vulnerable children living in the streets. This is done through a holistic approach involving several different activities that align with the United Nations Sustainable Development Goals.
Feeding—Ensuring Every Child Has Access to Sufficient Nutritional Meals
If a child is hungry, it can become difficult for them to concentrate on schoolwork and other tasks. Ensuring meals are provided is vital. Children and their families can receive breakfast in the morning and a lunch throughout the day.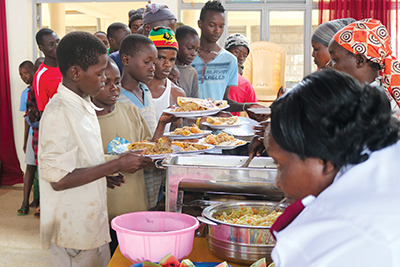 Health and Hygiene— Ensuring Every Child Lives a Healthy Life
Without a stable home environment, children are more susceptible to illness and disease. Good hygiene is an important aspect of prevention and ensuring children have good health. Therefore, the outreach program provides soap and water, as well as an area for the families to wash their clothes. They also have showers where they can bathe.
In the past year, more than 200 people have received healthcare services through the community outreach program. They were treated for common illnesses, such as upper respiratory tract infection, toothaches and headaches, to more serious illnesses such as malaria. Referrals are also given when someone requires more specialized care such as physiotherapy.
Skills Development—Ensuring Every Child Has an Opportunity to Thrive Through Employment
Gaining an education is the first step in ensuring each child is successful, but attending college or university may not be an option. The outreach program ensures that participants learn a skill that can provide income and stability in their lives. Soap making, beads, tailoring and gardening are some of the skills that have been taught. Business classes are also available.
This past year, four of the participants received assistance in setting up their own business by purchasing supplies, such as trolleys and carts.
Living Example
Wycliffe is 23 and first started participating in the outreach program in 2017 after being homeless for two years. He was actively involved in the many activities of the program, and it was through the business classes that he gained an interest in starting his own business.
Previously, he helped a friend sell onions and tomatoes on Saturdays, but he dreamed of selling his own green peas and carrots. The program helped Wycliffe purchase the items he needed to get started, and from there he worked hard to grow his business.
At first, he just had a wheelbarrow but was later able to purchase a cart, which provided easier movement of his product. He continued to increase his supply and even employed one of his friends to help with his growing business.
Wycliffe says that the resources provided by the outreach program have impacted his life positively and he is now able to do something constructive with his life. In addition, he can help care for his siblings.
Wycliffe is just one example of how the community outreach program provides the necessities for today, which gives hope for tomorrow. They are truly living out the words of Matthew 25:35, which says: "For I was hungry and you gave me something to eat, I was thirsty and you gave me something to drink, I was a stranger and you invited me in."
Education—Ensuring Every Child Has the Opportunity to Learn
Access to education can be a distant dream for many children who do not have a home, so the community outreach program has teachers available to work with the children and help prepare them to write their education exams.
In the past year, 15 children have achieved their primary or secondary certificate. An additional 25 children learned to read and write.
If you would like to be a monthly donor or learn more about The Salvation Army's Brighter Futures Children's Sponsorship Program visit salvationist.ca/brighterfutures.
This story is from: